Academie Duello Instructors
Roland Cooper
Youth Program Head
Roland's first forays into swordplay and martial arts happened when he was young, in the form of brief stints into fencing and karate, but he was attracted to historical swordplay after seing a demonstration by the Society for Creative Anachronism (SCA). In the SCA he took up armoured combat, and it didn't take long for him to try his hand at rapier as well. In 2004, when Roland heard that Academie Duello was opening, he was the first student to sign up.
Roland is Academie Duello's store and front desk manager, a lead instructor in the Adult Swordplay Program, the head instructor of the Youth Swordplay Program, and the chief administrator of Knight Camp.
Jennifer Landels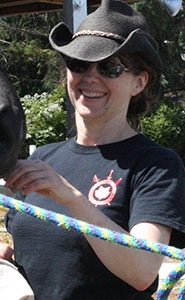 Mounted Combat Program Head
Jennifer has been riding since before she could walk, and her first complete sentence was "I want a horse."  In high school she and her best friend used to fence with riding crops, so in retrospect it is inevitable she would end up finding a way to combine swords and horses in her life.  She holds an honours BA in Medieval English Literature, and a certificate of Childbirth Education.  She has worked as a writer, editor, artist, doula and prenatal instructor, as well as guitarist and lead singer for Stiff Bunnies and an assortment of other rock bands (to which she may or may not confess).
Jennifer manages Academie Duello's sister location, Red Colt Equestrian Farm Co-op, and runs the Cavaliere Program from there.
Jon Mills
Bootcamp program head

Jon Mills has been lifting kettlebells for 7 years and in that time has trained with some of the world's top instructors, primarily under Dave Hedges of Wild Geese Martial Arts in Dublin. He joined Academie Duello as a student in 2014 on his second day in Canada and has been hooked every since. In January 2016 Jon started the bootcamp program, an early morning conditioning program for those looking to improve their fitness. With Provost Cooper he teaches Academie Duello's Clubs and Bells program
Jon is a level 1 IKKF Certified Kettlebell Teacher, barbell lifter, rapier student and lifelong martial artist dedicated to helping people be the best athlete that they can be.
David McCormick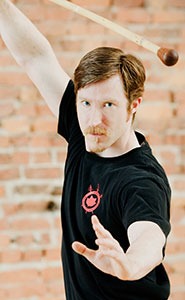 Stage & Screen Program Head 
Fight choreographer, stage combat instructor and performer, David McCormick has taught stage combat at the Fight Directors Canada (FDC) National Workshop, Sears Drama Festival, George Brown College, Rapier Wit Stage Combat, the Hamilton Urban Shakespeare Workshop, and many workshops for Forward Theatre (Mississauga).
David has recently choreographed fights for Hamlet (Bard on the Beach), Ghosts in Baghdad (Working Spark Theatre), Sal Capone: The Lamentable Tragedy Of (Urban Ink Productions), Beauty and The Beast (Pembroke), Sherlock Holmes and the First English Gentleman (Toronto Fringe), and five seasons of Forward Theatre's Shakespeare productions, including Macbeth, Romeo and Juliet, Hamlet, King Lear, Twelfth Night and others.
His martial arts expertise includes karate, judo, wing chun and bartitsu, as well as experience in parkour (free-running). He has over 10 years of training through Fight Directors Canada with such Canadian and international stage-combat veterans as Daniel Levinson, John Stead, Simon Fon, Ian Rose, and Tony Wolf.
David is an alumnus of the University of Waterloo's drama department and Rapier Wit Stage Combat in Toronto. David is excited to bring a full stage combat program to Vancouver, through Academie Duello. He also teaches a weekly Bartitsu class at the Academie.