27 - 29 September 2019
From curious onlookers to dedicated knights, there is something for everyone at Academie Duello's three day celebration of mounted skill at arms. The symposium at Cornwall Ridge Farm in Langley BC includes two full days of clinics and workshops, followed by our popular annual Knightly Games Tournament. View the full schedule here.
Registration is now open through the Workshops page. You can register and pay for 1-day or 3-day passes.  There are two price options, one for mounted workshops and one for ground-only workshops.  Pricing for the mounted workshops includes use of school horses (be sure to book early to ensure availability) OR haul-in and stabling for your own horse (feed not included).
Individual Workshop Registration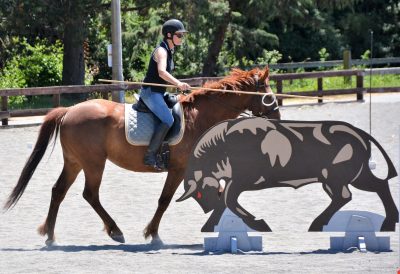 When the schedule is complete (approximately two weeks before the event) a signup form will go out to registered attendees, which will allow you to select your preferred sessions.  The form will be made available in registration order, so those of you who registered first will have first choice of classes.
To Ride or not to Ride?
There are mounted and unmounted workshops included in the program.  For those of you who are more comfortable on your own two feet, you can still take part in a full weekend of swordplay, grappling, archery, and physical conditioning.  A three day pass on the ground only is only $199.
If you'd like full centaur experience, the cost is only $259, which includes haul-in and stabling.  If you can't bring your own mount, school horses are available at no extra cost.  However, horses and spaces in the mounted programs are limited, and we recommend registering early.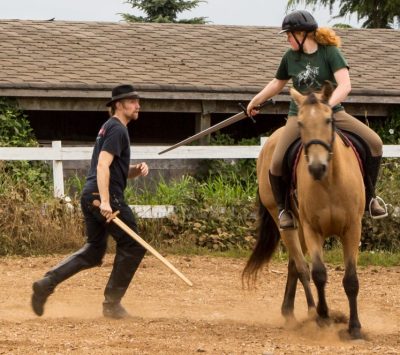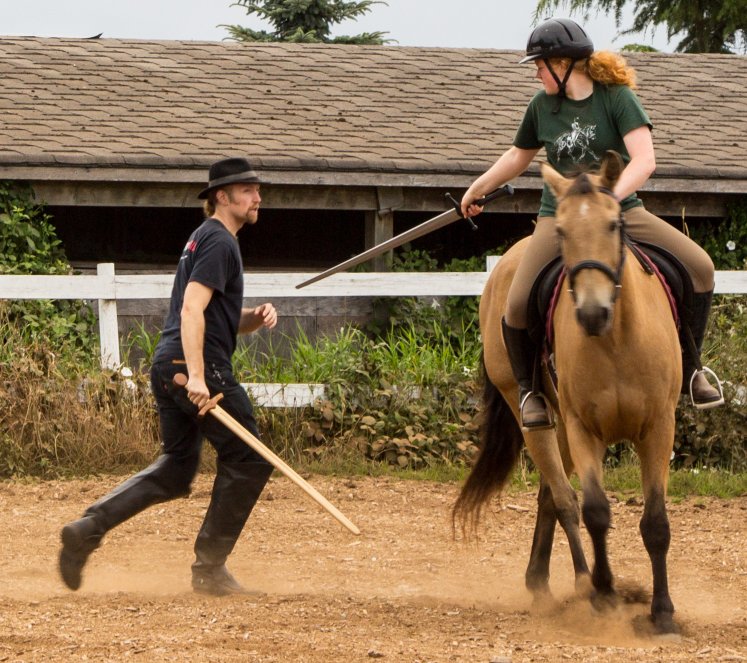 Riding Level Equivalents
Any Rider using a school horse must have as a minimum one of the following certifications:
Riding Level 1 (Mounted Combat Program)
Equestrian Canada Rider 1
Canadian Pony Club 'D' level
Foreign equivalents to EC or CPC levels
An assessment by one of our instructors on or before Friday September 12th
Approval from the Mounted Combat program head
Getting There
All the activities happen at Cornwall Ridge Farm, at 21955 16 Ave in Langley BC.  There is no public transport.  However, if you wish to carpool you can leave a message on the Facebook event page.
Car parking:  Please park on the west side of the barn.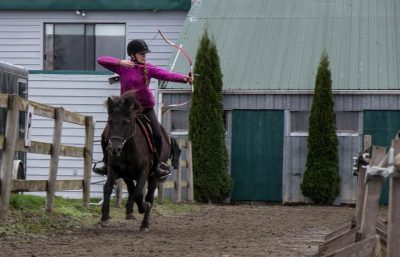 Trailers: short horse trailers can be left unhitched in the car parking area.  For longer trailers please make arrangements ahead of time.
Registration is 9:00am each day.  Please check in and confirm your classes ahead of time, as workshops start promptly at 10am.
Participants in the Grooms' Competition may check in at 8:45 on Sunday.
Carosella is open to the public during the following hours: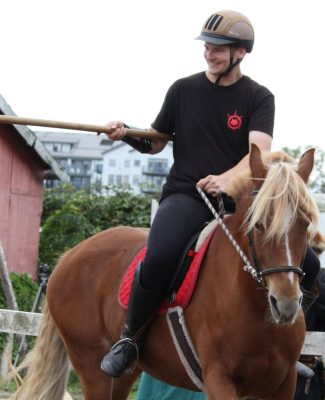 Friday: 10am - 7pm
Saturday: 10am - 5pm
Sunday: 10am - 4:30pm
What to Wear
Carosella takes place rain or shine and many events are in the outdoor arena, so dress for the weather and wear removable layers.
Riding 
Mandatory:  helmet, and boots or shoes with a smooth sole or light tread and a 1-5 cm separate heel. Some loaners available.
Recommended: breeches or close fitting lower body wear, light gloves if desired.
Long hair should be tied back and jewellry removed.
Workshops on the Ground
Comfortable work-out clothing
Running shoes or comfortable boots (the grounds may be muddy)
Gloves for weapons work (optional but recommended)
Green Spur Tourney
Mandatory: riding boots, gorget and visored hockey helmet or similar head and face protection. Some loaners available.
Recommended: arming jacket or similar torso protection; elbow and shoulder guards; knee pads; padded or rigid gloves.
Free Activities
Workshops, clinics, lectures and the tournament are free for spectators and auditors.
Tours of the grounds (and the chance to pet horses) will happen several times a day.
On Sunday the Academie Duello performance team will be doing demos and giving free swordplay lessons.
Rules of Conduct
Horses, though by nature gentle, are large, unpredictable, easily frightened, and capable of causing injury to humans intentionally or unintentionally.  While every effort is made to maintain the safety of all participants and equines, students acknowledge that working with horses and in equine environments is dangerous, and the added use of weaponry and associated equipment even more so.
Students are reminded to abide by the rules, posted or verbally transmitted, of Academie Duello and Red Colt Equestrian Farm Co-op.  In addition, these safety guidelines apply: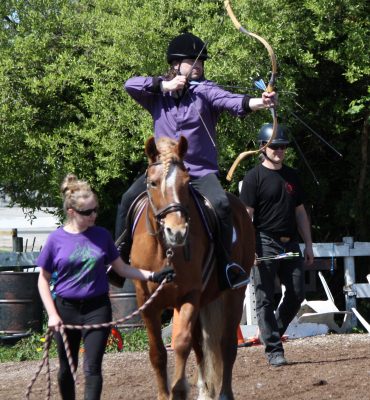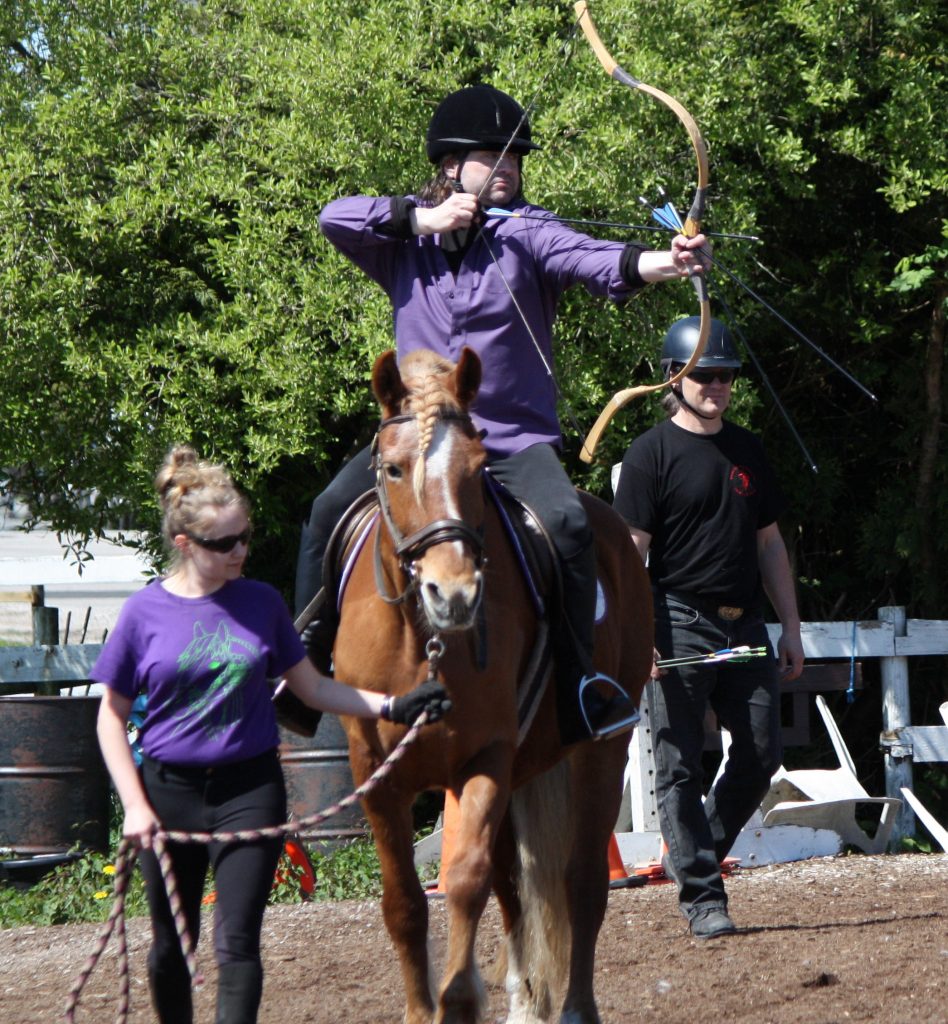 Walk, don't run, in and around stables, paddocks and arenas.
Do not enter the stalls, paddocks, or fields containing horses without permission of the instructor or horse's owner.
Do not feed anything to any animal without permission of the owner or instructor.
Avoid making loud noises or sudden movements that may startle horses.
Close and latch all gates and doors behind you.
Abuse or cruelty of any kind towards horses will not be tolerated.  Participants who are deemed to be handling horses roughly will be asked to desist.  Failure to comply will result in the participant being asked to leave the property.
Tips
Ask questions.  Organizers and instructors can be identified by their Academie Duello t-shirts.  Don't hesitate to ask, whether its about the finer points of arm-locks from the saddle, or the location of the bathroom.
Pace yourself.  These are three long days outdoors.  If you are unaccustomed to riding or martial arts training you may find you reach your body's limits by the end of the day.  Feel free to take a break at any time, or switch to a concurrent workshop if your muscles and brain need a change.
Hydrate and refuel.  It's easy to forget to eat and drink.  Bring snacks and a water bottle.
Never mind the weather.  We have an indoor arena and lounge at Cornwall Ridge.  However, some events will take place outdoors, so bring a change of clothes if the weather looks iffy.
Leave your nerves – and your pride – at home.  Everyone was a beginner at some point, and horses have a way of making even the most experienced of us look foolish from time to time.  Take a big breath and relax.  It will make it easier to learn, your horse will respond better, and you'll have more fun.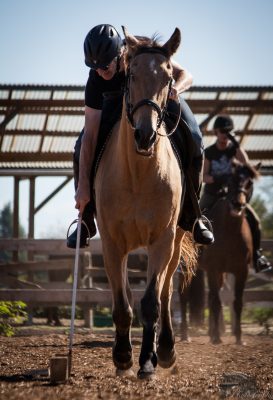 Registration closes on Wednesday September 25th.  Early registration is recommended to ensure preferred workshop selection. 
See you Friday September 27th at Cornwall Ridge Farm!