Mission & History
Our Mission
At Academie Duello our goal is to revive the rich martial traditions of Medieval, Renaissance and Early Modern Europe and make them as accessible and vibrant as their Eastern counterparts, such as Karate and Kung Fu.
We strive to make these traditions accessible to the general public and offer everyone the chance to develop this rich martial art.
Background
Unlike their Eastern counterparts, Western Martial Arts (WMA) have had no continuous living traditions from their inception to the present.  Our work in reviving them is twofold. We research and explore the primary-source texts of these martial systems, striving to interpret the material with accuracy from experimentation and dedicated practice.  We also work to integrate these traditions with contemporary science on health and physical exercise to ensure that participants gain the maximum benefit from activity. Participation in historical martial arts at Academie Duello is vibrant modern practice, not re-enactment or role-playing.  Our aim is not to pretend that we are people who lived in bygone eras; rather, we believe that participating connects us with these martial traditions as people living in the present.
Our goal is also to revive the spirit and ideal of these fighting systems, from the code of chivalry of medieval knights to the duelling etiquette of early-modern nobility.  We believe that they do have a value in our contemporary society in furthering respect amongst individuals of all walks of life as well as personal development.
Academie Duello is more than a school: we are a centre for swordplay.  We strive to educate the public about the rich and sophisticated martial traditions of Western Civilization and to encourage scholarly research into martial-arts and military history. Above all, though, we want to inspire the passions of anyone who has ever been fascinated by these subjects.
Our Motto: Arte, Ardore, Onore
The three Middle Italian words that comprise our motto exemplify the values we strive to foster at Academie Duello.  Arte is our dedication to martial arts as just that: an art form.   We push ourselves to hone our skills as its practitioners, to study the primary-source combat manuals and learn from our teachers.  Ardore is our effort and passion for the martial arts that we practise, which we work to share with others and express in the diverse society around us.   Onore is our honour, our respect for ourselves and each other as fellow students and teachers, from novices to masters and people of all backgrounds. It is also respect of the weapons that we wield, the martial systems themselves, and the power and ideas that they represent.
Everyday at Academie Duello our classes perform the school salute, which involves the recitation of the motto.  In doing so, we strive to keep the ideals of Arte, Ardore, Onore fresh in our minds and to keep us connected as members of a community.
Our History
Academie Duello was founded by long-time Western martial-arts practioner and master of arms Devon Boorman and his student Randy Packer in 2004.  At its humble origin was a class of six individuals from the Western martial-arts and re-enactment communities who gathered on Monday evenings to practise the historical swordplay that fascinated them.  After the first class, a newcomer named Roland Cooper signed up as the first student of Academie Duello, where he has remained since and risen to become a teacher, and program coordinator.  Two more students joined the following week and two more the week after that.  As weeks turned into months, membership gradually swelled and class size rose as high as 40 students within the first year. Academie Duello then began to rent regular spaces for classes, first at Capri Hall on Fraser Street, and later at Kennedy Hall in Surrey.
After a year of success, Academie Duello moved into its first permanent location on the second floor of Crown Square at the corner of Richards Street and West Hastings in Downtown Vancouver. The vast open space was excellent for accommodating large classes as membership continued to grow and the core programs became established. With the help of many dedicated volunteers, the space was refurbished and transformed into a genuine martial-arts school. But the growth did not stop there.  Over the next several years, Academie Duello brought increased diversity to its programs and workshops, with new instructors and staff. Additionally, the arms-and-armour store and a steadily expanding museum were opened to the public. The result was a dynamic, multifaceted destination for martial-arts enthusiasts, history buffs and more.  It was Vancouver's first centre for swordplay.
In the fall of 2009, Academie Duello moved to its present, street-level location at 412 West Hastings, again to accommodate increasingly large membership as a centre for swordplay.  Now, with more than 1,000 members and more than 200 active in programs at any one time, Academie Duello is the largest centre of Western martial arts in the world.  More than 2,000 people participate in Academie Duello's classes and workshops every year. Even more people try Academie Duello's one-free-class option each year. Academie Duello is also the only centre  in North America in a metropolitan downtown area, where it is easily accessible to the general public.
Academie Duello has now established a worldwide reputation as a destination throughout the WMA community, hosting the first Vancouver International Sword Symposium (VISS) in February of 2011.  The conference was a great success, attended and lauded by masters, scholars and members of the WMA community from all over the world.  More recently, Academie Duello made history as one the 23 founding members of the worldwide Chivalric Fighting Arts Association (CFAA).  With an ever-growing membership and diversifying identity in metropolitan Vancouver, Academie Duello looks forward to a continued preeminent place in a bright future for Western martial arts.
About the CFAA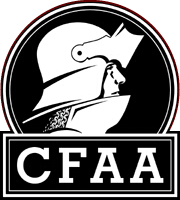 From the CFAA website:
Founded in 2011, the Chivalric Fighting Arts Association (CFAA) is an international organization of schools and clubs devoted to the study of historical European martial arts, particularly those practiced in a chivalric context, used in war, the tournament, and the duel.
Our member schools share a dedication to the revival of the fighting arts from the past, as well as a belief that the study and practice of these arts is a tool for building character and personal discipline – qualities that we believe can be of benefit to the modern world as much as they were for the ancient one.
CFAA members study diverse martial arts – from lands ranging from Iberia to Britain, from the late Middle Ages to the early modern era, and including weapons ranging from the sword and buckler to the rapier. Ours is a fraternal organization, without a governing body, bound together only by our shared values, mutual support of our endeavors, and passion for ancient martial arts and their cultural milieu.