Academie Duello Instructors
Devon Boorman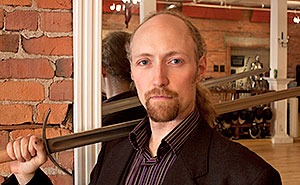 Director and Maestro d'Armi
Devon Boorman has practised martial arts for more than 20 years. Starting first with Asian martial arts, including Kung Fu and Arnis, Devon discovered western swordplay through the Society for Creative Anachronism (SCA) which connected him with a burgeoning community of martial artists and scholars studying Historical European Marital Arts throughout the world.
Devon has travelled extensively, first as a student, then as a competitor, teacher, and researcher. He has won more than 40 European martial arts competitions, and worked on both stage and screen as a stunt person and choreographer. Devon is actively involved in the translation, interpretation, and revival of Western Martial Arts from surviving historical manuals, some of which are on display at his school.
Devon's expertise centres on the Italian swordplay tradition including the arts of the renaissance Italian rapier, sidesword, and longsword, as well as knife and unarmed techniques. He has taught workshops and seminars throughout the world on both the study and practice of historical techniques and on practical combat implementation.
Devon is the co-founder and director of Academie Duello, which has been active in the Vancouver area since 2004. Under his leadership the school has become a centre for swordplay with over 200 active students, a store, and an arms and armour museum. The Academie is currently the largest WMA centre in the world; a model that Devon hopes to help others achieve as the Western arts grow in popularity.