SwordFit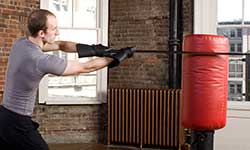 Get SwordFit! SwordFit is the most unique and exciting way in Vancouver to lose weight, burn fat, and tone muscle!
Join us for a program that combines the age old techniques of swordplay using two-handed swords, shields, and staffs, with modern physical conditioning science to create a program that exercises your mind and body.
Benefits
With our fitness and conditioning program you will:
Build core strength, flatten your stomach, and increase your endurance
Start a workout you can actually stick with
Build a warrior's physique while training like one
Feel great about your workout and great about yourself
Our Program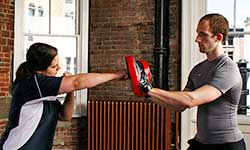 Academie Duello is the world's largest centre of European Martial Arts and swordplay. Our staff are highly trained martial artists and physical trainers. Our program brings together the following elements:
Swordplay and martial arts training – Wield weapons and learn true martial arts technique.
Mobility, strength, and structure – Swordplay requires coordination, quickness, power, and stability, making it one of the most dynamic workouts you can find.
Varied workouts – With martial techniques, circuit training, sword work and calisthenics, you will experience ever-changing workouts.
Mental and physical – You will strengthen your body, engage your mind, and build your confidence.
What Our Customers Have to Say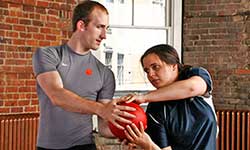 "This is one of the most intriguing martial arts I've ever tried, where age, gender, or size has almost no bearing in how good you are. Within a month I noticed an increase in the strength in my legs and arms and a healthy increase in my stamina. Definitely a lot more enjoyable than going to the gym, plus you get to learn a martial art, PLUS you get to use swords!" – Ricardo Tanseco
"I find in order to "work out" I need a challenge, competition, something to keep my mind active and is not repetitive (aka boring). Swordfit fills that requirement completely in my mind which is why coming 4-5 days a week is not a problem for me. It's fun!" – James Michek
"I can tell you in the two months I've been going to classes I'm not just having a lot of fun, but also much more physically fit. Going to class twice a week is my stress reliever and fitness at the same time. Plus, as a first-time martial arts student, I feel a tremendous amount of self confidence and accomplishment in just the short time I've been going." – Tris Hussey
Still Not Sure? Try a Taster Lesson.
Register today for a Taster Class where we'll introduce you to the fundamentals of swordplay. No experience is necessary, and we provide all the equipment.
Get Started!
In SwordFit, we want you to feel that not only are you building a warrior's physique but that you're also learning the warrior's art. All of our SwordFit students start first by learning the foundation of the martial art and healthy physical movement. We feel in this way that you can more authentically learn what we have to teach you and do so in a way that is healthiest and gives the best results.
Longsword Fundamentals
Sign up now for
Longsword FundamentalsLongsword Fundamentals is our introductory group class to the art of the two-handed sword, one-handed sword, and poleaxe. You'll learn posture, movement, attacks, defences, and strategy. From here you'll be ready to join SwordFit or many of the other martial arts programs we offer at Academie Duello.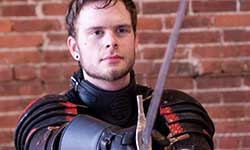 You get:
8 group classes in swordplay
The basic stances, attacks and defences of the longsword, sidesword, and polearms
The eligibility to join SwordFit and other Academie Duello programs
Only $135+tax | Register now!