Mounted Combat
The ability to fight from horseback was an essential skill for any gentleman or knight. Academie Duello's mounted combat program builds on our core system by incorporating riding and horsemanship skills with single and two-handed swordwork and grappling techniques.  Our mounted program also incorporates use of the lance and spear as well as javelin and at higher levels, mounted archery. Our historical sources include the works of Fiore dei Liberi, Paulus Kal, and Peter von Danzig, as well as riding masters Xenophon, Antoine de Pluvinel, and William Cavendish, Duke of Newcastle.
Studying Mounted Combat at Academie Duello
Get started in mounted combat by taking our Riding and Horsemanship and Mounted Combat courses.
Academie Duello stables its horses at its partner farm, Red Colt Equestrian Farm Co-op in Richmond.  Here students learn to ride and gain hands-on experience with horses while progressing through the ranks of the Cavaliere (Mounted Combat) Program.
There are three paths of learning in our program:
Horsemanship – to achieve a true partnership with your mount you will learn to care for and handle horses from the ground.  The horsemanship levels progress from simple handling and grooming, to conditioning, equine first aid and advanced stable management.  Our levels of advancement are structured after the Canadian Pony Club's stable management stream.
Riding – English riding lessons are available for beginner through advanced levels, and experienced riders may choose the level appropriate for them.
Mounted Combat – working first from the ground, and then on the wooden falsemount, you will polish your weapons skills before progressing to mounted games and combat with live horses.
Our Horses
Canadian Horses are known for their intelligence, steady disposition and toughness, and our Flavie and Jack don't disappoint! Standing at 15.2 hands high, with their light draft horse conformation, they are typical in size and structure to the medieval destrier (a prized kind of warhorse).
Flavie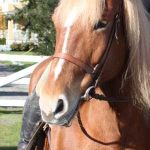 Rochefort Satan Flavie is a registered Canadian mare, foaled in Quebec in 1996. She is kind, gentle, and bombproof, making her an ideal mount for those just learning to swing a sword on horseback.
Jack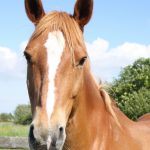 Our gelding, Coldingham Dylan Jack Thunder, is also a registered Canadian horse. He was foaled in Ontario in 1999, and has the proud bearing and magnificent bone structure typical of his breed.
Tilly
The newest member of our herd, Miss Tilly, is a sweet Quarte
r Horse pony. At 14.1hh she makes our smaller students comfortable, and yet is sturdy and large-barrelled enough to carry most adults, with a beautiful disposition and excellent manners.
Ranks and Skill Progression
As students of the Mounted Combat program reach new levels of proficiency, they earn new coloured spurs to mark their progress. These spurs are worn on the Academie Duello rank bracers (not on our boots).
Green Spur: Horsemanship and Riding Level 1 (or Equine Canada Level 1, or Canadian Pony Club Level D), sword proficiency from the ground.
Blue Spur: Horsemanship and Riding Level 3; sword, spear and wrestling proficiency from the ground; sword and grappling proficiency from the falsemount; mounted games at a trot.
Red Spur: Horsemanship and Riding Level 6; sword, spear, sword & shield and wrestling proficiency from the ground; sword, spear, sword & shield and wrestling proficiency from the falsemount and mounted; mounted games at the canter.
Silver Spur: Horsemanship and Riding Level 8; mounted combat with safety swords; mounted games with live swords; mounted archery.
Gold Spur: Horsemanship and Riding Level 10; mounted falconry.