Carosella
Intro to Mounted Combat
10am – 12:30pm
Instructor: Jennifer Landels
Level:  Beginner
Prerequisites: none
Never ridden a horse or swung a sword?  No problem!  In this  two and a half hour workshop you will:
learn about handling, grooming & tacking up a horse
have a group riding lesson that includes handling a sword from horseback
practice longsword fundamentals from the ground
This course is also recommended for experienced swordsmen with little or no horse experience, and experienced riders who have done little or no sword work.
Single-handed Longsword
10am – 11:30pm
Instructor: Devon Boorman
Level: All
Prerequisites: a basic familiarity with longsword is helpful but not mandatory
Working from the ground you will develop and refine your technique with the quintessential knight's weapon, the longsword, focussing on the use of the sword in one hand.  Plays will include strategies for defeating the opponent's sword from multiple guards in near and off side passes, while protecting your mounts.
Spear & Lance
11:30 – 1:00pm
Instructor: Devon Boorman
Level: All
Prerequisites: none
The spear is one of the oldest cavalry weapons and through its evolution into various types of lance continued to be used in combat and jousting throughout the middle ages.  Find out how a simple stick — pointed or otherwise — becomes a versatile and deadly weapon in the hands of a knight.

Lecture & Demo: Natural Horsemanship
12:30 – 1:30pm
Instructor: Diane Prosser
Level: All
Prerequisites: none
In her lunchtime lecture Diane Prosser, who has studied extensively under clinicians including Pat Parelli and Jonathan Field, will talk about the principles and basics of Natural Horsemanship, followed by a demonstration.
Classical Riding Clinics
1:30 – 3:00pm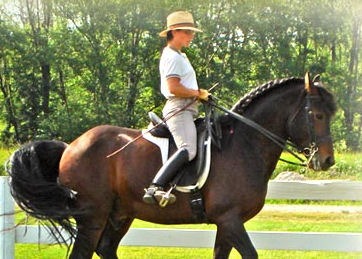 Instructor Sherry Leväaho
Level: Intermediate
Prerequisites: Riding 1 or equivalent
Work on your aids, your seat, and your horse's responsiveness with these half-hour private and semi-private sessions with Sherry Leväaho of Leväaho Classical Horsemanship.
Grappling & Pommel Plays
1:30 – 2:30pm
Instructor: Devon Boorman
Level: All
Prerequisites: none
Wrestling was a large part of mediaeval mounted combat.  A successful grapple or throw could earn you a knight to ransom or a new horse for your stable.  But beware!  Sloppy technique can be turned against you and land you in the dirt instead!  Working from the ground and falsemount you will learn the historical grappling and pommel techniques used for mounted disarms, throws and captures.
Swordplay & Grappling from the Falsemount
2:30 – 3:00pm
Instructor: Devon Boorman
Level: All
Prerequisites: none
This class will take the skills from the morning's Longsword and Grappling workshops and apply them to use from the Falsemount (wooden horse).  Working from the Falsemount is the intermediate step between work from the ground and work from the horse.
Mounted Wrestling
3:00 – 4:30 pm
Instructor: Jennifer Landels
Level: Intermediate
Prerequisite: Riding 1 or equivalent and some wrestling background
This workshop takes what we have learned in the ground and falsemount sections and moves it to horseback.  Learn to fall and recover safely, and become comfortable executing grappling manoeuvres, pommel strikes and disarms from horseback.
Mounted Sparring
4:30 – 5:30 pm
Instructor: Devon Boorman
Level: Intermediate
Prerequisites: Green Spur

Apply the attacks and defences learned on the ground to horseback.  Attention will also be given to specific dressage movements and training useful for mounted combat.
Horsemanship 1
3:30 – 4:30 pm
Instructor: Isabel Landels
Level: beginner
Prerequisites: none
In this workshop you will cover all the basic information needed to pass level 1 Horsemanship, including catching and leading, grooming & tacking up, colours and points of the horse, basic feeding and how to tie the quick release knot.
Equine First Aid
4:30 – 6:00pm
Instructor: Eleanor Landels
Level: all
Prerequisites: none
Learn when to call the vet and how to keep your horse safe and comforatable till she gets there.  Find out how to take your horse's TPR, care for minor injuries, and apply simple dressings and bandages.  This is important information everyone who hangs out with horses should know!
Riding Assessments & Beginner Riding
5:30 – 7pm
Instructor: Jennifer Landels
Prerequisites: none
This is a chance for those experienced riders outside the program to have an informal riding assessment to qualify for further workshops and the tournament.  Lessons will also be available for beginner riders in this time slot.
Save