Inspire your team with the historic martial arts of rapier, longsword, quarterstaff, archery or axe-throwing, in one of the most unique and exciting team-building experiences available in Vancouver.
Our corporate programs are suitable for people of all ages and fitness levels and can range from 1 hour to all-day workshops, featuring one or a combination of lessons, tournaments, performances, and tours of our historic museum. Whether you want something competitive or collaborative we can inspire people of all comfort levels.
We have experience with large events (100+ people), midsize groups (20-60), and small teams (5-20). Teams of up to 20 people can book a session based on one of our awesome themes through our online booking platform — you'll get a same-day confirmation.
Larger groups (20 or more) should fill out our booking form below so we can design an awesome adventure that will keep everyone in your group occupied and engaged!
Corporate Swordplay Programs at Academie Duello
Download the Academie Duello Corporate Programs Brochure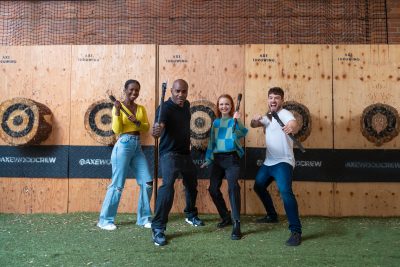 Tell us about your group and what you're interested in doing with us. Our experts will help you understand what's possible and create the best session for you and your team. Everything will be confirmed before the session goes forward. The more information you give us in advance, the faster we can confirm your session.
If your group is 20 or fewer people, book an adventure through our online booking platform. You'll get a same day confirmation!
For large groups fill out our form below or feel free to call our front desk at (604) 568-9907, or email us at bookings@academieudello.com.
Safety Assurance
All training is conducted under the watchful eye of experienced instructors. We use special blunted practice swords and safety equipment made for comfort and protection. All exercises are done with control and respect in a fun and engaging environment.
As with any physical activity there is some risk of injury. Participants with existing health problems should inform the instructor before training.