Welcome! Academie Duello Centre for Swordplay is a school of Western Martial Arts devoted to teaching the traditional martial practices of Europe. We are located in Vancouver, Canada.
Our programs empower students to meet fitness goals, pursue mastery in martial arts, and engage the mind and body in a fun and unique way. We offer courses for youth and adults from a diverse selection of weapon arts. For more information about the school click here.
Learn Sword Fighting At Home
We have three great options for at-home learning:
Duello Online
Live Academie Duello instruction is now available online through Zoom! Join practitioners from around the world for online classes and training sessions in the ancient arts of the rapier, two-handed longsword, and sidesword and buckler. This option is great for people willing to try out one class or participate in monthly classes for experienced students.
Schedule, Descriptions & Registration Links Below 
Duello.TV
The world's largest online repository of self-directed courses in swordplay and western martial arts. Click here for details.
Online Fundamentals
Online 4-class beginner courses designed to teach you the fundamentals of our art. For details click here.
HOW TO GET STARTED
1. Browse our schedule and click on a class of your liking
2. Register for the class on Zoom and donate to our PayPal
3. Get a stick or sword-like object and get ready for the class
4. You loved it? Great! Now sign up for Duello Online for unlimited monthly access!
You can find the full schedule, class descriptions and links to these classes below. Thanks for your support and we look forward to seeing you sword in hand!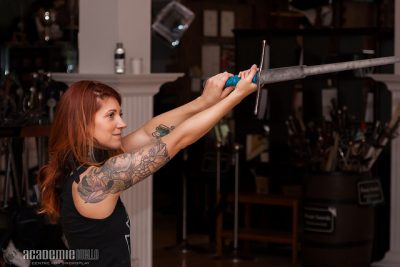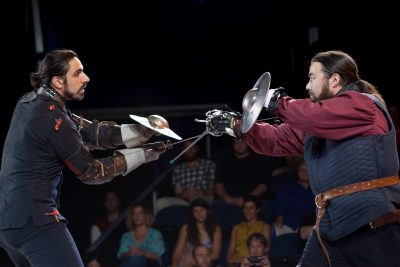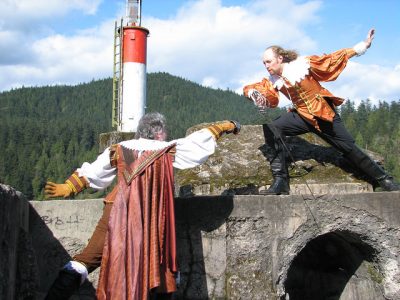 Longsword
Learn the art of flow with the powerful two-handed sword (Longsword) of the knight. All you need is a bit of space and an umbrella, cane, dowel, broomhandle, or even a sword. In every class instructors cover the fundamentals of grip, posture, and stance and then teach how to cut and move with grace, flow, and power with the weapon. Great for coordination, structural strength, and building poise. Attend as many times as you want, build your strength, fluidity, and proficiency.
Sidesword
Learn the art of flow with duelling sword (Sidesword) of Erol Flynn and Arya Stark. The sidesword is a single-handed weapon suited to both battle situations with multiple opponents as well as one-on-one duels. Sidesword fighters meet a special challenge. Like advanced rapier students, they usually employ a 'secondary' in their other hand. While in rapier fighting it will most often be a dagger, with the sidesword it will be a shield.
Rapier
Learn the art of the graceful and powerful rapier, duelling weapon of the Renaissance. Late medieval and renaissance cities were rapidly growing, crowded places filled with people from all walks of life. Violence erupted often enough and many people carried weapons for protection. By the middle of the sixteenth century, a new and socially acceptable practice had emerged to settle civilian disputes with weapons—the duel—with specialized weapons and fighting systems to complement it.
Classes Schedule
CLICK on a class name to register, all class times are in the Pacific Time Zone.
Beginner
Requirement: none
Audience:
Apprentice or scholar student looking for structured fundamental practice and exercise with peers.

New students with a stick learning for the first time.

New students building up their fundamentals and flow.
Apprentice
Requirement: none
Audience:
Students focusing on fundamentals

Apprentices working toward their scholar level

New students looking for more terminology, theory, and context
Advanced
Requirement: prior experience in martial arts
Audience: 
Students with a grounding in the fundamentals of the discipline

Advanced apprentices, scholars, free scholars

Practitioners with prior experience from other schools

Experienced martial artists from other backgrounds
Focus:
Basic mechanics and postures

Physical exercise and active solo practice

Jargon free

Presenting a structure for solo training
Focus:
Basic terminology, techniques and proper order

Physical exercise and active solo practice

Basic tactical options and choices
Focus:
Intermediate to advanced mechanics and techniques

Intermediate to advanced theory

Advanced concepts and tactical options

Advanced body mechanics and power generation
Help Us Spread the Word
Please help spread the word about our our by-donation classes. We're certain that the classes will be of interest to many of your friends and family. They can be taken from anywhere in the world!
Longsword Online Fundamentals
Stuck at home? Want to learn the exciting art of the two-handed longsword? We've got you covered! Join us for a live online only 4 class course that you can participate in over Zoom that will teach you the fundamental skills of the traditional European warrior in a fun, engaging, and welcoming environment great for adults of all ages and levels of physical ability. 
Don't have a sword? No problem! You can still follow along and participate with something as simple as a broomstick or a spatula! 

This course will be done online through Zoom. An internet connection and webcam are required. 

A Zoom link to your class will be provided prior to the start date of your course via email. If you do not receive one, please email

info@academieduello.com

to request a new one. 
Length: 4-class course, 60 minutes per session
Cost: $79 + tax
Ages: 14+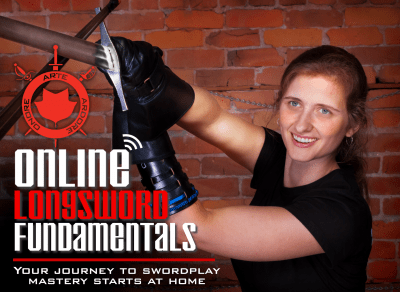 What You Get With Duello Online
Duello Online is a place to train from the comfort of your own home for brand new practitioners and those with prior experience in our system or others. Meet and be inspired by other practitioners, participate in classes and discussions, get personalized guidance, and progress through the ranks in our system of mastery.
Access to our Online Community through Discord – Discord is a live online chat and video platform. Our server is organized by disciplines, levels, and interests. From here you can access links to our live classes, join discussions with fellow students, ask questions of instructors and senior members, and enjoy social time with others who share your passion and interests.
Live Online Classes – Currently delivered through both Zoom and Discord. These classes provide instruction in rapier, longsword, sidesword, and mounted combat with our expert instructors. Classes for all experience levels are offered.
Live class archive – Miss a class? You can take it after the fact with access to a full archive of everything we have delivered to date and into the future.
Lectures – Don't have a sword or space to train? We offer regular lectures on swordplay theory, historical manuals, and more. Come listen in or participate in the Q&A.
Guest Lectures & Classes – It's not just expert Duello instructors, we also have instructors from around the Historical European Martial Arts world offering their expertise exclusively to our members.
Online assessments – Join an instructor for a review of your skills, get feedback and private guidance, check off your assessment items and progress toward your next rank. Offered every week.
Online social events & opportunities – Chill out at any time in our chat lounge, ask questions about manuals in the library and take part in regular social gatherings held through Zoom and Discord. Hang out with old friends and meet new ones.
Duello Online for Beginners
Starting your journey for the first time is easy with Duello Online. Simply start with any of our regular weekly beginner classes for solo or partnered practice. Through these classes you will learn how to hold, wield, and move with the various weapons of our system. Our beginner classes focus on strength, structure, movement, and flow. You will also learn the terminology of our martial art and progress toward our apprentice level classes.
Duello Online for Existing Practitioners
Already have experience at Academie Duello or with another school? Duello Online is a great way to level-up your abilities, either as a standalone program or in addition to existing classes. When you register, let us know your background experience and we'll set up a meeting with one of our experienced instructors. From there they'll advise you on what classes fit your existing experience and goals best, and how you can certify in our ranks on the most efficient path.
Ready to Sign-Up?
Duello Online is only $49 CAD per month.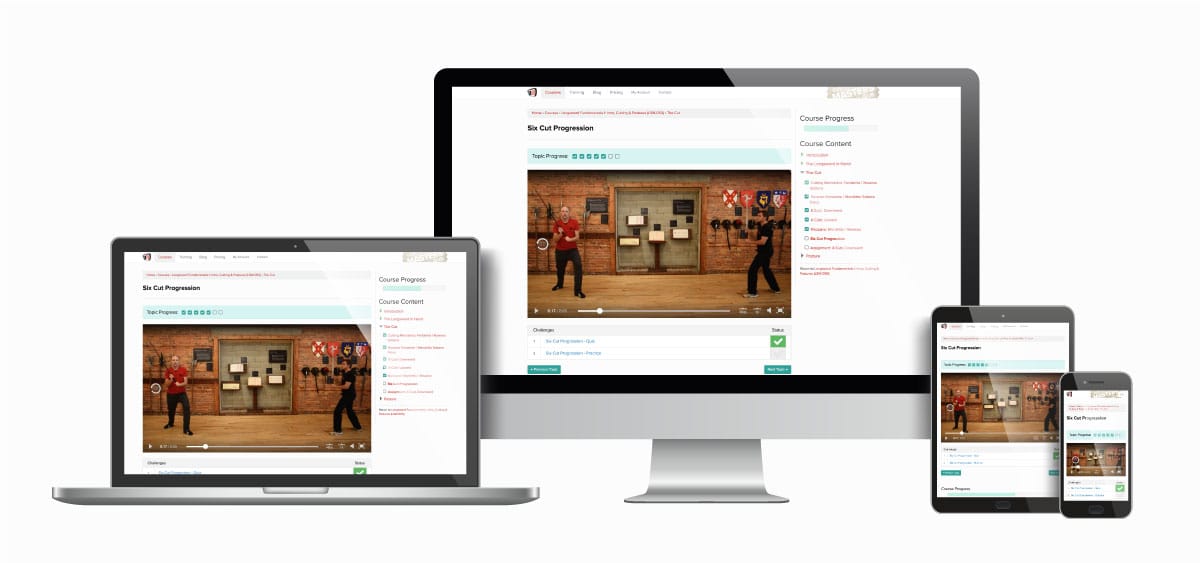 Duello.TV is Academie Duello's premiere online video course repository. Learn the arts of the rapier, sidesword, two-handed longsword, polearms, wrestling, knife, and more through over 80 self-directed video courses and more than 500 lessons, drills, quizzes, and assignments.
We have courses for solo practitioners, pairs, and groups. Content ranges in level from absolute beginner to expert. All of the content is progressive and built from our experience running one of the largest schools of European martial arts in the world.
Move at your own pace, follow lessons from Academie Duello Maestro Devon Boorman, practice skills with straightforward homework assignments, learn theory, and progress through levels from Apprentice to Provost.
Visit Duello.TV now to sign-up for a free account to access our getting started crash courses for the rapier and longsword as well as our daily solo drill.