Horsemanship Level 1: Catching and Haltering
This is the second post in the Horsemanship Level 1 blog series.  The next item on the Horsemanship Level 1 checklist is:
Enter, approach and safely halter horse in stall or paddock
Here's what we're looking for in a testing situation.
Close and latch gate after you enter the paddock.

Approach horse's shoulder (preferably left).

Put the rope around the neck, move to horse's left side if not already there; move horse if necessary.

Put the halter on in an organized, smooth fashion, using buckle or clip.

Hold the rope safely, neither dragging on ground nor looped around hand, ready to move off.
There is a myriad of videos out there, but really, you can't do it much better than this little girl:

Leah Anderson HOW TO...Halter a Horse
(Just watch to about 1:35 — it gets a bit chaotic when her sister comes into the scene).
For slightly more explanation, this video from Michigan University is informative and useful:
Approaching and Haltering a Horse
Her reasoning for not using throatlatch clips is quite sound for their situation. However, in your test we don't mind whether you use the buckle or clip, as long as you halter in a safe and organized manner.  If you do use the clip, we would want to see the halter put on this order: noseband, right ear, left ear. 
In a stall or very enclosed space the rope over the neck is usually unnecessary (and, as this instructor points out, can get in the way).  However, if your horse is in the paddock or field I recommend getting that rope over the neck as a first step to pre-empt any attempts to avoid capture.
For level 1 you will only be asked to catch a horse in a paddock, and won't be dealing with hard to catch horses or horses in a herd. Surprisingly, haltering is an area many people lose marks on during their assessments, and mostly it comes down to not being organized ahead of time.
Next:  Leading in Hand
The Full Package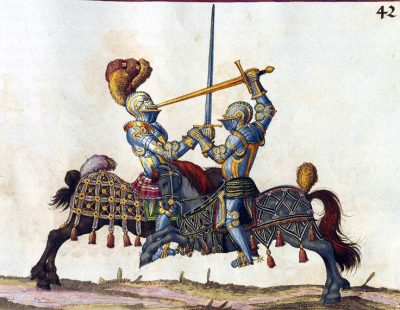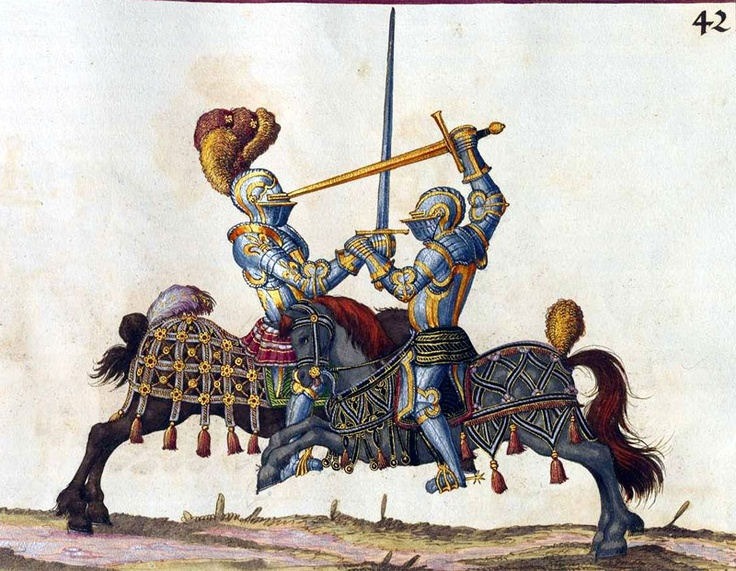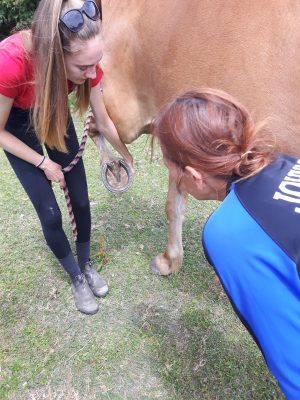 Want to immerse yourself completely in Historical Mounted Works?  The one-week Mounted Combat Intensive is for you.  With two streams, one for beginners and one for experienced riders, this 50-hour program is appropriate for all levels of riding and swordplay.  Learn horse care, history, riding, and swordplay while you bond with a horse you'll groom, feed, and ride twice a day for a week.  Experienced riders are welcome to bring their own mounts to introduce them to mounted swordplay and knightly games. Read more about the course here.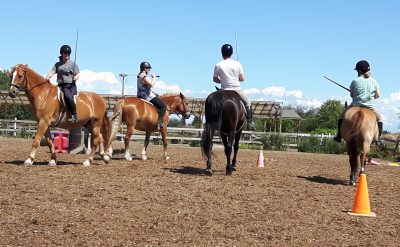 Mounted Combat Intensive
Mon – Fri, 8 – 12 April
9:00am – 7:00pm
cost: $1045 (full intensive); $895 (half intensive)
Instructors
Jennifer Landels (Riding, Swordplay, Mounted Combat)
Isabel Landels (Riding, Horsemanship)
Eleanor Landels (Riding, Horsemanship)
Greg Reimer / Devon Boorman (Swordplay)
Horseback Archery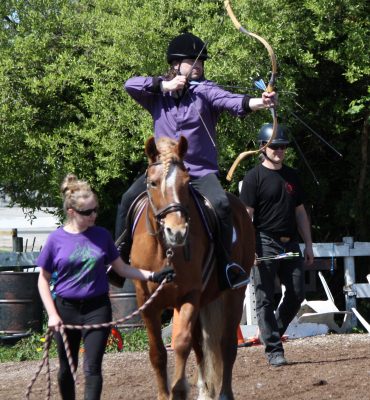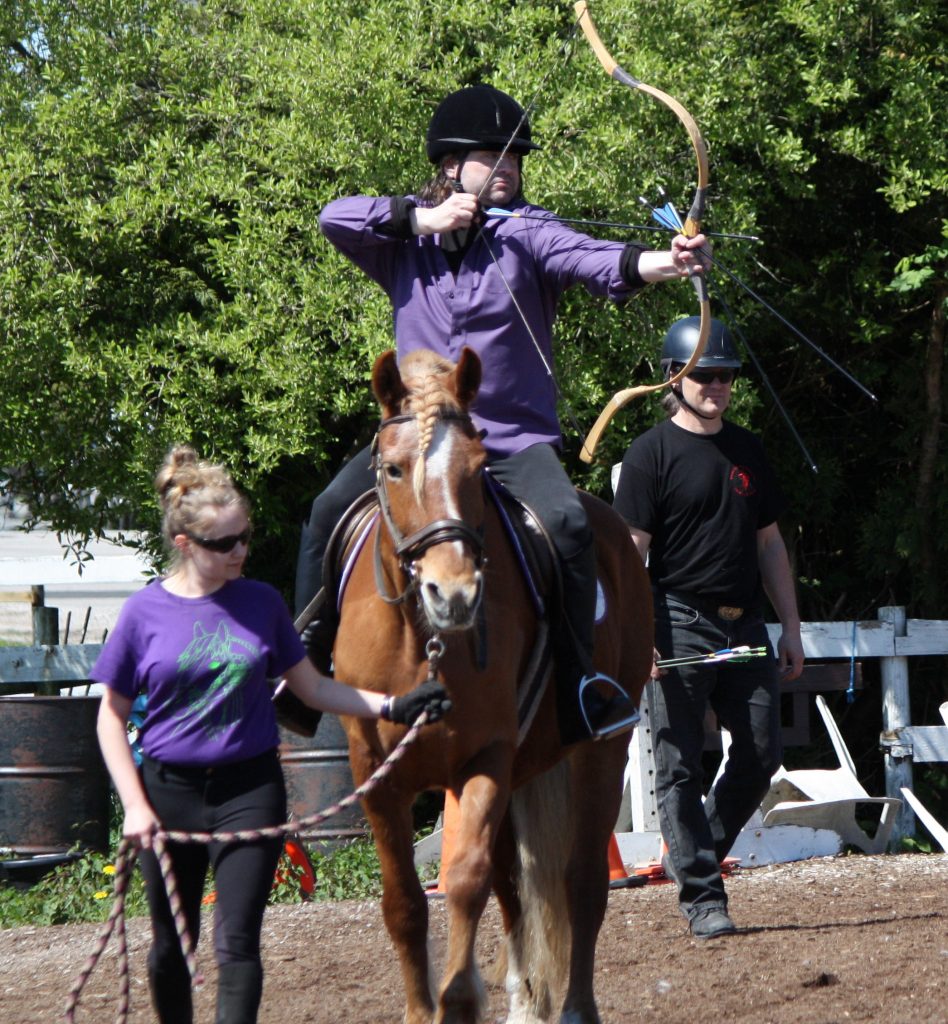 If you're taking the Mounted Combat Intensive, why not stay another day and learn mounted archery?  Our Beginner class is ideal for riders and archers of any level who would like a been-there-done-that school horse and a handler to lead the horse. Riders who are comfortable at trot and canter may choose to come off the leadline.  You will spend approximately an hour and a half on the ground learning Hungarian archery techniques, followed by a chance to mount up and try your hand at shooting from horseback.
Experienced riders who have taken clinics with us or with Fraser Valley Mounted Combat before may take part in the Intermediate workshop.  This class spends about an hour on the ground refreshing archery skills, followed by shooting at walk, trot, and canter.  Those who are not yet comfortable shooting at faster gaits are welcome to stay at a walk.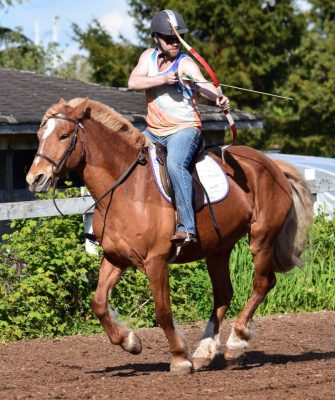 Cost for both workshops includes use of school horse or haul-in fees.
Beginner Horseback Archery
Saturday 13 April, 10am -1pm
cost:$199+gst
Intermediate Horseback Archery
Saturday 13 April, 2pm – 5pm
cost:$120+gst
Don't see the course you're looking or or a date and time that works for you?  Contact Academie Duello's front desk at 604 568 9907 to book a private class or a two hour Knight Adventure.