Over the spring and summer I've put up posts detailing the requirements for our Horsemanship Level 1.  If you read through those posts, look at the relevant chapters of the Manual of Horsemanship, and attend at least Horsemanship classes in which you have the opportunity to practice handling, grooming and tacking up, you have a pretty good chance of passing the assessment.
Riding is harder to learn cerebrally.  Everyone comes to the saddle with different experiences, body types, fitness, and mindsets.  On average, a beginner with no prior riding experience will progress enough in 9 – 12 lessons to pass a Level 1 Riding test.  Some people need fewer lessons to achieve that goal, and some need many more.  As I talk about in this post on equitation, so much of riding is about feel, which must be learned from experience.
That doesn't mean, however, there's nothing to be learned from reading, watching and listening.  Over the next few months I'll be posting topics to help you achieve Riding Level 1.
The Riding Level 1 Checklist
Adjust stirrups and girth from the ground; put reins over horse's head.
Mount safely and correctly from block or ground, picking up reins correctly.
Exercises at the halt.
Demonstrate simple halt-walk and walk-trot transitions.
Demonstrate change of posting diagonal when asked.
Keep straight on rail and across the school at walk from B to E or E to B.
Change rein on the long diagonal (eg. FXH) at trot.
Walk and trot over single ground poles and a group of 3-4 trot poles
Show correct way to hold a whip or crop.
Demonstrate single hand (overhand) reining at walk and trot.
Transitions (halt, walk, trot) with single hand reining.
Safely carry and move a long object such as a dressage or buggy whip, flag or sword, at the walk and trot.
Drop and retake stirrups at the walk.
Identify and maintain safe distance in group while riding and halted.
Demonstrate overall authority, safety and confidence.
It's not a hard test to pass, but there are a lot of little details to get right.  With regular practical lessons and some reading in between you should be well on your way to Riding Level 1 and your rank of Green Spur.
Even though our current series of classes started last week, it's not too late to join in.  Email me at jennifer (at) academieduello.com if you'd like to join a class in progress.
Riding Level 3+, Flat
This six-class series is for intermediate and advanced riders who have graduated from Level 2 and are looking to improve their dressage work.  The classes will focus on the correct position and aids of the rider to increase the horse's suppleness both laterally and through the top-line, as well as on prompt and balanced transitions.  Some cavaletti and ground poles may be incorporated.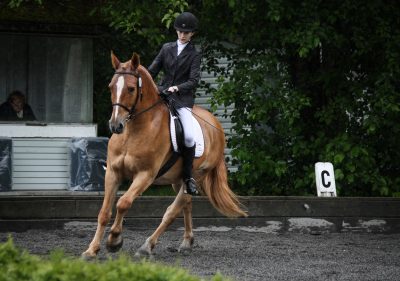 Riding Level 3+, Flat
Sundays 13 Oct – 17 Nov
10am – 11am
Instructor: Isabel Landels
Wednesdays 23 Oct – 27 Nov
8:00 pm – 9:00 pm
Instructor: Eleanor Landels
cost: $275 + gst for 6 classes
drop-in, if space available: $55 + gst
Riding & Horsemanship Level 2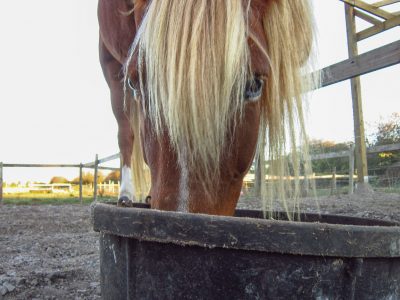 This six class course is for Riders who have achieved Horsemanship level 1 and are working towards Horsemanship level 2, Riding level 1, or Riding level 2. The Horsemanship portion includes identification, routines of the horse, care & cleaning of saddlery, riding etiquette, and safe handling. Riding curriculum covers basic seat position, single-hand reining, games skills, canter work, introduction to drill work, introduction to jumping, and longeline work.
Riding & Horsemanship Level 2
Sundays 13 Oct – 17 Nov
10 am – noon
Instructor: Isabel Landels
Wednesdays 23 Oct – 27 Nov
6:00 pm – 8:00 pm
Instructor: Eleanor Landels
cost: $375 + gst for 6 classes
drop-in, if space available: $75 + gst
Beginner Riding & Horsemanship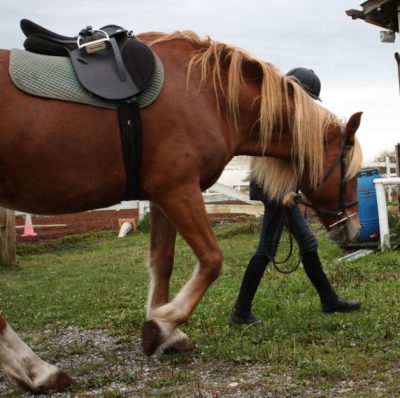 This six-class course is designed to help the beginning rider achieve Horsemanship and Riding Level 1. The Horsemanship portion includes haltering, leading & securing your horse; points of the horse; parts of the saddle & bridle; grooming & tacking up; untacking and care of tack; basic feeding and needs of the horse. The Riding curriculum covers turn out and checking tack, mounting & dismounting, warm up exercises, – basic seat position, aids for walk, trot and halt, circles & turns, rising trot, ground rails, introduction to canter if ready, single hand reining, stirrupless work, and introduction to games skills. The cost of the course includes one free riding or horsemanship assessment. Students can expect to be ready to assess Horsemanship Level 1 at the end of the six classes. Readiness for Riding Level 1 typically takes two iterations of the course.
Beginner Riding & Horsemanship 
Sundays 13 Oct – 17 Nov
11am – 1pm
cost: $375 + gst for 6 classes
drop-in, if space available: $75 + gst
Instructor: Eleanor Landels
Mounted Combat Fundamentals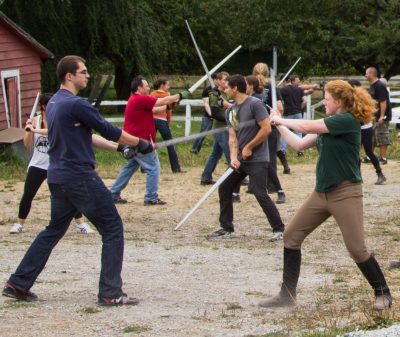 Before you get on a horse with a sword in your hand it is essential to have good fundamental swordplay skills from the ground. This six-week course covers the basic Mounted Combat skills needed for your Green Spur. Students who have achieved these skills along with Riding and Horsemanship Level 1 will be eligible to participate in Mounted Combat classes on horseback.  This course is designed for novice practitioners with the longsword.
Mounted Combat Fundamentals 
Sundays 13 Oct – 17 Nov
1:30 pm – 3:30pm
cost: $165 + gst for 6 classes
Instructor: Dave Wayne
Mounted Combat Mastery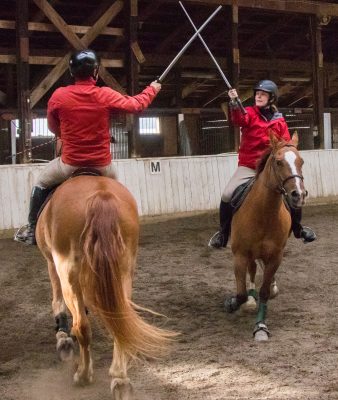 Put your riding and swordplay skills together!  This three hour class consists of an sword, spear, and grappling work on the ground, after which we tack up and practise these skills plus movement and games from horseback. Anyone with a Green Spur or the equivalent (Riding & Horsemanship Level 1 and Mounted Combat Fundamentals or a Green Cord) may join in the twice monthly full Mounted Combat class.  Anyone with a Longsword Green Cord or Rapier Blue Cord may join in the ground-only portion of the class.
Mounted Combat Mastery
Sundays 13 & 27 October, 10 & 24 November
noon – 3pm
full class: 3 tuition credits
ground class: 2 tuition credits
Instructor: Jennifer Landels
Youth Riding & Horsemanship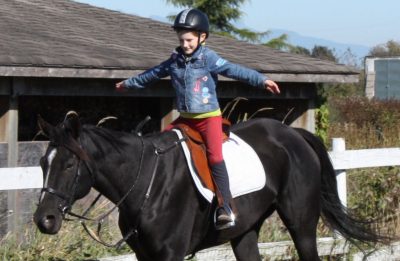 This course for kids aged 6-13 will introduce your child to ponies and horses in safe, fun, and friendly series of six classes taught by Pony Club qualified instructors. Each class contains a riding lesson as well as a horsemanship lesson where students will learn to handle, groom, and care for ponies and horses. Curriculum follows the Canadian Pony Club D level lessons and will prepare students for testing Academie Duello Mounted Combat Riding 1 or Pony Club D Level.
Youth Riding & Horsemanship
Wednesdays 23 Oct – 27 Nov
5:00 pm – 7:00 pm
cost: $375 + gst for 6 classes
Instructor: Isabel Landels