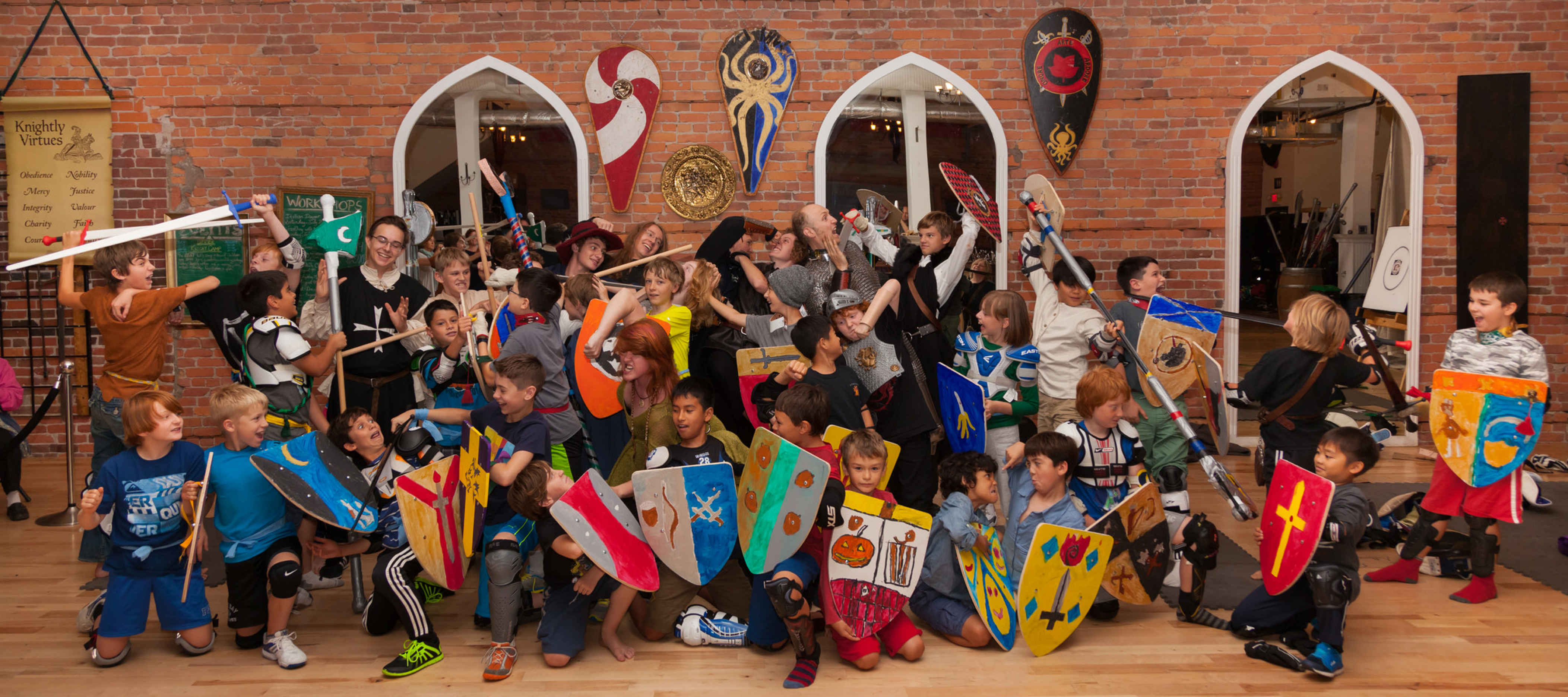 To receive important updates about Knight Academie, Knight Camp and youth events, please join our email list, here!
In our premier youth program, Knight Academie, students train to become fully-fledged knights versed in the Historical Martial Arts of Europe (HEMA) learning and practicing longsword, sword & shield, polearms, archery, and the Knightly Virtues, such as Integrity, Mercy, and Courage!
Students in Knight Academie follow the same rank progression as participants in Academie Duello's Knight Camp, from Paggio (Page) to Cavalieri su Veglia (Knight on Vigil), as they progress on their path to knighthood.
Each 12-week term includes:
12 hours of weapons classes, including lessons in longsword, sword & shield, and polearms
12 hours of archery classes, for beginners and experienced shooters
Knightly Virtue lessons with Virtue Quests to complete each week
Exercises and drills for improving skills at home between classes
Sparring practice and tournaments!
Battle Day on the last class of the term!
Knightly Trials to accomplish in each of the seven progressive rankings, from page to knight
Bonus 30 minutes of practice time after each class to get extra help, more sparring, and work on Knightly Trials!
Join at the start of the term or at the beginning of month 2 or 3.
Ages:
8 - 14 years
Price:
$720 + tax
Monthly payment plans are available! Please call 604-568-9907 or email frontdesk@academieduello.com to get one set up for you!
Price is prorated for kids entering in month 2 or 3. Please call for late enrolment.
Not sure if this is a right fir for your child? Come try a class for free!
See below for dates.
Dates and Times:
January 06 - March 23, 2023
Saturdays  11 am – 1:30 pm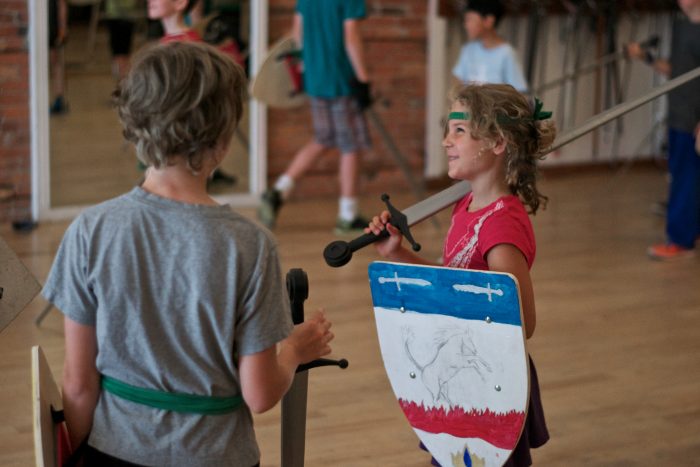 Knight Academie is a weekly, ongoing version of Knight Camp (video above).

Frequently Asked Questions
Do I need to buy extra gear for my child?
Yes, your child will need some basic protective gear, but you don't need to spend a ton of money to obtain it! The necessary pieces are reasonably priced and available at stores such as SportChek, Walmart, and Canadian Tire. There are also three fabulous used-equipment shops in Vancouver: North Shore Sports Swap, Sports Junkies, and Cheapskates. While we have some spare gear for use during class, we can't guarantee enough supply for everyone, or that what is available will fit your child perfectly. Fencing masks, swords, and archery equipment are provided by the school and sterilized after each use.  
Required Gear:
Groin protection (Jock strap and cup is required for boys and a Jill strap is reccomended for girls.)

Rigid plastic elbow and knee pads. 

Shoulder and shin guards are recommended, but not required.

Padded gloves, such as hockey or lacrosse gloves.
How easy is it to get to Academie Duello?
For transit users, we are very close to the Waterfront Skytrain Station, West Coast Express, and the downtown Seabus Terminal, with many families walking, biking or scootering to our studio. Conversely, with our curbside drop off and pick up at our front front door, commuting by car is far easier than you might expect.
Is this program only for boys? Will there be any girls in class?
In our programs, girls are not a minority and are just as excited and capable as boys! Approximately half of our students and instructors are female. All genders, gender identities, and gender expressions are welcome and represented. 
How do you practice martial arts safely?
We use martial arts to teach fair play, discipline, and respect for self and others. Many kids play with swords at home and our classes teach them to do that in an inherently safe, considerate, and regardful way. Minimizing injury risk is a top priority for us, so we have designed courses and protective gear requirements such that our classes are very safe, with all activities supervised by a professional instructor. The fundamental emphasis in Knight Academie is on care, compassion, and virtue.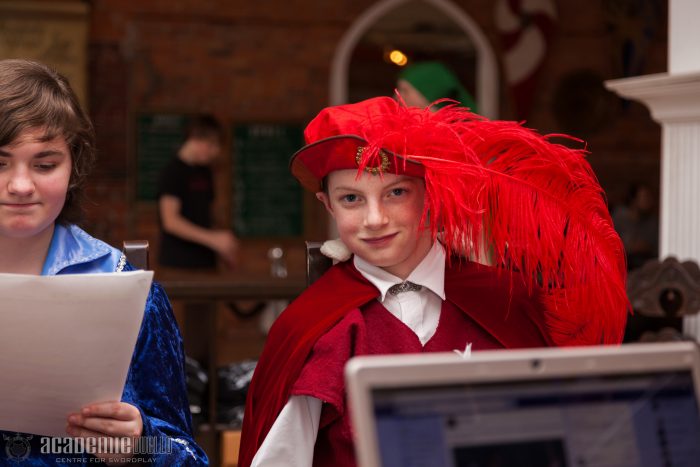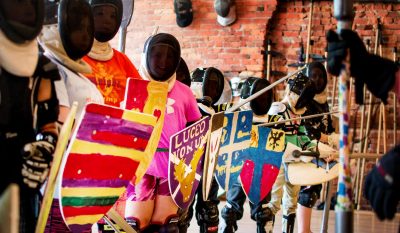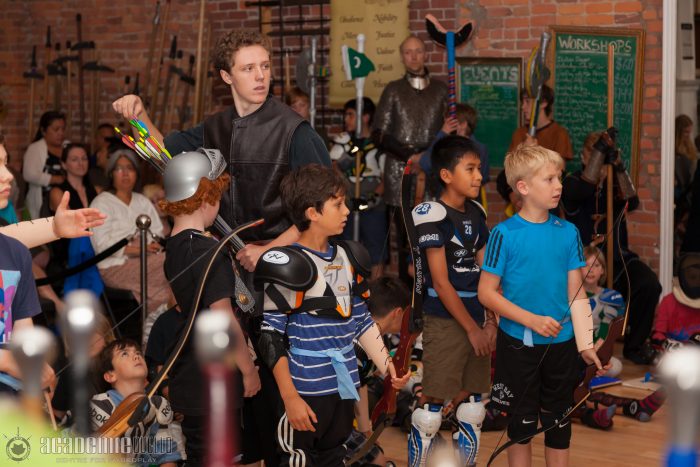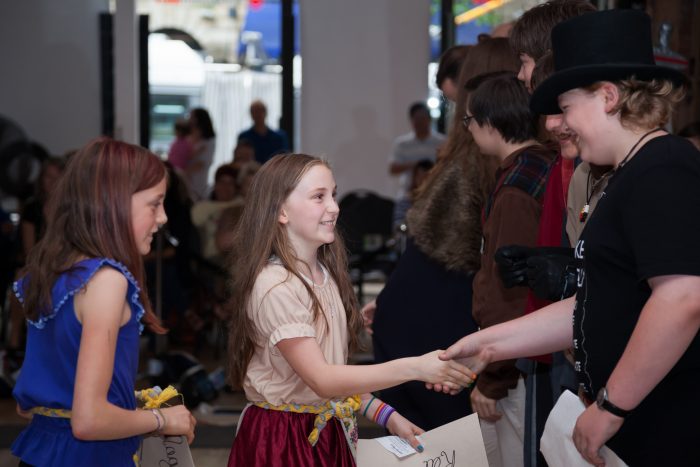 What if my child is really shy?
That's ok! We welcome all types of kids and have had many of them start out very shy and unsure. Some have been almost too afraid to step through the door at first, but they have all ended up having an absolute blast in our classes! If you're concerned about your child feeling shy or fearful, we invite you to call the front desk (604.568.9907) to arrange a tour to help your kid feel comfortable in our space. We do this for families quite often and it really helps kids to see how welcoming the school is. Once they get inside, their shyness is less of an issue as they become enthralled at the sight of all the cool stuff that they're going to get to use in class! 
What if my kid doesn't like sparring?
Knight Academie isn't just about sparring. Classes include archery, exciting stories about history, cool knightly virtue activities, and games. We approach sparring in creative ways, including games like Sword Tag and Dodge & Jump which emphasize fun, physical skills, and free movement. With different levels of sparring participation, kids who love it can do lots, and kids who are not as comfortable with it can do less. We also have other ways they can learn and help out the Masters during sparring, such as helping marshal sparring matches! 
Will this be too easy/hard for my child to learn?
Each class will have beginner as well as intermediate level instruction so that no matter their experience level your child will always have fun and appropriately challenging activities.
You are invited to Knight Academie's
YOUTH FEST!
Saturday Dec 9, 2023
FREE FUN for kids 8-14yrs old!
Archery balloon-shooting!
Sword and quarterstaff lessons!
Knightly Virtue lessons & games!
Museum tours & weapons handling!
Heraldry lessons & crest design!
Fight the Juggernaut! (a knight in full armour)
Sign up to our mailing list for information on our next Youth Fest: a taste of the rich, inspiring and varied world that your child will be immersed in upon enrolment in our ongoing youth program, Knight Academie (fall, winter and spring terms). Next term starts in January!
Doors open at 10:45am to allow time for safety waiver signing (please come a few minutes early to do this). Activities begin at 11am and run until 1:30am, when we stop to draw for the door prize.
Patient parents are welcome to hang out in our library-lounge upstairs, a most excellent viewing and photo-capturing spot.
We're really looking forward to lots of kids attending this. We truly love creating magical educational memories for youth!
Please register HERE!
Sign up on our mailing list for updates!