Horsemanship Level 1: Stabling
Aside from food, which was covered in last week's post, a horse needs shelter and security.  These topics are both covered in the linked blog posts.
For the Horsemanship 1 test we ask about
Stabling: needs and habits of the horse
Along with reference to food, secure fencing, and shelter, we want to see candidates mention the need for regular exercise, health and hoof care, and care for the horse's mental state.  Horses are creatures of habit, and are much more content with a regular routine.  They are also herd animals, so need companionship, and are usually happier in their work when they have formed a good relationship with their riders and handlers.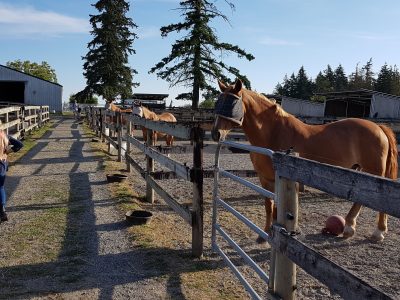 At this level we are not looking for a thorough knowledge of stabling practices, farriery, vet care or conditioning — all that comes at higher levels in the program!
Classes at Cornwall Ridge
Several new series of Riding, Horsemanship, and Mounted Combat classes start this Sunday.  The Beginner Level class is already full, but if you put yourself on the waitlist we may be able to run a second series if there is enough interest.  There are (at this writing) only two spots left in the level 2 class.  And if you'd rather take Riding, Horsemanship, and Mounted Combat all in one week, the Mounted Combat Arts Intensive that runs July 31 -  August 4 is for you!  For more about the 50 hour program, see this blog post from April.
A six-class series for riders working on Level 3 or higher with an emphasis on flat-work and lower level dressage. Some ground poles and cavaletti may be included.
Prerequisite: Riding Level 2
Sundays 10am – 11am
23 Jun – 28 July
cost: $275 for six classes
single classes: $55 each if space available
Instructor: Isabel Landels
This six class course is for Riders who have achieved Horsemanship level 1 and are working towards Horsemanship level 2, Riding level 1, or Riding level 2. The Horsemanship portion includes identification, routines of the horse, care & cleaning of saddlery, riding etiquette, and safe handling. Riding curriculum covers basic seat position, single-hand reining, games skills, canter work, introduction to drill work, introduction to jumping, and longeline work.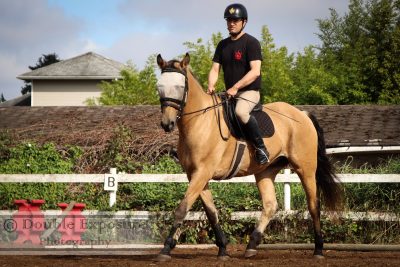 Prerequisites: Horsemanship Level 1
Sundays 10am – noon
23 Jun – 28 July
cost: $375 for six classes
single classes: $75 each if space available
Instructor: Eleanor Landels
This six-class course is designed to help the beginning rider achieve Horsemanship and Riding Level 1.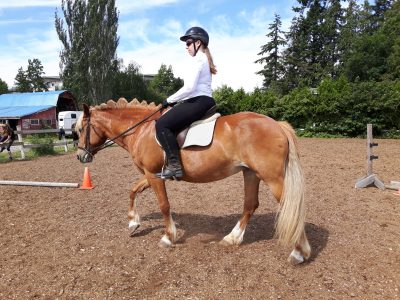 The Horsemanship portion includes haltering, leading & securing your horse; points of the horse; parts of the saddle & bridle; grooming & tacking up; untacking and care of tack; basic feeding and needs of the horse.
The Riding curriculum covers turn out and checking tack, mounting & dismounting, warm up exercises, – basic seat position, aids for walk, trot and halt, circles & turns, rising trot, ground rails, introduction to canter if ready, single hand reining, stirrupless work, and introduction to games skills
The cost of the course includes one free riding or horsemanship assessment. Students can expect to be ready to assess Horsemanship Level 1 at the end of the six classes. Readiness for Riding Level 1 typically takes two iterations of the course.
Prerequisites: none
Sundays 10am – noon
23 Jun – 28 July
cost: $375 for six classes
single classes: $75 each if space available
Instructor: Isabel Landels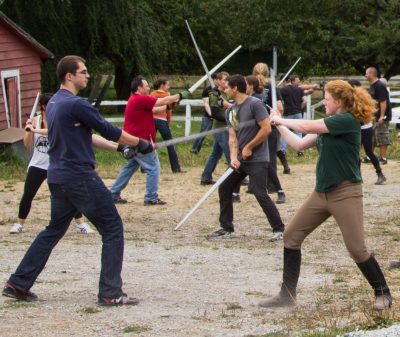 Before you get on a horse with a sword in your hand it is essential to have good fundamental swordplay skills from the ground. This six-week course covers the basic Mounted Combat skills needed for your Green Spur. Students who have achieved these skills along with Riding and Horsemanship Level 1 will be eligible to participate in Mounted Combat classes on horseback.
This workshop is intended for novice practitioners with the longsword.
Prerequisites: none
Sundays 1:30 – 3:00pm
23 Jun – 28 July
Cost: $165 + GST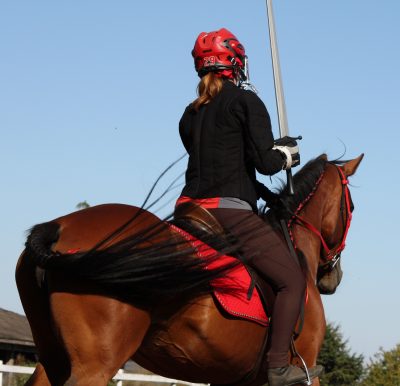 The level 1 Mounted Combat Arts Intensive is a one-week 50-hour immersive program for practitioners of all levels. Throughout the week you will learn the foundation of our approach to Italian Longsword, English Riding, and Horsemanship. Each day we will develop you as a rider and martial artist through detailed practical and theoretical lessons.
There are two streams in the course: one for people with riding experience and one for those without. We also take into account differing levels of swordplay experience so that complete novices as well as experienced HEMA practitioners will benefit from appropriate levels of instruction.
Successful completion of the program allows you to examine for our Horsemanship Level 1 and Mounted Combat Fundamentals qualification. Some students, depending on prior experience, will also be able to challenge Horsemanship Level 2 and Riding Levels 1 or 2.
Wednesday – Sunday, 31 July – 4 August
9am – 7pm
cost: $1045 full day
$895 half day
Instructors: Jennifer Landels, Devon Boorman, et al