One of the most common refrains I hear from would-be knights is "I'd love to come and study mounted combat with you but Vancouver is so faaaar."  And yeah, I get it, the west coast of Canada is not super accessible to folks in the rest of the world.  If you live somewhere other than the BC Lower Mainland, coming out to take weekly classes is just not an option.  However, there are three ways around this.
Bring me to you
I've travelled quite a few times to Europe and US specifically to teach Mounted Combat topics at tournaments and symposia.  In those cases the organizers have paid my travel and accommodation costs, but I am also happy to piggyback on other trips.  I travel quite a bit with my author/publisher hat on, and if you'd like me to come and teach a clinic before or after a writing conference or book fair, I'm happy to try and make that work.  Check out my schedule and see if there's something coming up near your home town.
Come for a holiday
Our Mounted Combat Arts Intensives are the perfect length for a vacation.  Spend five days immersed in mounted combat and take a few extra on either side to enjoy the beauty of BC.  The next intensive is scheduled for July 31st through August 4th, and you can sign up on the website.  If those dates don't work feel free to contact me to see about booking a few days of private training during your trip.
Take advantage of distance learning
If your schedule or pocketbook doesn't allow for in-person training, all is not lost.  I'm in the process of launching a series of webinars and videos to deliver much of what I've learned over the past decade of studying and teaching this art, and the first of these is coming up this Tuesday, July 2nd.  I'll be giving a bit of history on the evolution of Academie Duello's Mounted Combat Program, discussing the various formats and directions you can go with your training, and taking questions from participants.  Topics will include
From inspiration to realization: putting a Mounted Combat program together
School, club, or private training: what format fits you?
Partnering with your local community: convincing equestrian facilities to let you swing swords from their horses.
Outreach and involvement: finding training partners in the community
Your questions: what hurdles do you face, and can I help you over them?
The webinar is free to attend live, and will be hosted on Zoom. As a thank you for attending the first webinar we'll be offering a discount code for the Mounted Combat Arts Intensive to participants. Register here for the free webinar.
And if you are in the Langley/Vancouver area, here's what's on in the next little while
Classes at Cornwall Ridge
Most of these classes started last week, but its not too late to join in. There is one space available in each of Beginner and Level 1 Riding & Horsemanship, and a few spaces in the other courses.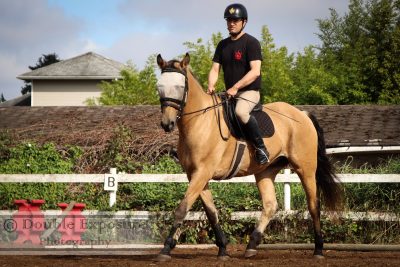 A six-class series for riders working on Level 3 or higher with an emphasis on flat-work and lower level dressage. Some ground poles and cavaletti may be included.
Prerequisite: Riding Level 2
Sundays 10am – 11am
23 Jun – 28 July
cost: $275 for six classes
single classes: $55 each if space available
Instructor: Isabel Landels
This six class course is for Riders who have achieved Horsemanship level 1 and are working towards Horsemanship level 2, Riding level 1, or Riding level 2. The Horsemanship portion includes identification, routines of the horse, care & cleaning of saddlery, riding etiquette, and safe handling. Riding curriculum covers basic seat position, single-hand reining, games skills, canter work, introduction to drill work, introduction to jumping, and longeline work.
Prerequisites: Horsemanship Level 1
Sundays 10am – noon
23 Jun – 28 July
cost: $375 for six classes
single classes: $75 each if space available
Instructor: Eleanor Landels
This six-class course is designed to help the beginning rider achieve Horsemanship and Riding Level 1.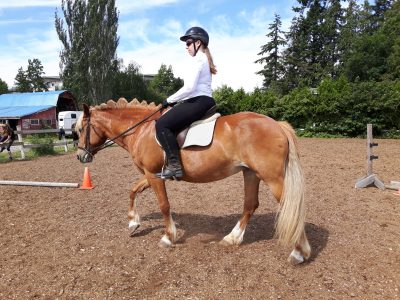 The Horsemanship portion includes haltering, leading & securing your horse; points of the horse; parts of the saddle & bridle; grooming & tacking up; untacking and care of tack; basic feeding and needs of the horse.
The Riding curriculum covers turn out and checking tack, mounting & dismounting, warm up exercises, – basic seat position, aids for walk, trot and halt, circles & turns, rising trot, ground rails, introduction to canter if ready, single hand reining, stirrupless work, and introduction to games skills
The cost of the course includes one free riding or horsemanship assessment. Students can expect to be ready to assess Horsemanship Level 1 at the end of the six classes. Readiness for Riding Level 1 typically takes two iterations of the course.
Prerequisites: none
Sundays 10am – noon
23 Jun – 28 July
cost: $375 for six classes
single classes: $75 each if space available
Instructor: Isabel Landels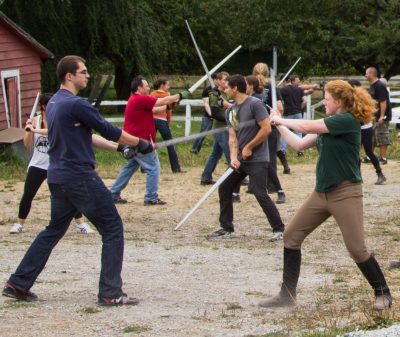 Before you get on a horse with a sword in your hand it is essential to have good fundamental swordplay skills from the ground. This six-week course covers the basic Mounted Combat skills needed for your Green Spur. Students who have achieved these skills along with Riding and Horsemanship Level 1 will be eligible to participate in Mounted Combat classes on horseback.
This workshop is intended for novice practitioners with the longsword.
Prerequisites: none
Sundays 1:30 – 3:00pm
23 Jun – 28 July
Cost: $165 + GST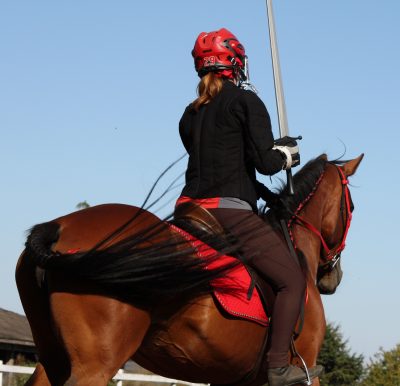 The level 1 Mounted Combat Arts Intensive is a one-week 50-hour immersive program for practitioners of all levels. Throughout the week you will learn the foundation of our approach to Italian Longsword, English Riding, and Horsemanship. Each day we will develop you as a rider and martial artist through detailed practical and theoretical lessons.
There are two streams in the course: one for people with riding experience and one for those without. We also take into account differing levels of swordplay experience so that complete novices as well as experienced HEMA practitioners will benefit from appropriate levels of instruction.
Successful completion of the program allows you to examine for our Horsemanship Level 1 and Mounted Combat Fundamentals qualification. Some students, depending on prior experience, will also be able to challenge Horsemanship Level 2 and Riding Levels 1 or 2.
Wednesday – Sunday, 31 July – 4 August
9am – 7pm
cost: $1045 full day
$895 half day
Instructors: Jennifer Landels, Devon Boorman, et al