We have made it over a third of the way toward our GoFundMe campaign goal! At the time that I'm writing this we have raised nearly $27,000! Thank you everyone for your support and generosity! We have a lot on the go as we seek to support our school and keep things growing.
By Donation Sword Flow Classes
Every week we are hosting classes for adults and youth on both solo and partnered swordplay skills. We've been getting great responses to the classes and some big turnouts! If you haven't checked it out be sure to. You don't need a sword, just a sword-like object like an umbrella or broomstick, to join in on the fun and flow. Feel free to keep attending, every class is different. To see the full schedule visit our campaign page and scroll to the bottom of our main post, or keep an eye out on our Facebook page or Instagram.
Advanced Classes for HEMA Practitioners
Already have swordplay experience? This week we'll be opening up access to our internal mastery programs by donation, and with a special online pass. These classes range across our disciplines including rapier, sidesword, longsword, and mounted combat. From apprentice to intermediate and advanced content. Stay tuned!
Government Programs
Thanks for everyone's help in keeping us informed. We are still waiting on several government programs that are vital to our long-term survival. We're optimistic that we'll get approved for some rent and wage relief. Things are just taking time.
Mural
This weekend artist Jean Bradbury helped turn the sad boarded up front of our studio into a thing of beauty. Check out phase one of her amazing mural featuring beautiful historical images and her own flare: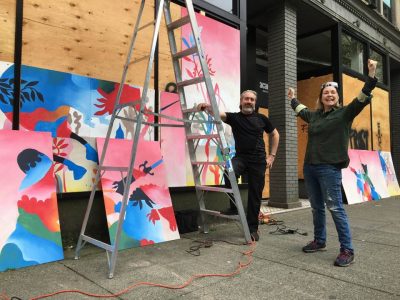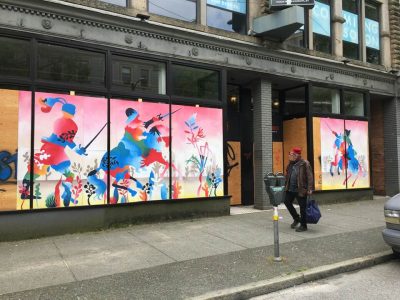 You can check out Jean's other works at www.jeanbradbury.com
The mural will be completed in the next couple days. Thank you so much Jean for your generosity and thanks to the Hastings Crossing BIA for helping fund this project.
Reopening Plans for Classes
We are currently working on a plan for a staged re-opening. Physical contact and working with partners is a part of martial arts so we're being extra cautious (even if we can all stay a swords length away from each other). We are currently exploring options for small solo classes at our school, and outdoor classes in parks and covered spaces around Vancouver. If you are a Duello member, please make sure to fill out our class survey (sent out by email and on the Academie Duello Discord). This survey will help us best meet member needs.
Summer Camps
We are currently accepting reservations for spots in our summer Knight Camp program. We are optimistic that we can run an excellent program that meets Provincial health and safety guidelines. You can let us know that you're interested in being a part by reserving a spot on our website. There will be no penalty for cancellation.
Read more about this amazing program, and sign up here.
We Need Your Help More Than Ever
Even as we expand our online offerings and work on re-opening plans we are still dealing with daily financial hardship. We are pairing your support with new programs and offerings to help us make it to the end of this pandemic into a full re-opening. This is a marathon, not a sprint, and every dollar you contribute will help us make it to the end. Please keep spreading the word and attending our by-donation efforts.
Thank you all so much for your support!
Devon Boorman