What an amazing weekend!
Carosella 2019 was our seventh iteration of the event but it contained many firsts.  We finally brought Working Equitation to the event courtesy of Darcy Henkel and Westcoast Working Equitation; Benjamin Davis gave us a cutting workshop; we included on-ground longsword, sidesword, and rapier tournaments for the first time; and we were honoured to be joined by Jagjit Singh of the Gatka Federation of Canada and many of his students who have been taking riding, horsemanship, and mounted combat here at Cornwall Ridge over the summer. In addition to these new elements, we were delighted to welcome back previous instructors Robert Borsos and Sherry Peters-Leväaho to teach their ever-popular Horse Archery and Classical Riding clinics.
The Tournament
After two full days of riding, archery, swordplay, and horsemanship workshops, our participants were ready to put their skills to the test at the Sunday competitions. The indoor ring was home to the swordplay tournaments, while mounted games and archery took place outdoors.  In addition to the competitions we had a beautiful Prix Fiore demonstration from Allie Douglas and Christian Deron, as well as an impressive Gatka demonstration.  The Guru Nanak Sikh Temple sent their food truck to fuel us for the day, and the final event, as the sun was setting, was the Green Spur mounted sparring tournament.
While there were some delays due to unexpectedly full swordplay pools and tricky weather (the wind was strong enough to knock over bending poles and stick pegs in the outdoor arena), the day went extremely well.  The horses were models of good behaviour, and the participants fought and competed with courtesy and good humour, as well as a high degree of skill.  However, due to the late finish, we did not have time to calculate the results, and the competitors are still on tenter-hooks to find out the overall winners.
Carosella 2019 Tournament Results
Grooms' Competition
To start the day off, teams of two groomed and tacked up horses to present to our judges.  They were marked on their own turnout, as well as the grooming of the horse, the correct fitting of tack, and order in which they finished.
Allie Douglas (no partner) with Tilly
Harkeerit Bassi & Avneet Kaur with Princess
Gurkanwar Singh & Amitjyot Mann Singh Mann with Jack
Dave Wayne & Nadine Geddert with Flavie
Harjap Singh & Namkiran Singh with Chicco
Team Mounted Games
Timed mounted relays included Bending, 5-flag, Stick-pegging, and Wizard's Castle.
Intermediate / Open Division
Team Vive le Roi: Christian Deron on Chicco, Ariadna Popa on Princess with 14 points
Team Red Devils: Allie Douglas on Tilly, Dave Wayne on Flavie with 13 points
Beginner Division
Team Khardkus: Gurkanwar Singh on Tilly, Amitjyot Singh on Flavie, Sudivyadeep Singh on Jack, Harkeerit Bassi on Princess with 15 points
Team Red Knights: Nadine Geddert on Tilly, Avneet Kaur on Princess, Harjap Singh on Chicco, and Namkiran Singh on Flavie with 12 points
Horse Archery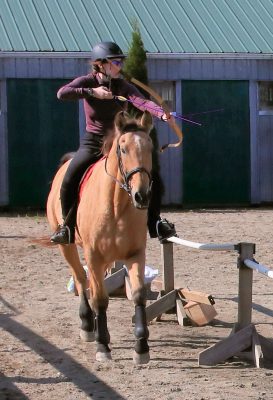 A timed run in which participants had one target and two arrows
Christian Deron on Jack, 8.2s
Allie Douglas on Tilly, 11s
Nadine Geddert on Chicco, 13.53s
Dave Wayne on Flavie, 24.22s
Ariadna Popa on Princess, 24.23s
Individual Mounted Games
For the Open and Intermediate divisions games were Sword & Rings, Spear & Quintain, and Three-mug.  Beginner division games were Sword & Rings and Spear & Quintain
Open Division
Allie Douglas on Tilly
Stephanie Laversin on Daisy
Christian Deron on Trinny
Intermediate Division
Dave Wayne on Flavie
Ariadna Popa on Princess
Beginner Division
Gurkanwar Singh on Tilly
Nadine Geddert on Chicco
Tie for 3rd Amitjyot Singh on Flavie and Sudivyadeep Singh on Jack
Tie for 5th Courtenay Winter on Tilly and Harkireet Bassi on Tilly
Green Spur Mounted Sparring
Round robins with two pools of five riders.  Top two of each pool entered semi finals.
Amitjyot Singh on Flavie
Sudivyadeep Singh on Jack
Tie for 3rd Harjap Singh on Tilly, Namkiran Singh on Flavie
Tie for 5th Dave Wayne on Flavie, Gurkanwar Singh on Tilly, Harkireet Bassi on Princess
Equestrian Champion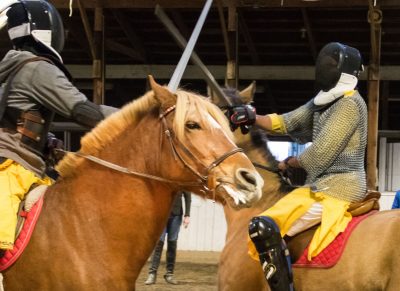 A win in each of the above divisions counted for 5 points, 2nd place 4 points, etc.
Allie Douglas with 18 points
Tie for 2nd Christian Deron, Nadine Geddert, and Gurkanwar Singh with 13 points each
5th Dave Wayne with 12 points
Longsword
The longsword competition consisted of two pools of six and five fighters who fought round robin matches.  Winner was determined by a final bout between the winner of each pool.
Namkiran Singh
Harjap Singh
Rajpal Singh
Tie for 4th Dave Wayne, Sudivyadeep Singh, and Benjamin Davis
Sidesword
Round robins of two pools of five fighters.  Winner determined by final bout between winner of each pool.
Harjap Singh
Namkiran Singh
Amitjyot Singh Mann
Sudivyadeep Singh
Tie for 5th Elena Liakhovskaia and Gurkanwar Singh
Rapier Tournament
Round robin of six fighters. Winner determined by final bout between top two.
Mark Gen
Benjamin Davis
Tie for 3rd Rajpal  Singh and Sudivyadeep Singh
Tie for 5th Dave Wayne and Amitjyot Singh Mann
Ground Archery
Timed run with one target and two arrows.  Bonus points (seconds deducted) for colour of ring.
Harjap Singh, 3.1s
Allie Douglas, 5.55s
Nadine Geddert, 6.11s
Gurkanwar Singh, 9.17s
Amitjyot Singh, 11s
Ground Champion
Total of points in the above divisions plus the grooms' competition.
Harjap Singh, 15 points
Namkiran Singh, 10 points
Allie Douglas, 9 points
Amitjyot Singh Mann, 8 points
Tie for 5th Sudivyadeep Singh, Rajpal Singh
Carosella Grand Champion
Total of all competitions, field of 22 competitors.
Allie Douglas, 22 points
Harjap Singh, 19 points
Tie for 3rd Nadine Geddert, Gurkanwar Singh, Amitjyot Singh Mann, 16 points each
6th Dave Wayne, 15 points
Tie for 7th Namkiran Singh, Sudivyadeep Singh, 14 points
9th Christian Deron
10th Ariadna Popa
Congratulations to all the participants, and especially Allie, whose riding, horsemanship, and archery was so strong she achieved the high-point award for the day without sparring.  Kudos as well to Harjap, who showed excellence in all areas of competition, and to Nadine, for whom it was the first time doing any of the competitions, riding on unfamiliar horses. A spectacular job done by all!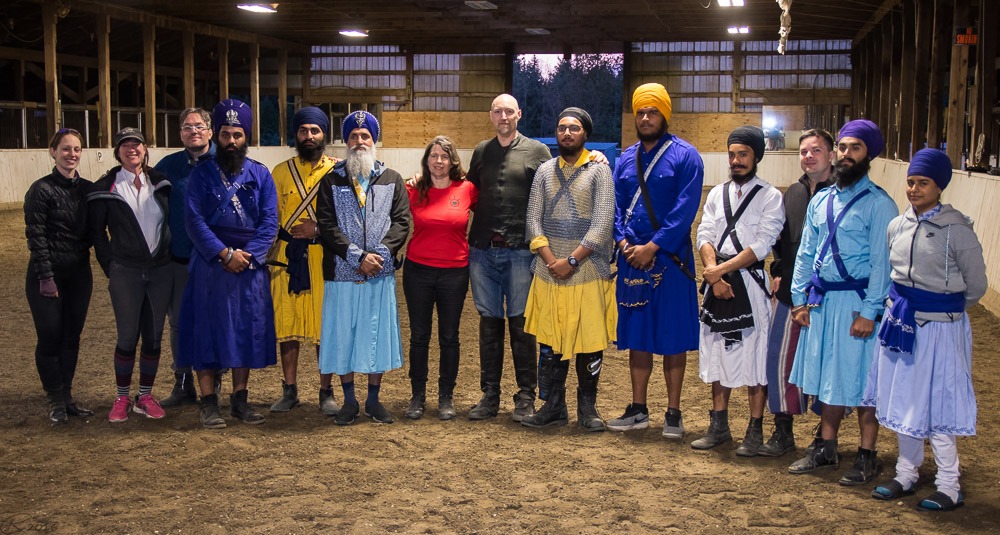 Thank yous
It's impossible to pull of an event of this complexity without a tonne of help, and I couldn't have done it without Benjamin Davis, who was my right-hand man, looking after the ground swordplay and cutting, as well as manning the onsite registration and sales.  Chris Richardson is of course my left-hand man, looking after everything from sound systems, equipment, photography, emergency repairs, and cat herding.  Ben and Chris, you're amazing – thank you!  Huge thanks to the instructors, many of whom generously donated their time:  Darcy Henkel, Robert Borsos, Sherry Peters-Leväaho, Jagjit Singh, Gurkanwar Singh, Devon Boorman, Ben Davis, Isabel Landels, and Eleanor Landels.  We are all extremely grateful to the Guru Nanak roving kitchen who fed everyone for free on Sunday (and supplied a cooler full of delicious pakora on Saturday).  And to the volunteers who signed up ahead of time, and those who pitched in on the spot, you are too numerous to list without forgetting some, but I love you all.
For those of you who've caught the equine bug, registration is open for the next series of Riding & Horsemanship which starts October 13th, along with the first October Mounted Combat Mastery class.  I hope to see you at the barn soon.