Wow, Carosella 2019 is this week!  And registration closes tomorrow, Thursday September 26th.  If you've always been meaning to take a course in the Mounted Combat Program this is your absolute best time to do it.  Normally courses like Intro to Mounted Combat and Beginner Horseback Archery are $200 each.  But you can take both of these plus a whole bunch more swordplay, riding, and horsemanship workshops for only $269 for the whole weekend.  Don't have time for the full three days?  You can take a single day for only $99!  That's an amazing value.
Sunday September 29th is the culmination of Carosella, and our annual tournament.  There will be longsword, sidesword, rapier, and mounted combat tournaments, as well mounted games, horse archery, the grooms' competition, and the ever popular unmounted games.  Even if you've never picked up a sword or picked out a hoof, there's a fun and friendly competition you can take part in.  And of course spectators are welcome to cheer on the participants all day long.
Register here, and join us at Cornwall Ridge Farm, 21955 16 Ave, Langley BC, for a fabulous weekend of horsing around!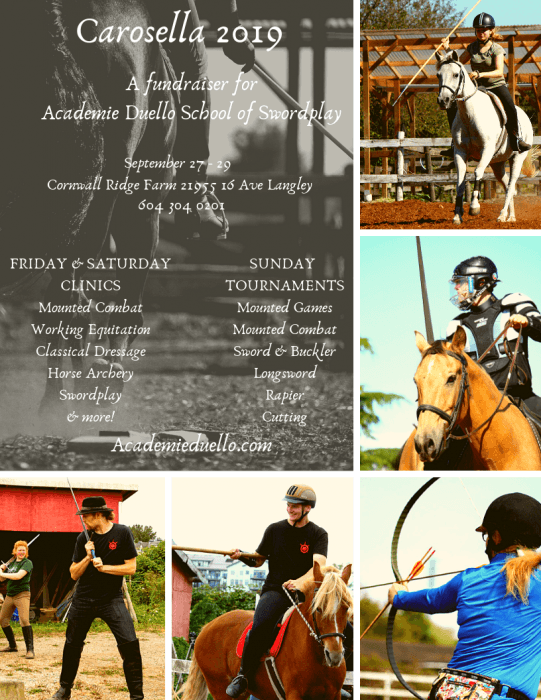 PS:  If you're already registered and haven't yet chosen your courses and competitions, get on over to the survey page ASAP!