As a SwordFit coach one of the concepts that I try to drill into my students is that their body is the most important weapon they use in their study, training and application of Western Martial Arts.  We oil our swords, but what about basic body maintenance? Our bodies are the most crucial part of our martial arts practice and a body that is well taken care of and maintained is what allows us to train with our without other weapons.  It is of the utmost importance that we take care of the most essential tool we use in the training of any martial art- which is this wonderful vessel that we call the human body!  More effective training sessions are an immediate payoff, with injury prevention keeping us in the game.  Proper alignment, mechanics and regular maintenance is required to keep our bodies functionally well- not only as athletes but in our day to day life.
We are very excited to announce that Duello's own Meghan O'Connel is offering a very special seminar on conditioning and foundational movement skills.  This is great way to learn how to keep our bodies doing what we love (swordplay!) for many years to come with minimal strain and injury to ourselves along the way.
This two-hour, premium workshop will teach you:
common asymmetries and muscle imbalances for various types of swordplay as well as archery
basic body maintenance and "prehab" to help fend off overuse and imbalance injuries
what type of cool-down is actually necessary
how to improve the quality of training sessions and reduce your risk of acute injury when training, whether with weapons or unarmed combat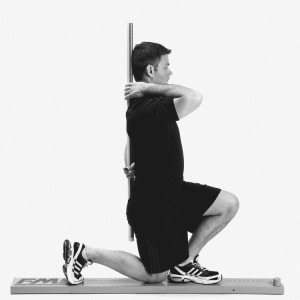 Whether your weapon of choice is the longsword, rapier, dagger, poleax, or sidesword, this workshop is ideal for any student of the arts we practice.  If the sword is an extension of the body, let's make sure that our bodies have a strong, healthy foundation to allow us to train and excel in martial arts we practice.
Instructor Meghan O'Connel comes from a diverse fitness and martial background. Outside of teaching the Functional Movement System at Academie Duello, Meghan is also a Personal Trainer and Boxing Coach and in 2004 she was awarded the Professional Boxer BC Champion, Canadian Bronze Medallist, 54 kg.
DATE:  Sunday, June 22nd/ 2014
TIME:  10:00am- 12:00pm
PRICE:  $75.00
Visit the front desk in person, or call 604-568-9907, or visit our website here to sign up!