Riding Level 3: Riding without  Stirrups
At all levels of riding we ask you to drop your stirrups periodically.  There are two main reasons for this:
You never know when you might lose your stirrups when riding.  It's good to be able to keep your seat without them, and regain them on the fly.
Riding without stirrups improves everyone's seat, sometimes marginally, sometimes miraculously.
For level 1 we asked you to be able to drop and regain your stirrups at the walk; for level 2 you had to drop them at sitting trot and regain at walk. For level 3 we want you to be able to perform:
Exercises at walk & trot. Sitting trot no stirrups, drop and regain stirrups at trot.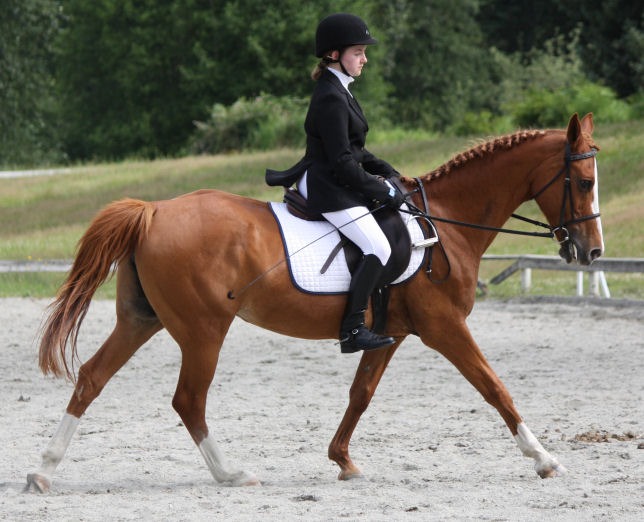 Exercises at walk and trot may not seem related to stirrupless work, but they all harken back to the Independent Seat I keep nagging you about.  Go back and look at this Level 2 post for activities to improve your seat, and this Level 1 post to review the five warm-up exercises.  The only difference now is that you should be practising them at the trot as well as the walk and halt.
Before you begin to practise your stirrupless trot, find out (by asking your instructor, or by trial and error if necessary) whether your horse reacts to stirrups flapping against his sides.  If he does, it may be best to cross your stirrups over the withers and lie them on his shoulders.  If you are planning on jumping, remove them entirely to avoid them flying up and hitting you!
Go ahead and relax your legs entirely.  Just let them hang naturally and you will find they tend to open your hip into the exact right placement.  Ride for a while with this loose leg, just to work on the balance in your seat.  Now, leaving your leg where it is, pick up your toe as if it were in a stirrup, and bend your knee to match.  You will find this puts more calf onto your horse and adds a bit of tension in your seat.  This tension is fine as long as you don't overdo it – it will eventually allow you to post the trot and adopt 2-point position without stirrups.
Practice with both leg positions: the completely loose leg and the imaginary stirrup.  Both are useful for developing different aspects of your seat and balance.  However, when it comes to testing, adopt the toes-up position, as this is what your examiners are looking for.
To work on your ability to regain your stirrups, periodically drop one or both as you ride.  See how smoothly you can drop the stirrups and take them back without changing your seat, your horse's gait, or your rhythm.  Also practise adjusting your foot position on the stirrup – little toe next to the outside branch, stirrup angle across the ball of the foot – until you can do it by feel alone.
Take opportunities to ride stirrupless as often as possible.  Not only does it provide a nice break for tired knees and ankles, it makes you a better rider!
Current & Upcoming Classes
Most of these courses have already started.  However, you can still register on a single class basis, or sign up for the series and take a credit for classes you have already missed.  Note that the time for Riding 3+ has been changed to noon, starting this week.
Mounted Combat Skills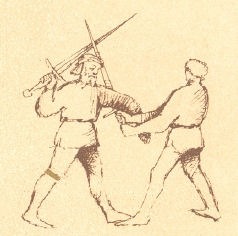 Saturdays 7 – 28 Feb, 3:00 – 4:30pm
Academie Duello, 412 W Hastings St, Vancouver
$120 + gst
Beginner Riding & Horsemanship
Sundays 8 Feb – 15 March, 10am – noon
Red Colt Equestrian Farm Co-op, 12320 No 2 Road, Richmond
$300 + gst
Level 2 Riding & Horsemanship
Sundays 8 Feb – 15 March, 10am – noon
Red Colt Equestrian Farm Co-op, 12320 No 2 Road, Richmond
$300 + gst
Horsemanship Level 3 or 4
Sundays 8 Feb – 15 March, noon – 1pm
Red Colt Equestrian Farm Co-op, 12320 No 2 Road, Richmond
$130 + gst
Riding Level 3+
*note new time*
Sundays 8 Feb – 15 March, noon – 1pm
Red Colt Equestrian Farm Co-op, 12320 No 2 Road, Richmond
$200 + gst
Cavaliere Assessments
Sunday 1 March, 1:30 – 4:30pm
Red Colt Equestrian Farm Co-op, 12320 No 2 Road, Richmond
$50 for partial assessment (Horsemanship, Riding OR Mounted Combat)
$80 for full assessment (2 or 3 of the above elements)
Mounted Combat
Sundays Sundays 8 & 15 March, 12 & 19 April, 1:00 – 2:30pm
Red Colt Equestrian Farm Co-op, 12320 No 2 Road, Richmond
$200 + gst
Intro to Mounted Combat

Sunday 5 April, 10am – 1pm
Red Colt Equestrian Farm Co-op, 12320 No 2 Road, Richmond
$149 + gst
Mounted Combat Playday
Sunday 5 April, 1pm – 4pm
Red Colt Equestrian Farm Co-op, 12320 No 2 Road, Richmond
$15 + $15 for use of school horse
Beginner Horseback Archery
Saturday 2 May - 10am - 1pm
Red Colt Equestrian Farm Co-op, 12320 No 2 Road, Richmond
$149 +gst
Intermediate Horseback Archery
Saturday 2 May - 2pm - 5pm
Red Colt Equestrian Farm Co-op, 12320 No 2 Road, Richmond
$75 + gst