This is the time where the long spring and summer of training comes together for our annual Knightly Games Tournament.  And if you haven't been riding and training as much as you'd like or feel you ought to have been, September is the chance to get that last push in while the weather's good, sign off the things you'll need for your Riding, Horsemanship or Mounted Combat, and make sure you're ready to receive your Green Spur at Carosella.
September is traditionally a month for new things as well, as we put away summer pastimes and buckle down to work or school.  If you've been thinking about taking up riding and mounted combat, now is a great time to start:  there's still three months to build a good foundation before we take our winter break.
Carosella 2013 will have a variety of workshops and clinics for students of all levels, even if that's the first time you'll be meeting a horse in person.  However, if you can manage to make it out to some of the September Cavaliere Program courses beforehand, you'll get even more out of the Carosella weekend.
If you're an experienced rider, coming out to the Intro to Mounted Combat or Cavaliere Classes will allow us to pre-assess you and put you in more advanced classes at Carosella.
Here's what September has in store:
Intro to Mounted Combat & Mounted Combat Workshops
Intro to Mounted Combat

Sunday 8 September
10am – 12:30pm
cost: $99 + gst
Get longsword fundamentals and riding basics under your belt now, and you'll be able to skip the Intro and instead take Single-handed Longsword with Devon Boorman on Friday the 27th at Carosella.  If you are an experienced rider this is an opportunity for a pre-assessment to allow you to ride school horses for Carosella.
Mounted Combat Workshop
Sunday 8 September
1pm – 4pm
cost: $60 ($50 if added to the morning Intro)
You don't want to miss this one!  We'll be practising Mounted Duelling for the Green Spur Tourney portion of Carosella.  This is also an opportunity to get those final Mounted Combat items signed off and be awarded your spurs (and be able to participate in the Green Spur tourney) at Carosella.
Cavaliere Classes
Cavaliere Classes

Saturdays, 14 & 21 September
4pm – 7:30pmcost: $60 per class
Integrated Package: $120 for  Mounted Combat workshop & 2 Cavaliere classes in same month.
Last chance to get your Riding and Horsemanship 1 before Carosella!  Riding and Horsemanship assessments will take place on September 21st.  If you are an experienced rider and would like an assessment you must book it ahead of time, and should take the September 14th class as preparation.
Additional Lessons
Riding Lessons
Mondays, 9, 16 & 23 September
available times: 5:30, 6:15 & 7:00pm
cost for private lessons: $45 ($35 on own or lease horse)
cost for group lessons: $35 ($25 on own or lease horse)
To accomodate the demand for extra preparation, I've added lesson time slots for group and private lessons on Mondays from now until Carosella.  I also have some spots available Wednesday mornings and Thursday & Friday afternoons.  To save the front desk scheduling headaches please contact me directly to book these:  jennifer(at)academieduello.com.
Mounted Games Practices
Mounted Games Practices
Fridays, 13 & 20 September
5:00 – 7:00pm
cost: $5 + $10 for use of school horse
Only two more practices before Carosella!  (Practice may still run on Sep 6th if there is enough interest. Contact me if you are interested and I will make sure someone is there to run it).
Carosella 2013
Carosella 2013

Friday 27 Sep – Sunday 29 Sepcost: $60 per workshop; $100 per day; $199 for 3-day pass
full schedule & registration forms here.
Mounted Combat, Mounted Archery, Knightly Games, Sword, Spear & Grappling Workshops, all in three days!  The web pages with the full and online registration form are up.  If you are planning to volunteer, contact me at jennifer(at)academieduello.com to determine your volunteer discount.
o o o
 Thank you!
Finally a huge thanks to everyone who came out and helped with Shedrow II over the long weekend.  The power of many ladders, levels and drills, and just the right number of people made the process so much more efficient this time around.  Well, that and the fact we'd done it all before.  It's immensely satisfying to go from this: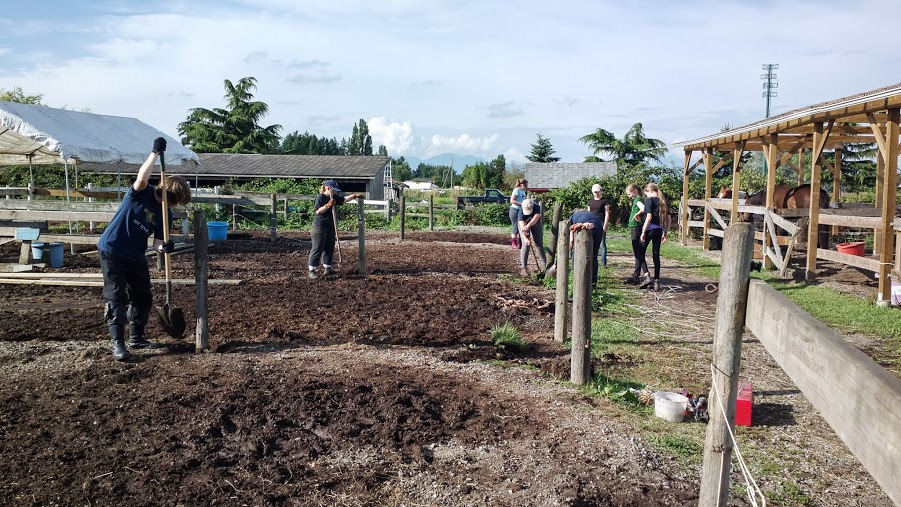 to this: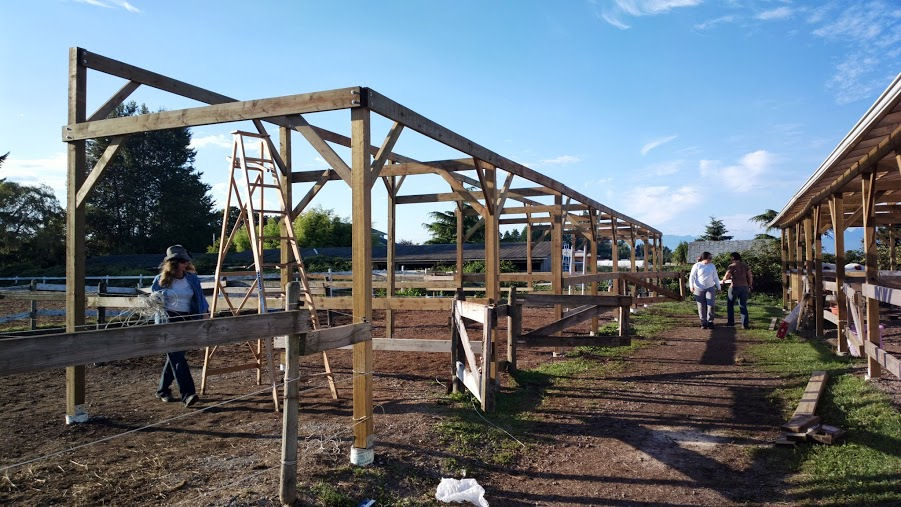 over the course of a weekend!
The rafters are cut and ready to be put on, so if you missed out on the bones of Shedrow II this weekend, stay tuned for a roofing party mid-September…