Looking to step outside the daily grind? Find a hobby that challenges you mentally and physically, but most of all is FUN?  You don't get much more fun than combining the awesome arts of historical weaponry with living, breathing horses.  Whether you dream of being an Amazon warrior, a knight in shining armour, or swift horse archer of the Steppes, we have a program to help you scratch that itch through our Mounted Combat program at Cornwall Ridge Farm.
Horseback Archery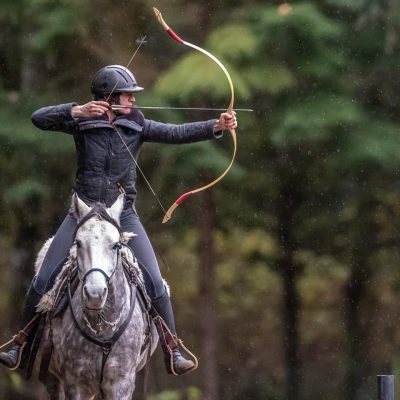 For the experienced rider we have a full day clinic with Stephanie Laversin of Fraser Valley Mounted Combat coming up Saturday March 16th.  Whether you are a new or seasoned archer you are welcome to take part.  The morning is spent shooting from the ground, and the afternoon from horseback.  Having your own horse and equipment is recommended, but some school horses and equipment are available.  Contact Steph at stephanie[at]slequine.ca for details and registration.
No riding experience?  No problem.  Our Beginner Horseback Archery workshop takes place on Saturday April 13th.  In this three hour session you will learn the basics of Hungarian style archery from the ground, after which our experienced handlers will lead you on horseback while you shoot.  This workshop is also recommended for experienced riders who would like to try horse archery for the first time from the back of steady school horse on a leadline.  Intermediate Horseback Archery on the afternoon of April 13th is open to participants who have taken Beginner Horseback Archery before, and hold Riding Level 1 or the equivalent.  Cost includes use of school horse or haul-in fees.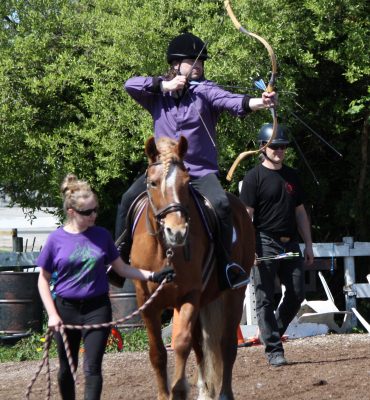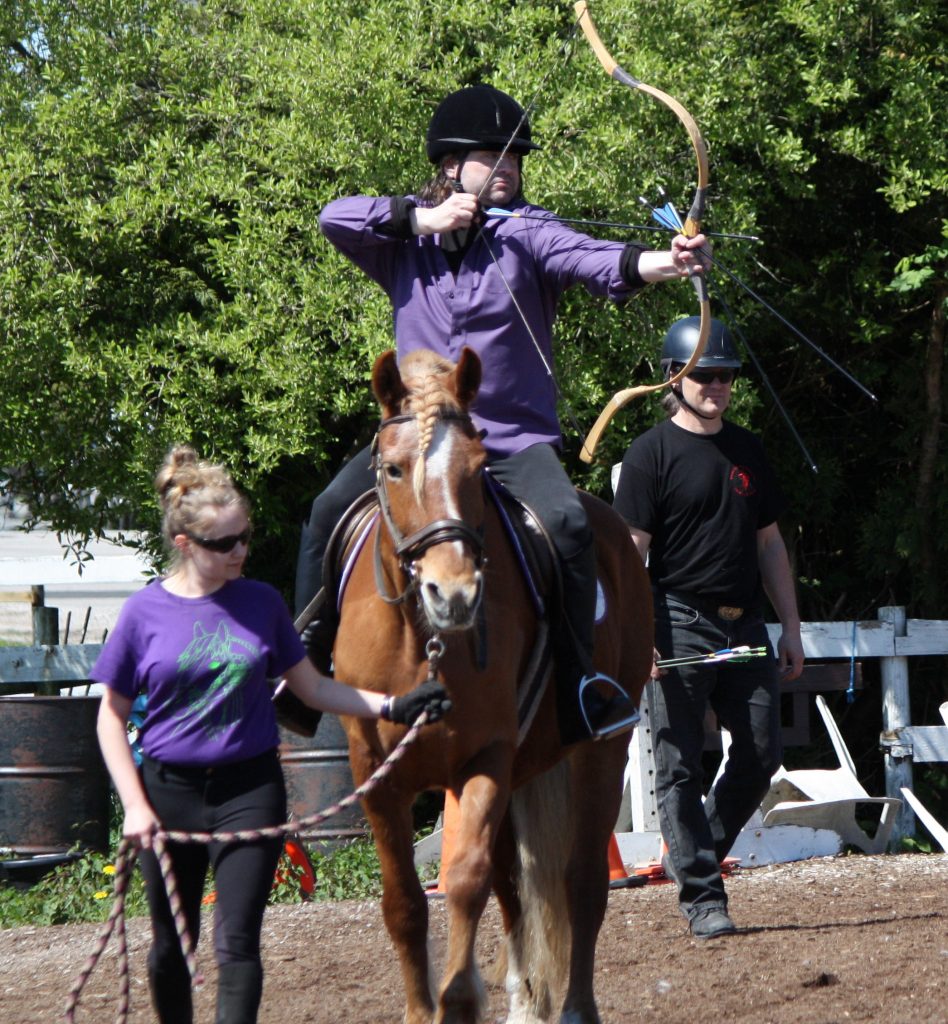 Beginner Horseback Archery
Saturday 13 April, 10am -1pm
cost:$199+gst
Intermediate Horseback Archery
Saturday 13 April, 2pm - 5pm
cost:$120+gst
Swordplay Skills
Can you already ride but need to learn swordplay?  Our Mounted Combat Fundamentals will give you all the basics you need to safely swing a sword before you get on a horse with one.  Based on the 14th century treatise by Fiore dei Liberi, this six-week course will teach you the posture, movement, guards, attacks, and defences of the mediaeval knight with the sword in one and two hands.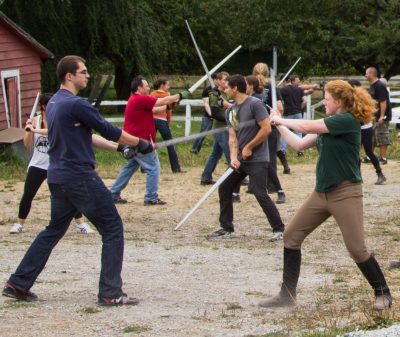 Mounted Combat Fundamentals
Sundays, 17 Mar - 28 Apr (no class 7 Apr)
1:30 - 3:00pm
cost: $165+gst
Riding Skills
What if you've never been on a horse?  Or you took lessons as a kid but need a tune-up?  We have riding and horsemanship lessons for all levels of riders, from complete beginners on up.  Beginner and Level 2 Riding and Horsemanship are six week series of two-hour classes that cover horsemanship skills and knowledge from the ground as well as weekly riding lessons.  Riding Level 3 and up are riding only classes that focus on more advanced riding skills.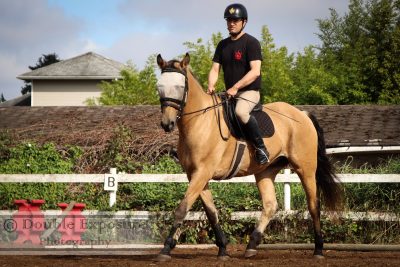 Beginner Riding & Horsemanship
Sundays, 17 Mar - 28 Apr (no class 7 Apr)
11am - 1pm
cost: $375+gst
Riding & Horsemanship - Level 2
Sundays, 17 Mar - 28 Apr (no class 7 Apr)
10am - noon
cost: $375+gst
Riding Level 3+
Sundays, 17 Mar - 28 Apr (no class 7 Apr)
10am - 11am
cost: $275+gst
The Full Package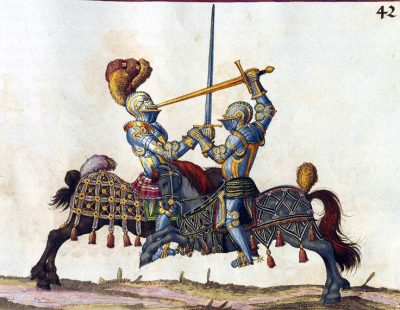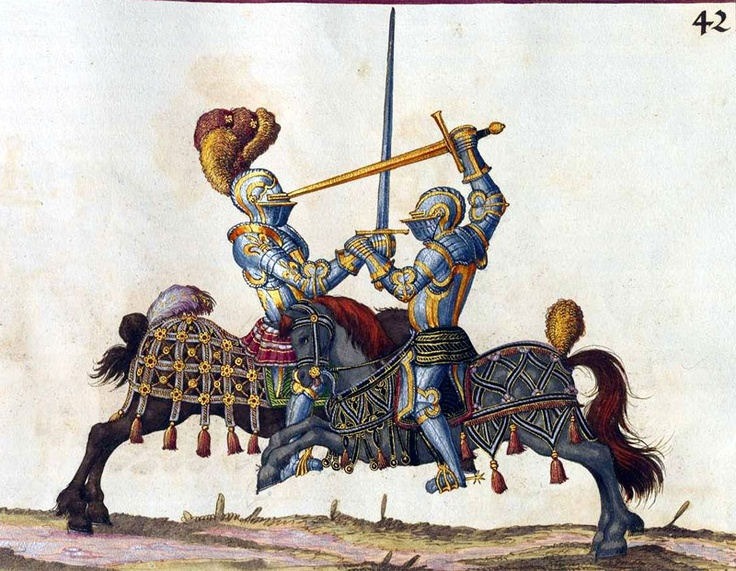 Want to immerse yourself completely in Historical Mounted Works?  The one-week Mounted Combat Intensive is for you.  With two streams, one for beginners and one for experienced riders, this 50-hour program is appropriate for all levels of riding and swordplay.  Learn horse care, history, riding, and swordplay while you bond with a horse you'll groom, feed, and ride twice a day for a week.  Experienced riders are welcome to bring their own mounts to introduce them to mounted swordplay and knightly games.
Mounted Combat Intensive
Mon - Fri, 8 - 12 April
9:00am - 7:00pm
cost: $1045 (full intensive); $895 (half intensive)
For the Younger Set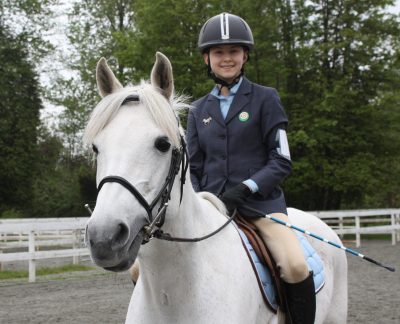 Not to be left out, there are programs for kids aged 6 and older.  Pony Camp in the first week of Spring Break is for 6-12 year olds and teaches riding and pony care.  Cavalier Camp in the second week does all that, but also adds in a lesson in a different historical weapon each day of the week.
Pony Camp
Mon - Fri 18 - 22 March
10:00 am - 1:00 pm
cost: $425 + gst
Cavalier Camp
Mon - Fri 25 - 29 March
10:00 am - 3:00 pm
cost: $575 + gst
A la Carte
Don't see a date and time that works for you?  Contact Academie Duello's front desk at 604 568 9907 to book a private class or a two hour Knight Adventure.