Hello to all our Academie Duello students, members and friends!
It's amazing how time flies even when you're isolated at home. Through this time we have been hard at work delivering online classes and staying connected with our members while also exploring new ways to teach and create community online.
Before we share about all the new things we're doing, thank you to everyone in our community who has supported us through this time by staying involved, participating in classes, supporting our fundraising endeavours, and just being the great friends and members you are. We appreciate you!
What We're Doing
Our studio in downtown Vancouver is currently closed and we are not holding in-person classes at this time, but that doesn't mean that we are not delivering top-notch instruction to our students. Through the use of services like Zoom and Discord we've been able to deliver nearly all of our classes online. And, in the last two weeks we've been able to expand what we're offering even further. Here's what's available to our members now:
Academie Duello's Discord server. This is an online version of the school that connects you with classes, instructors, and other members. Follow links to daily online classes, access the full class archive, and discuss HEMA topics in the forums.
Zoom classes everyday of the week for all levels and disciplines. These are taught by Academie Duello's instructors and are on a weekly timetable.
Online lectures for people who can't practise active swordplay at home.
Classes that engage you physically without requiring the use of a sword or sword stand-in, including weekly fitness videos from the fitness instructors you know.
Weekly guest lectures and workshops from instructor friends from around the world.
Practical online video assessments with instructors, or reading assessments of written material; you can continue on your path to the next rank from home!
Weekly social events including trivia and online movie nights arranged through our Discord server where students can keep contact with each other, having fun and exchanging ideas!
I have been inspired and amazed by the quality of what we have been able to provide online and the ways that it has helped us connect with swordplay and each other in new ways. If you haven't checked things out, I recommend that you do.
Not an Active Member?
If you are a member who has been away, now is a great time to come back and join us online! Sign up to our Discord by utilizing this link! If it's your first time logging on, be sure to read the #welcome channel to help you get oriented! From there you can access everything else we're up to.
If you are not yet a member, we are going to be offering online classes for beginners in the coming weeks. Stay tuned here for more information!
How to support us
Merchandise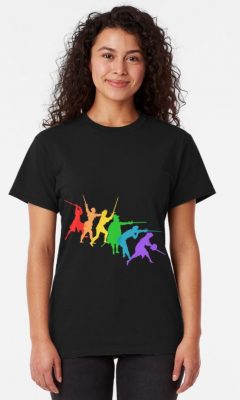 We have just launched a new online merch store! In conjunction with RedBubble, Academie Duello has started selling merchandise adorned with artwork from our students, staff, and friends. Proceeds go toward the school and artists. If you would like to contribute we welcome both donated art work and profit-sharing partnerships. We invite artists who wish to participate to contact us at duellomerch@academieduello.com for details!
Feel free to shop the store and share the site with your friends!
Crowdfunding
We are currently working on a crowdfunding campaign to help us continue to pay staff and rent while also preparing us for the slow process of coming back to full strength. We hope to raise funds and awareness throughout our local area and abroad. There will be two ways to contribute to this campaign::
Taking part in by-donation classes

We are developing online one-hour classes by donation that teach the fundamentals of our arts from your living room. All you need is a stick, umbrella, or other sword-like object. They're for beginners and experienced folk alike. The focus will be on flow, coordination, and structural strength.
Fourty-five-minute youth classes containing virtue lessons, knightly tales, and youth swordplay are also forthcoming.
Proceeds will be split between supporting instructors directly and the school.

Traditional Donation

The straight-forward, proven donation model used by crowdfunding campaigns; make a donation to help the school!
We hope to have the campaign up next week. Stay tuned and please help spread the word once we're live!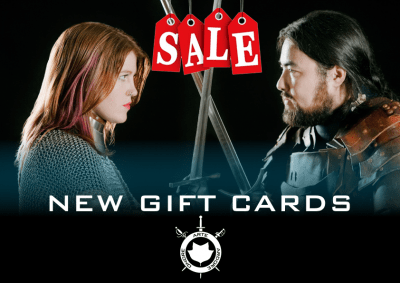 Gift Card Sale
We are continuing to sell Gift Certificates at reduced prices. These gifts will never expire and are great for ensuring that you'll be ready when we're all able to take classes at our school.
Thank You
Once again, we wish to thank you all for sticking with us during this difficult time. While we do not know how long we will be operating from this particular set of circumstances, many of the innovations we are developing will certainly have on-going applications after we return to person-to-person classes.
We're certain that with a vibrant and supportive community, Academie Duello will be here for a long time to come.
Sincerely,
Devon Boorman
Director and Master Instructor
Academie Duello