"It's the most wonderful time of the year!"  At least that is what the classic song lyrics celebrate, but for some the holiday season can be very stressful-- especially when it comes to finding the perfect gift.  If you have a swordfighter or HEMA practitioner on your list, Academie Duello has many items available in our store to excite any Western Martial Artist.  Myself, I am crossing my fingers for either a new breastplate, or a woman's SPES training jacket (hint, hint, wink, wink).
From children's toys and board games, to jewellery and clothing, to books and fencing equipment – we have something available no matter what your budget may be.  Below are just a few of the many items and services we have available at our store for that special person on your "Nice List" this holiday season.
SMALL BUDGET:
MINI-MASTERS DESKTOP WARRIORS
Bring some excitement to your desktop with these poseable cut-out paper models of swordfighters from the Middle Ages and Renaissance!  These have been made by our very own talented student, Kris Sayer.
Starting in the 1300s, European fencing masters started writing how-to manuals so that their techniques could be remembered forever. Many of these manuals featured illustrations of postures or sequences of the actions that they said would win a fight.
Now these illustrations have been adapted as cut-out paper models with moving joints so that you can position them in a variety of poses.  The figures come with holes punched and the hardware required to assemble the joints, but you get to cut them out and colour them as you see fit! Assembly requires scissors or an exacto knife (and supervision, for younger customers!) Assembled figures stand ~9cm (4″) tall, plus arms and such.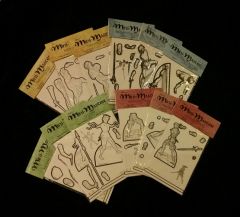 Prices start from $6.50 for one Mini-Master and go up to $60.00 for a package of all 24 masters!
NECKLACES & JEWELLRY
Academie Duello supports many local and Canadian artists and craftsmiths at our store.  We have a variety of historically inspired jewellery and accessories available for both men and women. These accessories start from only $10.00 and go up in price from there.
From chainmail bracelets to sword earrings and runic necklaces, there is something available that is sure to tantalize the tastes of any fine gentlemen or lady.
We also have an assortment of drinking horns and drinking mugs for those who want to enjoy their holiday eggnog with a medieval flair!
MEDIUM BUDGET:
BOOKS 
For those on a budget, the Academie Duello store has a whole bunch of new books in stock!  Back by popular demand, we once again have copies of Fiore dei Liberi's Armizare by Robert N. Charette and Ridolfo Capo Ferro's the Art and Practice of Fencing translated by Tom Leoni.
Both of these books are sought-after companions for students who study Western Martial Arts.  Fiore dei Liberi's Armizare is perfect for the heavy weapons' wielder and Ridolfo Capo Ferro's The Art and Practice of Fencing is part of the required reading material for students in our Mastery Program.  I can personally recommend both of these books which I have in my own collection.
GIFT CERTIFICATES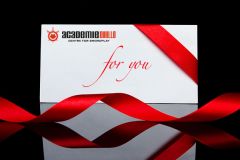 Give the gift of swordplay by picking up a gift certificate for one of the many workshops that we feature year 'round.  Whether you want to try one of our introductory workshops like Bartitsu or Intro to Swordplay, or you know a more experienced HEMA practitioner who might want to take one of our Rapier Body Mechanics or Longsword Grappling workshops, a gift certificate is a great way to give the gift of physical activity.
Not sure what to get?  Not a problem!  You can get a gift certificate for any price denomination for any product or service that we offer.
BIGGER BUDGET:
ESSENTIAL EQUIPMENT
One of the great things that I found when starting out at Academie Duello was how much loaner gear and equipment they had to share with new students. However, it wasn't long until I was craving having my own, personal equipment that was mine and mine alone.  Our store has special starter gear packages for those students looking to level up in their practice.  For those who have finished Taste of the Renaissance and are pursuing their Western Martial Arts path through our Mastery Program, our store has a deal just for them!
The  Mastery Starter Kit  includes a mask, gorget (rigid throat protection) and gloves starting at just $200.00.  Plus, you can upgrade your package to include protection for the most sensitive parts of any fencer.
SWORDS
If you really, really want to make them smile and get that joyful squeal of "oh-my-goodness-you-shouldn't-have-this-is-the-best-present-ever," you can get them a brand new sword to call their very own.  The Academie Duello store carries a wide variety of cutting and thrusting weapons used in both our Mastery and Warrior programs.
From longswords to rapiers to poleax trainers, we have many different weapons of varying styles that would be the ultimate gift for the Western Martial Artist on your "Very Nice" list!  We also have nylon training swords available for our youth students as well!
If you're looking for even more ideas come pay a visit to our store which is conveniently located in downtown Vancouver, or check out some of our items featured through our website.
Happy holidays and happy gifting from all of us at Academie Duello!