Horsemanship Level 3: Coolout Procedures
Just like you, your horse needs to cool down gradually after strenuous exercise to avoid stiffness.  Unlike you, your horse, with his larger mass to surface area ratio, is especially prone to overheating.  A very hot horse that isn't allowed to cool down properly could go into shock, colic, or even die.  That's why the first thing we teach you about conditioning a horse is:
8.  Cooling out and after-ride procedures
Any time your horse breaks a sweat or increases his temperature when being exercised, he will need to cool down before being put in stall.
After Mild Exercise
If you've been out on a short to medium-length hack or doing gentle walk and trot exercise in the ring, all you need to do is walk on a loose rein for the last 5 - 10 minutes of your ride.  Once your horse's breathing is in the normal range (8 - 20 breaths per minute) and he is not significantly sweaty you can untack, groom, and put him away.  Taking the saddle off and riding bareback for the cool down is a pleasant way to dry the saddle area and improve your own seat at the same time.
After Moderate Exercise
When you've finished work that produces significant sweat and involves some cantering, pay a little more attention to your coolout.  For example, after a jumping workout, finish with a few minutes of trot work on the flat before going straight to walk.  You can continue to work at the walk if your horse's mind is up to it.  For example, you can practice going from free walk to medium walk and even adding some turns on the forehand or haunches.  These exercises keep the muscles active but produce less heat.  Finally, walk on a loose rein, with or without the saddle, as above.  If your horse is still sweaty when you untack, you can sponge or hose him down, depending on the weather, removing excess water with a sweat scraper and towel.
After Intense Work
High performance work such as cross-country, racing, or any prolonged galloping, requires a careful cool down.  After the galloping course is over, slow your horse to a working trot and continue trotting for about 5 minutes.  Slow to a walk for a minute or so, return to trot for another few minutes, and then back to walk.  This allows the horse to start redistributing blood away from the heart, lungs and large muscles, and back into the extremities where heat can dissipate.
Dismount after 5-10 minutes and hand walk your horse, after running up the stirrups and loosening the girth and noseband. Stop periodically to remove tack a piece at a time, and continue walking in between.  Replace the bridle with a halter and offer your horse some water, then walk some more.  Now you can start to sponge the horse off.  It's useful to have large buckets of water and sponges at your coolout area for this.  Sponge the neck, chest, belly and legs liberally, and use a sweat scraper to remove excess water from the larger muscle areas.  Use a sponge to wipe your horse's nose and lips, especially if he has refused to drink.
Continue to walk, sponge, and wipe your horse until his breath and pulse return to normal or high normal (8-20 breaths per minute, 35 - 45 bpm.)  If the weather is hot, use water more liberally over the whole body.  As you scrape it off it will take heat with it.  In cooler weather, limit sponging to the chest, underside of the neck, and legs.  Groom your horse vigorously in the saddle area to bring circulation back to that area and finish by rubbing him down with a towel to prevent a chill from the water.  In very cold weather a fleece cooler will soak up moisture and prevent him from cooling off too fast; however, never use a cooler in hot weather.
Learn to take your horse's vital signs and know what his resting temperature, pulse and respiration are so you can recognize when he needs cooling off, and when it's safe to put him back in his stall.
Next: TPR & Signs of Health
Upcoming Classes
There are only three Cavaliere classes left before we take a break for winter.  However, private classes will continue.  Private classes are $60, or a flex pack credit.  To book contact: jennifer(at)academieduello.com
Cavaliere Classes
Sundays, 9, 23 & 30 November; 14 December, 1:00 - 4:30pm
Cost: $60 or one flex-pack credit per class
Lease Special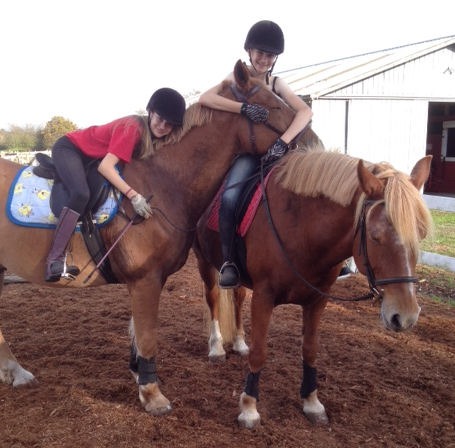 Need more practice time in the saddle? We have a winter special for Academie Duello students only during the months of November, December and January.  Lease one of our school horses for one day per week for a cost of only $115 per month (saving $20 per month over regular rates), or $300 for the whole three month period – a savings of $105!
Leases include one free lesson per month, and additional lessons can be booked for $35 each.  You must have Riding and Horsemanship level 1 or the equivalent to qualify for a lease.  Flex-pack credits may be applied to the lease.  Contact Jen at jennifer(at)academieduello.com for more information.