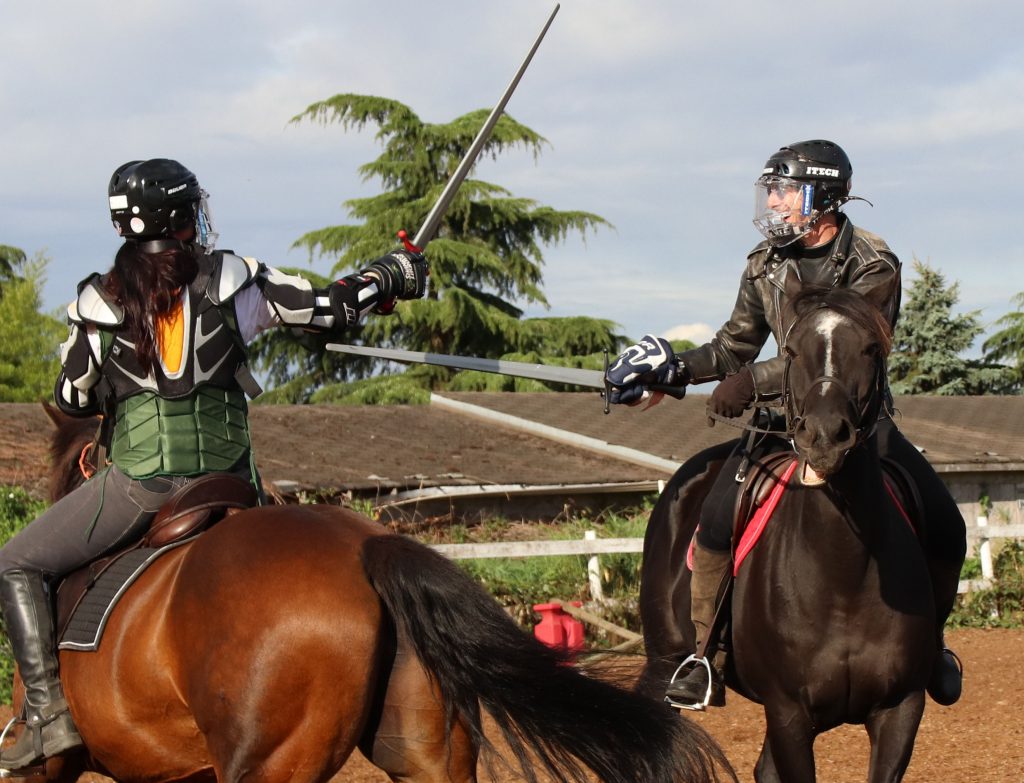 The Mounted Combat Skills curriculum for the Red Spur comprises six sections:
Swordplay from the ground
Swordplay from horseback
Sword and shield
Spear versus sword
Mounted Games
Knowledge
In the next few months of this blog we'll be looking at the first section, swordplay from the ground.
Red Spur: Swordplay from the Ground
For this section of the Red Spur you will need to demonstrate: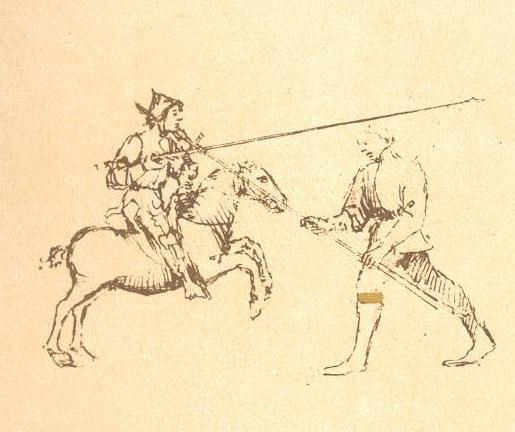 Five plays from the ground against an opponent on horseback.   Appropriate cuts and thrusts, couching to counter momentum, movement in relation to a rider, avoiding injury to the horse,  and defending against a mounted opponent.
The ability to carry on a play through five successive crossings. Multi-blow attacks, combinations of defences and counter-attacks,
Applied understanding of the true fight.  Playing through advantage, recovering from weak positions, striking in tempo, formulating plans within the true fight, and assessing your partner's combative attitude.
Understanding of the adaptive fight.  Appropriate use of yielding, voiding, and offhand/secondary to continue through a lost crossing, and maintaining safety through good order, mechanics, and constraint.
The ability to employ the deceptive fight. Feints and invitations.
Proficiency from all the sidesword guards.  Low, refused, extended, and high guards.
Some of this material may be new to you, such as unmounted vs mounted, as well as the adaptive and deceptive fights.  Other areas, such as the true fight and sidesword guards simply require a deepening or broadening of skills you have already begun to develop.
To progress through this section at a reasonable rate you would ideally be taking at least two classes and one practice session per week.  Classes logically include Mounted Combat or Longsword Mastery classes.  However, Rapier Mastery will also help progress your understanding and competence with the true, adaptive, and deceptive fight, as well as your sidesword skills.  Practices could be Monday night Mounted Combat Practice at Red Colt, Friday night Open Floor at the salle, or simply time you set aside every week to put a sword in your hand.
Next week: Unmounted vs Mounted Opponents.
Winter Schedule
Mounted Combat Mastery:  Sundays noon - 2pm.  Last class for 2017 is November 26th.  Classes resume January 7th.
Mounted Combat Practice: Mondays 6pm - 8pm.  No practice December 25th or January 1st.
Practice Rides (Mounted Combat members only): Tuesdays noon - 2pm; Thursdays 6 - 8pm; Saturdays 10am - noon.
Mounted Combat Playday: Sunday 10 December, noon - 3pm, followed by hot chocolate and holiday treats!