If one were to ask for a point of commonality between the mountains of the sub-arctic, the arid Highveld, the temperate lowlands of the Vistula, and the oceanic vista of the southern Meseta, HEMA would probably not be the first word that comes to mind.
But thanks to the advantages of being a swordsperson in the 21st century, we benefit from knowing near instantaneously through the 'net about HEMA events worldwide, and have the opportunity to reach them by air, rail or auto. From a martial arts skill set that was originally very regionally specific (think, for instance, of the school of thought begun by Liechtenauer in 14th Century Germany or the Destreza tradition begun by Carranza in 16th Century Iberia), we now find practitioners of our art in its various versions and specialties studying in historically non-traditional locales.
The natural draw of swordplay notwithstanding, it's a credit to our community that we continue to attract interest and begin initiatives in new and sometimes remote locations.
Whereas in the Renaissance we had Masters-at-Arms crossing the English Channel to teach, in the present day, they're now crossing the Atlantic. Individual students once traversed the width of France and Italy to learn their craft. Now, in the 21st century, we have contingents — "squads", if you will — travelling across continents and oceans to do the same.
Below we have a number of news articles regarding the recent tournament held in Portugal by the IMCF (International Medieval Combat Federation). The IMCF, founded in 2013, is an organization that holds a series of events throughout the year, and a world championship once per year, for full-contact, sportive (what I call BOTN-style, or "Battle of the Nations-style") HEMA combat. (Just to explain, the Battle of the Nations is another sportive HEMA organization, similar to the IMCF.)
While these sportive HEMA organizations focus more on tournament tactics than strict historical accuracy, their competitors are creating a new, living tradition with the weapons HEMA enthusiasts study and enjoy, and Canadians are taking part, too! With that in mind, let's see what our fellow sword-lovers have been up to in the world of sportive HEMA.
Mourn for our hero, men of Northern race!
We do not know his sin; we only know
His sword was keen. He laughed death in the face,
And struck, for Empire's sake, a giant blow. [1]
YUKON NEWS (Whitehorse). 06 June 16. "World championships a 'fantastic' experience for Yukon medieval combat group."
Somehow, the Company of the White Wolf has come out of nowhere to land snowshoes firmly in the midst of the Canadian HEMA community. With naught but a cou
ple of years of training in full contact BOTN-style combat, seven of the "wolves" followed the initiative of their more seasoned Québec peers and competed against 200 other fighters from 21 countries, to return home bloodied… but happy. They're looking forward to host any swordfighters who want to brave the north for their 2nd Great Northern Tourney in July.
This is the law of the Yukon, and ever she makes it plain:
"Send not your foolish and feeble; send me your strong and your sane — [2]
WHITEHORSE STAR (Yukon). 10 June 16. "Company of the White Wolf learns from world's best."
In preparation for the aforementioned tourney, the Company of the White Wolf is upping their game by hosting swordfighting expert — "the reigning world champion in sword and shield fighting" — Marcin Waszkielis  for a training event.
Company President Land Pearson said the workshop is a good opportunity for him to learn how to teach skills to new members… "people don't learn much 'just watching us beat each other up.'"
Go North, Young Man
ALBERTON RECORD (South Africa). 16 June 16. "Hylton's own knight's tale."
Hylton Kleynhans was the sole South African from a small HEMA community that made it to the aforementioned International Medieval Combat Federation World Championships. In this item Hylton discusses a few of the difficulties of being an individual attempting to participate in "named events". There is also some "Canadian content" here, too — apparently Hylton beat a lupine peer in a longsword competition (insert direwolf-pelt comment here!)
Pure Portugal Press
JORNAL DAS CALDAS (Caldas da Rainha, Portugal). 07 June 16. "Combatente medieval de A-dos-Negros em 3º no campeonato mundial."
And from the home-salle, their version of events.  The hosts managed a bronze in a single combat competition, but the author emphasizes that a very young Portuguese team was up against much more experienced European powerhouses during the "5 against 5" tournaments.
Of particular interest is the "30 against 30" (friendly, just for fun) mock battle where mixed "New World" Combatants faced members of the "Old World" faction.
And Why do We Examine Our Blades Before Every Match?
IRISH EXAMINER (Cork, Ireland). 12 June 16. "Watch as man has extremely lucky escape at sword fighting event."
Enough said!
If your weapon leaves your hand while you're in the middle of a crowd, it had better be for an excellent reason.
Snippets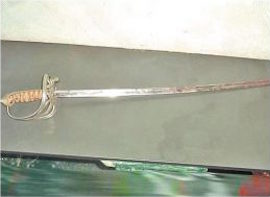 Quotation Sources
1. Fighting Mac by Robert W. Service. The Spell of the Yukon and Other Verses. New York: Barse & Hopkins, 1907.
2. The Law of the Yukon by Robert W. Service. The Spell of the Yukon and Other Verses. New York: Barse & Hopkins, 1907.