It's been just over a year since we launched our Mounted Combat Membership program.  Here's what some of those fees have paid for:
Keeping Jack's tender toes happy with giant shoes
Chiropractor visits for Tilly
Making horse use and stall rental free of charge at Carosella 2017
Orange-bin rental for our renolition party this summer
In other words, membership helps pay for new and unexpected expenses, as well as keeping down the costs of running the program and the farm.  We are sure there will be many planned and unplanned expenses this year – it's the nature of keeping horses after all – and we are grateful to all our members who keep these costs under control.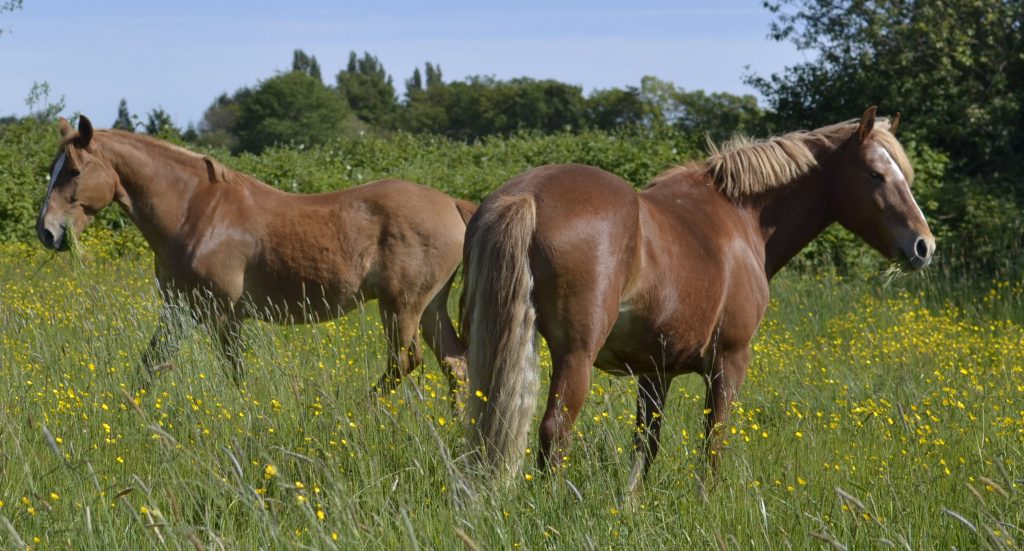 As a thank you, we are making the last playday of the year free for Mounted Combat Members!  Come on out on December 10th from noon - 3pm for sparring, archery, and mounted games – the entry fee is on us.  (We still need to charge for horse use, as not all the horses belong to Duello, so if you don't own or lease a horse, the cost is $15 instead of the usual $30).  Hot chocolate and cookies provided!  We will also be having our annual Red Colt party, so bring something for the potluck and plan on hanging out afterward for holiday cheer.
Mounted Combat Playday
Sunday 10th December, noon - 3pm
non-member cost: $15 + $15 for use of school horse
member cost: $0 + $15 for use of school horse
Register here 
(Note: the registration menu doesn't show a member price - select the $15 option if you don't own or lease a horse at Red Colt).
That's just one benefit of membership.  Sign up by visiting or calling the front desk at 604 568 9907 and you'll get all these too ...
Mounted Combat Membership
10% Discount on Mounted Combat Program Courses
This includes:
Riding
Horsemanship
Mounted Combat
Horseback Archery
Friday Clinics
The discount is applicable to full courses and single class rates.  Be sure to mention your membership to staff when you sign up. 
Who can use the benefit: anyone with a membership
Value: save $10 – $30 on regular courses
$5 Discount on Private Riding Lessons at Red Colt
Private lessons with any of our regular instructors at Red Colt are discounted $5 per session.  Mention your membership when you book your lessons.
Who can use the benefit: anyone with a membership
Value: save $20 – $25 a month if you take weekly lessons
Two Free Practice Rides per Month
If you have a minimum of Riding Level 1 or the equivalent you can book up to two free practice rides on Academie Duello's horses, Jack, Flavie, or Tilly.  Other horses such as Chicco or Princess are available for a $10 surcharge.  Available times for practice rides are:
Tuesdays noon – 2pm
Thursdays 6pm – 8pm
Saturdays 10am – noon
Rides can also be taken during the Mounted Combat Practice sessions on Mondays from 6-8pm, though they can't be booked in advance and are first come, first served.  A practice ride without a membership costs $35, so even if you only do one ride a month your membership pays for itself.
Who can use the benefit: members with Riding Level 1 or the equivalent
Value: save $50 – $70 per month on practice rides.
Free Mounted Combat Practice Sessions
Mounted Combat Practice happens on Mondays from 6-8pm.  This is an opportunity to practice drills from the ground and horseback as well as controlled sparring and mounted games with the aim of achieving your Green, Blue, and eventually Red Spurs.  The sessions are open to members at various levels within the program as follows:
Those members with Green Spur or higher may practice swordplay and sparring from the ground and horseback, as well as mounted games and riding.
Members with Riding Level 1 or higher may ride and practice mounted games.
Members with Longsword Fundamentals, Mounted Combat Fundamentals, or the equivalent within the Mastery programs may practice swordplay from the ground.
Non-members with the above prerequisites may take part in the practices at a cost of $20 per session.  If you don't yet have any of these minimum levels, use your discount to take some courses and lessons to get them!
Who can use the benefit: as above
Value: save $20-$100 per month
The Intangibles
The purchase of a membership creates a mental and financial incentive to use it.  If you've been feeling like you want to spend more time in the saddle but you just don't get around to it, having a membership may be just the nudge you need to get you off the couch.
In addition, you get a sense of community, the chance to interact more with people who share your interests and the warm fuzzy feeling of knowing your money is directly supporting the horses we all love.
What does membership cost?
Year-long memberships run from January through December; half-year memberships run either January through June or July through December.
Year-long membership: $300+gst
Half-year membership: $200+gst
Bonus: buy your 2018 membership before December 31st, and get all these benefits for December 2017 as well.  That's 13 months for the price of 12!
What does membership pay for?
One-third of your yearly fee goes towards Red Colt Co-op facility to help maintain the facilities.  The other two-thirds help cover the costs of board, vet, and farrier bills for the horses in the program.
How do I get a membership?
Call, email, or visit the friendly and helpful folk at Academie Duello's front desk.
by phone: 604 568 9907
by email: info@academieduello.com
in person: 412 W Hastings, Vancouver