Riding Level 4: Mounting, Dismounting, and Stirrups
The second item on the Riding Level 4 assessment is
2. Mount – Dismount.  Adjust stirrups mounted.
Obviously, by the time you've reached level 4, you already know how to mount and dismount.  However, now we expect you to do so smoothly and lightly.
Mounting
You may use a mounting block or mount from the ground depending on your horse's height, your flexibility, and your ability to mount lightly.  What we are looking for: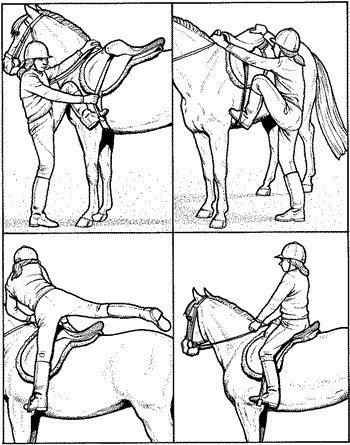 Run down your stirrups, check your tack, and put the reins over your horse's neck efficiently before approaching the block or beginning to mount.
Gather your reins evenly, taking a bit of mane.
Calmly correct the horse who tries to wander away.
Step lightly in the stirrup and swing your leg over smoothly.
Land lightly on your horse's back, taking your left stirrup immediately.
The saddle does not shift significantly on your horse's back, and the horse does not sway or stagger as you sit.
Take up your reins immediately and correctly before moving off.
If you need a visual review check out the video embedded in this Level 1 post.
Dismounting
Your dismount should be a smooth and confident vaulting dismount (not a stirrup dismount).  This means
Your leg clears the cantle and the horse's rump.
There is only a small pause between having both legs together and jumping down.
You land safely with your hand on your horse's neck for support and your feet well clear of your horse's hooves.
You turn to face front immediately, holding both reins under the horse's neck.
If your dismount demonstration is at the end of the ride, be sure to loosen your girth and run up your stirrups before leading the horse away.
Adjusting the Stirrups

For review, check out the second video in the Level 3 post Buckle Up.  We will probably ask you to demonstrate adjusting stirrups at the beginning of the ride.  However, you will need to do it again in between the flat and jumping portions of your test.  Be sure to
Know your jumping height (usually one or two holes higher) so you can switch easily.Leave your foot in the stirrup while you adjust the length.
Pull the leathers down and back up again smoothly.
Keep one hand on the reins while you adjust.
Tuck the end of the leather back into the keeper.
Mounted Combat Playday
Our last Playday of the year is Sunday December 4th from 1:30 – 4:30pm.  This is your chance to show off the skills you've gained this year in a fun and friendly competition of mounted games, archery, and sparring.  And, since it's the last one of the year, there's a good chance cookies & cocoa may be available!
Mounted Combat Playday
Sunday 4 December, 1:30 – 4:30pm
12320 No 2 Road, Richmond
cost: $15 own/lease horse; $30 school horse
Free for spectators!
Mounted Combat Memberships
2017 memberships are still available for pre-purchase.  If you buy your membership now you get to enjoy the benefits for December as well as all of 2017.  That's 13 months for the price of 12!  Memberships are $300 for a full year, $200 for six months, and include:
2 free practice rides per month
free weekly mounted combat practices
10% discount on Riding, Horsemanship and Mounted Combat classes and workshops
$5 off private lessons at Red Colt