Horsemanship Level 4: Vet & First Aid pt II
The second check box for Level 4 Vet & First Aid is:
9.  Signs of cold, laminitis. Causes of colic. Cause & treatment of thrush, abscess, minor injuries. When to call the vet and what to tell her.
Again, you have learned much of this in Level 3, and now you should be very familiar with these ailments.  Review the Level 3 topics here:
Emergencies
The following symptoms signal potential emergencies and require urgent veterinary care.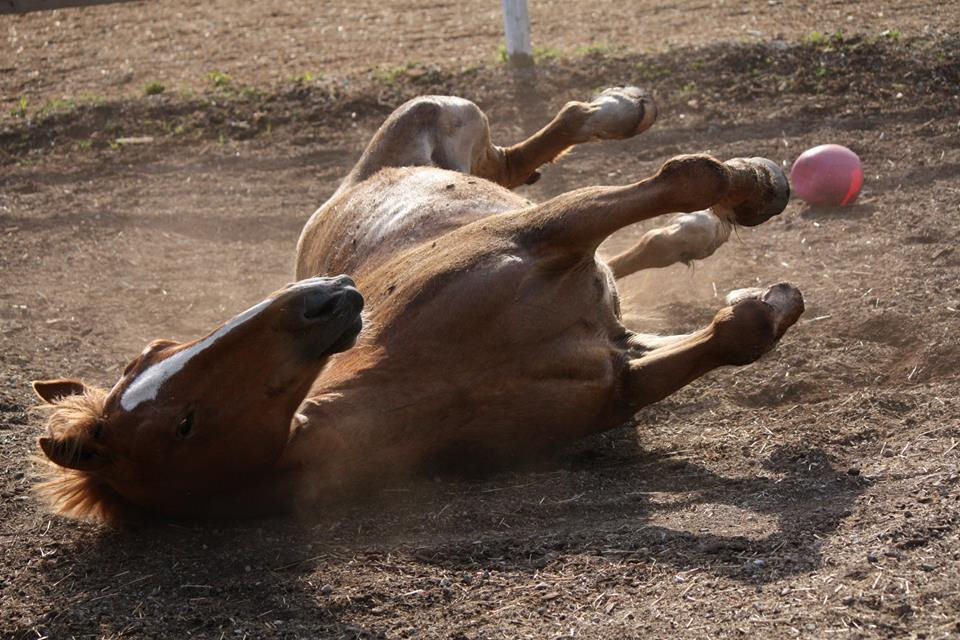 Sweating, lying down and getting up a lot, rolling
Reluctance to move or severe stiffness
Lameness at the walk or very swollen leg
Arterial bleeding (blood spurting from a wound)
Difficulty breathing, green discharge or food from nostrils
Closed eye, severe blinking or discharge from the eye.
The symptoms can indicate colic, azoturia, choke, tetanus or life-threatening injury and are true emergencies.  Stay calm but call the vet immediately!
Less urgent ailments
The following symptoms are indications you should consult a vet within a day, but are not considered emergencies.
Runny nose, cough
Discharge from the eye without blinking or swelling
Abnormal breathing
Change in appetite or difficulty eating
Weight loss
Increase in drinking and urination
Soft manure or diarrhoea
Patchy hair loss, or lack of shedding
Rubbing mane or tail
Lumps on the skin
Lameness
Poor performance or exercise tolerance
Abnormal behaviour
Usually when you call the vet you will get an answering service and need to wait for a callback.  While you wait, record your horse's TPR (Temperature, Pulse & Respiration) and make a note of any symptoms.  Your vet will want to know when you first noticed symptoms, any changes in behaviour, stabling situations or diet, and whether the horse has been eating, drinking, and producing manure and urine normally.
If possible move your horse to a clean, well lit stall, and be sure to wait with the horse until the vet arrives.  Do not give food or water if colic or choke is suspected, and do not give any medications unless advised to do so over the phone by the vet.  Above all, stay calm!  Your disposition will help your horse stay calm and prevent further distress.
Upcoming Classes
Friday Clinic: Cross Country
Experience the exhilaration of the open fields!  Work on your galloping position and pacing, and take your horse over a variety of cross country obstacles.
Instructor: Jennifer Landels
Prerequisite: Riding Level 2 or equivalent
Friday 8 July 6:30 – 8pm
cost: $60 +gst
Upcoming clinics
Prix Fiore: July 15th
Riding & Horsemanship Classes
Riding & Horsemanship classes run in 6 week series.  There is drop-in space in the current Monday evening series, and registration is open for the upcoming Saturday series.
Mondays 13 Jun – 18 Jul
Saturdays 16 Jul – 20 Aug
Mondays/Thursdays 22 Aug – 8 Sep
Intro to Mounted Combat
Back by popular demand, this 3-hour workshop will introduce you to grooming and handling horses, riding, and swordplay from the ground and horseback.  The perfect way to start the summer!
Horseback Archery
Robert Borsos will be back on July 17th for another fabulous day of Horseback Archery.  No experience, either with horses or bows, is needed for the beginner workshop.  For the intermediate workshop riders should have their Riding Level 1 and have taken the beginner workshop.  This is the last workshop before Carosella and they tend to fill up, so sign up soon!

Beginner: Sunday 17 July, 10am – 1pm
Intermediate: Sunday 17 July, 2pm – 5pm
Carosella 2016
Three fabulous days of Mounted Combat, Archery and Games!  The dates have been set for September 9th – 11th.  Registration isn't yet open, but you can look at last year's schedule to get an idea of what's on offer, and start planning your training now.
Save
Save