March is underway which means that the Vancouver International Swordplay Symposium is almost upon us.  We have a  star-studded list of HEMA instructors and lecturers coming in from around the world.  One of the guests is particularly near and dear to my heart and that would be Bob Charrette.  Not only will Bob be offering a series of lectures during the weekend of VISS 2015 but he will also be offering private sessions for the week of March 30th - April 4th.  Bob is an incredible resource when it comes to the arts we study here at Academie Duello.  Many of those in our warrior program are familiar with Bob and his work, but very few have had the chance to work with him personally.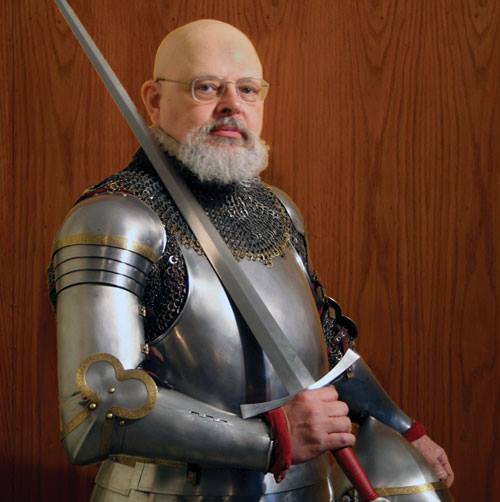 Robert N. Charrette with longsword in full armour
Instead of doing a workshop, Bob will be open for one-on-one and small group private sessions for up to four people.
Students can choose from 1 of 3 topics:
1.) Core Session
Choose one from among the following lessons:
Fundamental Armizare body mechanics
Action and flow, Armizare-style
Action Driven Armizare Plays, a lesson from the dagger
Armizare Fight Space, a lesson from the dagger
The Circle and the Cross, dagger attacks and remedies
Mezza mella (half sword) Fundamentals
2.) Clinic Session
Is there some aspect of Armizare that is puzzling to you? Having trouble with getting a play to work? In this lesson form, you choose the aspect of Armizare to work on. This is a chance to get a better understanding of which actions and plays of Armizare can work for you and which will be difficult at best. Please supply a short description of what you would like to focus on.
3.) Uncle Bob's Bag O' Fun – An Exploratory Session 
This is a pot-luck choice. Bob is always thinking about improving his understanding or Armizare and its applications; this is a chance to participate in experimental or refinement work on some aspect of Armizare. Which aspect? Whichever one is on Bob's mind come the day. (Trust me, this will indeed be a bag o' fun!)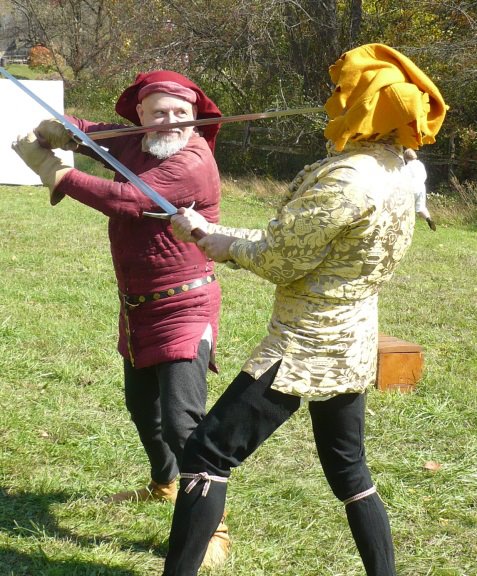 See? Look at how much fun Bob is having!
Even though my opinion may be biased, this is an incredible opportunity for any practitioners of the art (of any skill level or experience) to come and learn from one of the foremost experts in Armizare. Over the past few years I have had the privilege and opportunity to train with Bob both one-on-one and in group workshops and every time I had the chance to work with Bob it has been extremely beneficial for myself as a practitioner and teacher of Western Martial Arts.
I first met Bob two years ago when I traveled down to Eugene, Oregon where Sean Hayes of Northwest Fencing Academy was hosting Bob for a two-day workshop on armoured combat.  I had already been following Bob's work through his book Armizare: The Chivalric Martial Arts System of il Fior di Battaglia, and had been using it as a study companion with my understanding of applying  longsword, dagger and unarmed techniques in my practice of Western Martial Arts.  I was excited, and nervous to train under someone I had always held as one of my HEMA (Historical European Martial Arts) role models.  Bob's attention to detail, his passion and dedication to the art, and the way he taught only left me with an even greater impression of the man after that weekend.  And apparently, I left an impression on Bob, too.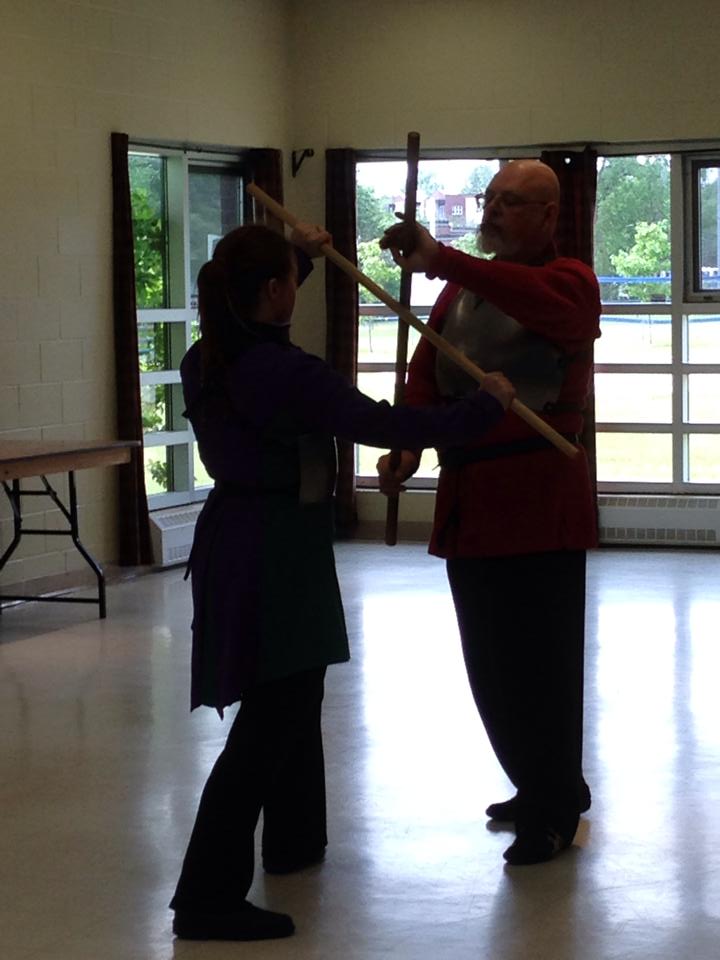 Myself assisting Bob at the 2014 Borealis Swordplay Symposium
In the Summer of 2014, Bob invited me to his home in Virginia, USA where I would help him with some photos for an upcoming book he will be publishing expanding on the interpretations of dagger and armoured combat.  Not only did I get the chance to train and study one-on-one with Bob (which was an incredible opportunity and one of my personal highlights over the years of studying these arts) but, I also developed an amazing friendship and camaraderie with someone whom I deeply respect.  I also had the chance to travel with Bob through the States (stopping at many American Civil War battlegrounds along the way!) and up to Gatineau, Quebec for  the Borealis Swordplay Symposium hosted by Jason Smith's school Les Maîtres d'Armes in June 2014.  I was given the opportunity to assist Bob in his instruction.  That was a very special weekend for me as a HEMA practitioner and instructor, especially since I got to work with Devon Boorman (Academie Duello's own maestro and founder) and Bob Charrette -- the two men who have been my mentors and greatest teachers in my path exploring Western Martial Arts.
For those who are interested in booking Bob during the week of March 30th - April 4th please call the Academie Duello front desk at 604-568-9907 or come downtown and pay us a visit at 412 West Hastings Street and you can choose a time and date for yourself or a small group.