Open Barn & Work Party

Up for some fencing of a different kind?  Come out to our work party at Red Colt farm on Sunday April 26th.  We need help putting in a few fenceposts and electric wire, checking hoses and troughs, clearing blackberries and generally getting the fields ready for the horses to be turned out. Refreshmest provided.  Bring work gloves and your enthusiasm.  Our horses will thank you when they get to gallop in that fresh green grass!
This is also our monthly Open Barn, a chance to put in some extra time practising your horsemanship, riding or swordplay prior to the next assessment day on Sunday May 3rd.  Open Barn is free to attend, and $10 if you want to ride a school horse. However, put in an hour or two at the work party and you can ride for free!
Sunday 26 April
Work Party: noon - 5pm
Open Barn: 1pm - 4pm
Horseback Archery
It was a gorgeous day for Horseback Archery on Saturday.  We had beginners who had never been on a horse shooting multiple arrows from horseback by the lunch break.  By the end of the day the intermediate group had progressed to shooting targets on a canter circle, a skill that involves reloading while cantering a half-circle and steering with the legs only.
A big thank-you to Robert Borsos and his assistants Peter and Zoltan for sharing their expertise and equipment with us, and thanks as well to our handlers for the day, Chris, Kate, Isabel, and Eleanor.  We hope to have Rob and his crew back during the summer, so watch this space for another chance to particpate!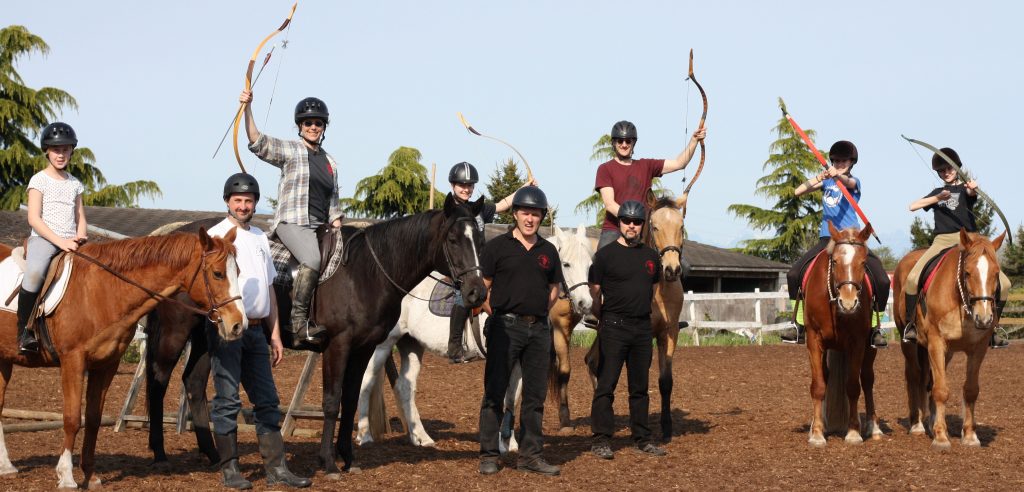 Bonus material:  here's a recent article about the Kassai school in Europe.  (Link is to the original article for the benefit of those who read Slovak – for the rest of us, there's google translate).
Upcoming Classes
Cavaliere Assessments
Sunday 3 May, 1:30 – 4:30pm
Red Colt Equestrian Farm Co-op, 12320 No 2 Road, Richmond
$50 for partial assessment (Horsemanship, Riding OR Mounted Combat)
$80 for full assessment (2 or 3 of the above elements)
If you would like to assess your Riding, Horsemanship, Mounted Combat or all three please notify your instructors a week ahead of time.  Most of our weekly series, including Riding & Horsemanship and Mounted Combat include a free partial assessment.  If you're not sure whether you're ready talk to your instructor. Assessments are a great way to check in and see where you're at, and what you still may need to work on, so make sure to take advantage of this learning tool.
Intro to Mounted Combat
Here's the place to get started in the Mounted Combat Program, whether you're an experienced swordsman new to horses, a proficient rider new to swordplay, or a complete beginner!
Saturday 6 June, 10am – 1pm
Red Colt Equestrian Farm Co-op, 12320 No 2 Road, Richmond
$149 + gst
Mounted Combat Playday
An opportunity to put your skills to work.  Come out for friendly practice and competition with mounted games, combat and archery.  Assistants on the ground are needed for these sessions.  If you are unable to participate as a rider, come out and be a squire for us to earn credits for future playdays.  Spectators welcome!
Saturday 6 June, 1pm – 4pm
Red Colt Equestrian Farm Co-op, 12320 No 2 Road, Richmond
$15 + $15 for use of school horse
Prerequisites:
Mounted Games: Riding Level 1
Mounted Sparring: Green Spur
Horseback Archery: Beginner Horseback Archery + Riding Level 1