'Dressage' simply means 'training'.  The modern sport of dressage consists of tests, which are judged patterns designed to demonstrate a horse's level of training on the flat.  Sport dressage evolved from classical dressage, which in turn evolved from military training exercises.
As practioners of mounted combat, it is often useful for us to look to the classical instructors of the 16th and 17th centuries such as Pluvinel, de Guérinière, and Cavendish.  Fortunately these men all wrote books to which we can refer, and even more fortunately the art has been kept alive in schools like the Cadre Noir, the Spanish Riding School, and the Portugese School, and with modern masters such as Nuno Oliveiro and Phillipe Karl.
The video below, despite its spelling errors and strange chronology, gives a nice overview of Classical masters.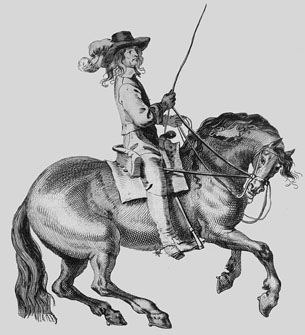 Modern dressage riders are often taught to ride from the leg to the hand – that is, to think of the legs pushing the horse into contact with the bit.  Classical dressage treats the hand, not the leg, as the primary aid, with the aim of encouraging lightness by allowing the horse to seek the bit himself and carry it with his tongue.  Neither of these methods is 'right' or 'wrong', but are two opposite tracks to the same goal, which is harmony and brilliance.
However, for the purpose of mounted combat, the classical approach is often more useful.  When you have only one hand on the reins – because the other is holding a sword – it is very difficult to maintain the constant leg-to-bit connection needed for modern dressage.  Instead, if you have a classically trained horse that responds to very light and subtle cues off an otherwise loose rein, your job of moving the horse in combat is much easier.
Classical Riding Clinics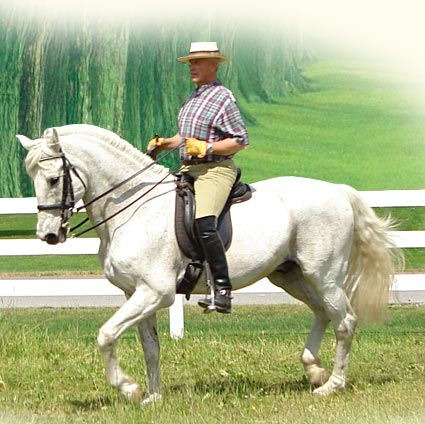 We are lucky to have as a friend of the school Veli Leväaho, who has worked with Col. Carde of the Cadre Noir, and teaches the French equestrian philosphy of Phillipe Karl's School of Légèrité.  Veli will be coming back to Red Colt this Friday, August 28th for another 90 minute clinic.  As well, he will be presenting a lunch time lecture on Classical Riding aids at Carosella 2015 on Friday September 11th, followed by several 30 minute private and semi-private sessions.  Spaces are limited, so book now to ensure yours!
Classical Riding
Friday 28 August, 6:00 – 7:30pm
Prerequisite: Riding Level 1 or equivalent
cost: $45 + $15 for use of school horse
The second of two clinics with Veli Leväaho of Leväaho Classical Horsemanship. Work on your aids, your seat, and your horse's responsiveness.
Carosella 2015
Friday-Sunday, 11 - 13 September
Prequisites: variable
cost: $199 for full 3-day pass; $100 for single day pass
This three day symposium of mounted combat, mounted archery and knightly games comes around only once a year.  Don't miss out on two full days of workshops, clinics, and lectures followed by our annual tournament on Sunday!