Although the primary focus of Carosella is mounted combat, there are many opportunities to increase your martial skills or equine knowledge while keeping your feet on the ground.  And because you aren't using a horse, the cost is only $75 for a full day.  Here are some of the great offerings available on Friday and Saturday, September 8th & 9th.
Weapons Workshops
Academie Duello director Devon Boorman is offering five fabulous workshops at Carosella.  These workshops don't come up frequently, and Carosella is often the only time Devon teaches them.
Spear & Lance
Friday September 8th, 11:00am – 12:30pm
Instructor: Devon Boorman
Level: All
Prerequisites: none
The spear is one of the oldest cavalry weapons and through its evolution into various types of lance continued to be used in combat and jousting throughout the middle ages.  Find out how a simple stick — pointed or otherwise — becomes a versatile and deadly weapon in the hands of a knight.
Grappling & Pommel Plays
Friday, 1:30 - 2:30pm
Instructor: Devon Boorman
Level: All
Prerequisites: none
Wrestling was a large part of mediaeval mounted combat.  A successful grapple or throw could earn you a knight to ransom or a new horse for your stable.  But beware!  Sloppy technique can be turned against you and land you in the dirt instead!  Working from the ground and falsemount you will learn the historical grappling and pommel techniques used for mounted disarms, throws and captures.
Swordplay & Grappling from the Falsemount
Friday, 2:30 - 3:00pm Instructor: Devon Boorman
Level: All
Prerequisites: none
This class will take the skills from the Grappling workshops and apply them to use from the Falsemount (wooden horse).  Working from the Falsemount is the intermediate step between work from the ground and work from the horse.
Fiore's Single-handed Longsword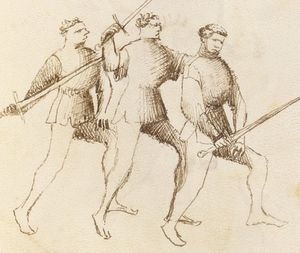 Saturday, 10am – 11:30 am
Instructor: Devon Boorman
Level: All
Prerequisites: a basic familiarity with longsword is helpful but not mandatory
Working from the ground you will develop and refine your technique with the quintessential knight's weapon, the longsword, focussing on the use of the sword in one hand.  Plays will include strategies for defeating the opponent's sword from multiple guards in near and off side passes, while protecting your mounts.
Side Sword Combatives
11:30 am – 1:00 pm
Instructor: Devon Boorman
Level: Intermediate – Advanced
Prerequistes: some experience with side sword
In this workshop Devon will guide attendees through the various aspects of successful combat strategy and tactics with the single handed cutting sword from the ground. Students will deepen their understanding of sparring through combative games, tactical exercises, and coached sparring. You'll explore how to start a fight, make and implement plans, and how to respond tactically to changing situations. Exercises will involve light combat (so protective gear is expected).
Physical Conditioning
Ballet in the Barn
Friday, 10am - 11am
Instructor: Erin Ensor
Levels: All
Prerequisites: none
Riding and swordplay are both activities that requires balance, endurance, coordination, and physical strength.  To perform to full potential a rider needs to cross-train. This ballet- and jazz-based cross-training session, with Erin Ensor, founder of Danceability Studio, will look at key problem areas for riders, and explore strength, stretch and balance exercises to overcome and prevent them.  In addition, ballet is excellent cross-training for swordplay, and rapier in particular. Dress comfortably in breeches or workout clothes and prepare for a moderate workout.
Learning about Horses
Horsemanship 1
Friday, 3:00 - 4:30 pm
Instructor: Kate Landels
Level: beginner
Prerequisites: none
In this workshop you will cover all the basic information needed to pass level 1 Horsemanship, including catching and leading, grooming & tacking up, colours and points of the horse, basic feeding and how to tie the quick release knot.
Equine First Aid
Friday, 4:30 - 6:00pm
Instructor: Kate Landels
Level: all
Prerequisites: none
Learn when to call the vet and how to keep your horse safe and comfortable till she gets there.  Find out how to take your horse's TPR, care for minor injuries, and apply simple dressings and bandages.  This is important information everyone who hangs out with horses should know!
Bandaging
Saturday, 11am – noon
Instructor: Isabel Landels
Level: Beginner – Advanced
Prerequisites: none
Sooner or later, every horse owner needs to know how to safely and correctly apply first aid, therapeutic, and protective bandages.  Learn how to apply wraps, standing bandages, and tail bandages, as well as how to deal with tricky areas like knees, hocks and fetlocks.
Archery
If you'd like to try Hungarian archery from the ground only you can still take the Beginner Horseback Archery (just stay on the ground shooting for the mounted section).  And once you've got the hang of that, progress to ...
Hungarian Archery from the Ground
3:30 – 4:30pm
Instructor: Robert Borsos
Level: Beginner – Advanced
Prerequisites: none
Here's your chance to try your luck at shooting flying discs, adopt unorthodox positions such as lying down, and practise your reload and aim while moving, all from the ground.
As you can see, there is plenty to keep you active, entertained, and learning without ever setting foot in a stirrup.  Come and try Carosella out at the low price of $75 for a day.  We guarantee you'll get loads out of it (and we predict you'll be wanting to sign up for the mounted sections next year).