The first weekend in May was a busy one down at Red Colt.  We kicked it off with a great turnout for the first Games Practice of the season on Friday evening.  The next day we welcomed back Robert Borsos from Borsos Torzs Horse Archery Club  for a full day of mounted archery.

We had rain, sun and wind, but the horses – and people – were great throughout!  Thanks to Robert's crew, Nataliya, Peter & Zoltan, and to our own assistants, Trisha, Kirsten, Misty, Aurelia, Brittany and Kat who made the day run so smoothly.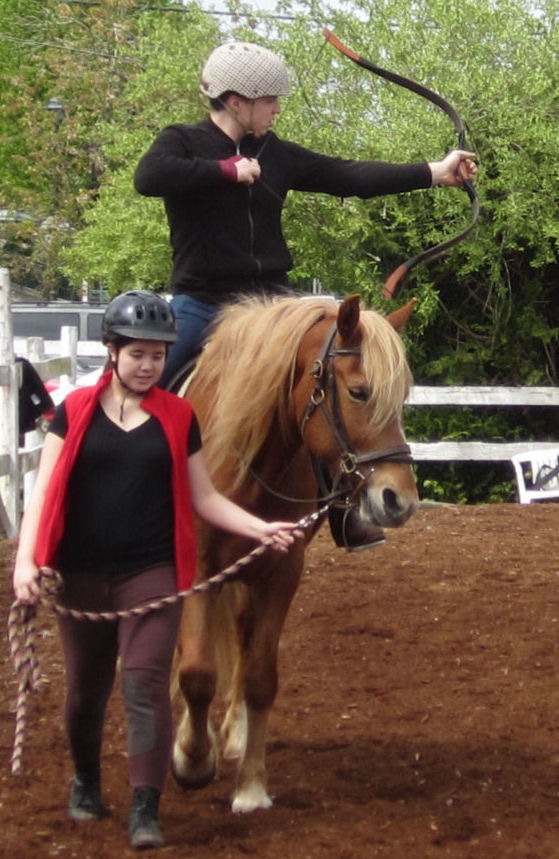 We hope to have Robert back one more time before Carosella, so keep your eyes on this blog for new dates!

On Sunday the rain was crueller, but knights never mind the weather.  We had a great group for the Intro to Mounted Combat, and the sun even managed to grace us for the mounted portion of the Mounted Combat workshop, and we finished off the day with some mounted sparring.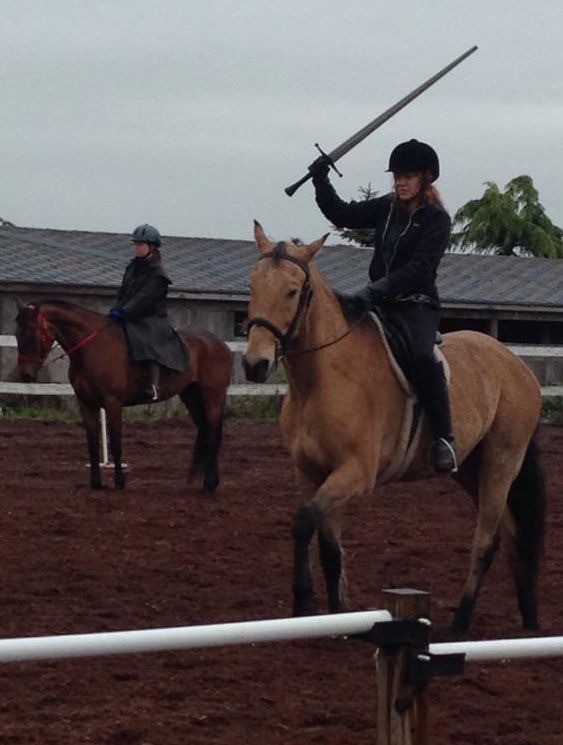 Special thanks to Nicole, who flew all the way from Chicago to play with swords, bows and horses with us!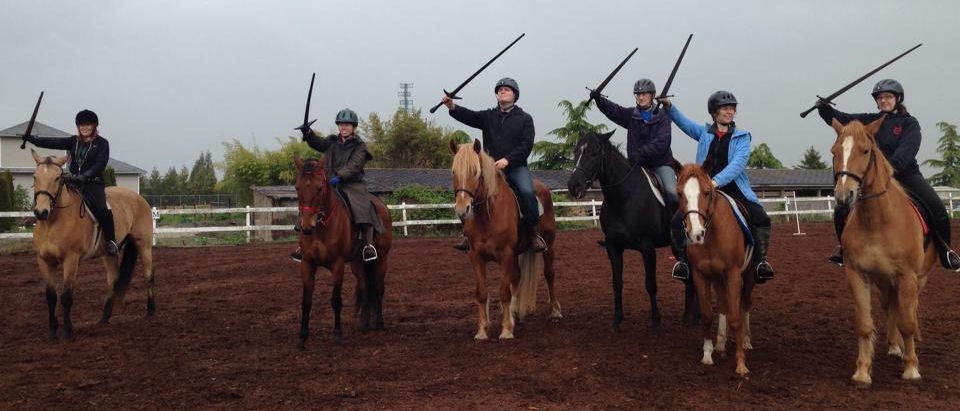 Upcoming Classes & Events
Mounted Games Practice
Fridays, 5-7pm
Prerequisites: Riding Level 1 or equivalent
Cost: Academie Duello members: $5 with own/leased horse; $15 with use of school horse.
Non members: $25
This is an open practice. Riders must have Riding level 1 or equivalent to participate.  Pony Club & MGA riders welcome.
Cavaliere Classes – NOTE NEW TIME & DAY
Saturdays 10 & 24 May, 7 & 21 June, 4 – 7:30pm
Red Colt Equestrian Farm Co-op, 12320 No 2 Road, Richmond
cost: $60 ea
Instructor: Jennifer Landels
Horsemanship, Riding and sword drills for all levels of riders and swordsmen
prerequisites: none, Intro to Mounted Combat recommended
Mounted Combat Skills
Sunday 18 May 1 – 4pm
Academie Duello Centre for Swordplay, 412 W Hastings, Vancouver
cost: $60
Instructor: Greg Reimer
This indoor Mounted Combat session is a chance to practice your swordplay, spear and wrestling skills from the ground and the falsemount, without the distractions of weather or four-legged creatures.
Open Barn & Work Party
Holiday Monday, 19 May, 1-4pm
Red Colt Equestrian Farm Co-op, 12320 No 2 Road, Richmond
cost: free ($10 to ride a school horse).
Come out to an informal
North American Horseback Archery Challenge
23-25 May
Robert has invited any Academie Duello Student interested in Horseback Archery to their annual event at Mount Curry.  Details available on the website: http://www.horsebackarchery.ca/borsostorzs/News.html
Intro to Mounted Combat Workshop
Sunday 1 June, 10am – 1pm
Red Colt Equestrian Farm Co-op, 12320 No 2 Road, Richmond
cost: $149
Instructors: Jennifer Landels & tba
A taste of everything in the program.  Learn about grooming and tacking up, get some swordplay fundamentals, and ride a horse with sword in hand.
prerequisites: none
Mounted Combat Workshop
Sunday 1 June, 1- 4pm
Red Colt Equestrian Farm Co-op, 12320 No 2 Road, Richmond
cost: $60
Instructor:  tba
Swordplay from the ground, the falsemount, and from horseback.
prerequisites: Intro to Mounted Combat or permission from the instructor
Package deals
Cavaliere 4- and 12-packs are available.  These packages are valid for all classes offered in the Cavaliere program, as well as for private or semi-private lessons.
4-pack: $200 ($50 per class)
12-pack: $480 ($40 per class)
When you purchase a package you are automatically signed up for all upcoming Cavaliere program classes.  If you are unable to make a class and let the front desk know in advance, you will be credited for a future class.