I hate New Year's resolutions.  They don't stick, and they end up making you feel guilty before you even flip the calendar to February.  But I do like goals.  Especially goals that are useful and achievable all year round.  And whether you like New Year's resolutions or not, January is a great time to peer into the calendar ahead and set some goals for the coming horseback season.  With that in mind, here are few example goals and roadmaps to help you achieve them.  The time commitments are an average and assume you are starting from ground zero.  If you have previous experience your results may vary.
Goal 1: Learn to Ride
Time commitment: two hours a week for 12 weeks
If you've always dreamed of riding but never taken that leap, why not start now?  Don't be shy — phone up a riding stable and book a lesson or series of lessons.  Beginners come in all shapes, sizes, and ages, and  good lesson stables will have horses that can accomodate the most timid, out-of-shape, and novice greenhorns around.  When you book, be sure to inquire whether the lesson time includes teaching you how to groom and tack up your horse.  You'll get far more from your lessons if you learn these basic horsemanship skills along with the left, right, go and whoa of riding.
For aspirant riders in the Lower Mainland, we offer private lessons in our facilities at Red Colt Co-op starting at $60 per hour, or you can get twelve hours of instruction in our six-week program of Beginner Riding & Horsemanship for $300.  Two iterations of the beginner course will have you comfortably walking, trotting and doing simple games from the saddle. Even though the program is entitled Mounted Combat, there is no obligation to pick up a weapon at any point.  We have plenty of people who just take Riding and Horsemanship courses!
Beginner Riding & Horsemanship
Sundays 11am – 1pm
15 January – 26 February 2017*
*note: no class 19 February
cost: $300 + gst for 6 classes
instructor: Stephanie Laversin
Register here, or bundle with Mounted Combat Fundamentals and save $26.
Goal 2: Learn to Swordfight from Horseback
Time commitment: three hours a week for 12 weeks
However, if you do want to learn swordplay from horseback, the first step — after learning to ride — is learning to wield a sword from the ground.  To that end you can take either Longsword Fundamentals at the salle downtown, or Mounted Combat Fundamentals at the Richmond stables.  Once you have gained Riding Level 1 and signed off your Green Spur requirements you'll be eligible to particpate in all aspects of our super-fun Mounted Combat Playdays and our yearly tournament, Carosella.
Mounted Combat Fundamentals
Sundays 1pm – 3pm
15 January – 26 February 2017*
*note: no class 19 February
cost: $200 + gst for 6 classes
instructor: Stephanie Laversin
Register here, or bundle with Riding & Horsemanship and save $26.
Goal 3: Achieve your Blue Spur
Time commitment: five hours per week for 12 months
The Blue Spur, the second rank of the Mounted Combat Program requires you to have your Horsemanship and Riding Level 3 plus the Blue Spur Mounted Combat skills checklist.  To achieve this you will need to be spending at least two hours a week in the saddle, two hours doing swordplay from the ground, and attending regular Mounted Combat Practice sessions.  A sample weekly schedule might include Mounted Combat Skills and Riding Level 3+ classes, as well as either a practice ride or Mounted Combat Practice available with our Mounted Combat membership.
Riding Level 3+
Sundays 10am – 11am
15 January – 26 February 2017*
*note: no class 19 February
cost: $200 + gst for 6 classes
instructor: Stephanie Laversin
Register here
Mounted Combat Skills
Sundays 11:30am – 1:30pm
weekly, beginning February 2017
registration not yet available
Mounted Combat Practice
Mondays 6:00 – 8:00pm
cost: $20 + gst or free with Mounted Combat Membership
Mounted Combat Membership
– Two free practice rides per month
– 10% discount on Mounted Combat Program classes
– $5 discount on private lessons
– Free weekly Mounted Combat Practices
6-month membership, January – June 2017: $200 + gst
1-year membership, January 2017 – December 2017: $300 + gst
register by contacting the front desk at 604 568 9907
Goal 4: Become a Better Horseman and Rider
Time commitment: as many hours as possible for the rest of your life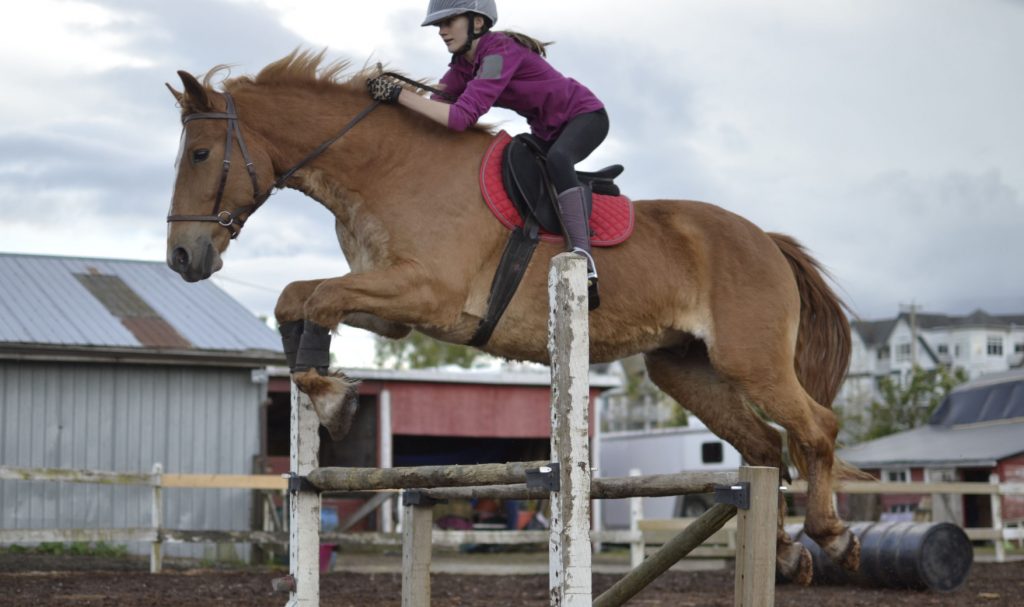 This is pretty nebulous, and difficult to measure.  If you are goal-oriented, its better to pick a specific skill you'd like to learn or to teach your horse, such as canter pirouettes, jumping bareback, or riding an Entry level cross country course.  But even without a specific goal, every hour in the saddle will make you a better rider, and every hour around horses will make you a better horseman.  Lessons will speed up the process, as will reading, watching other people ride, and studying the art of horsemanship.
Aside from the lessons and practice times mentioned above, part-leasing a horse is a great way to commit yourself to weekly equine time without the financial burden of horse ownership.  If you are leasing, be sure to get a written contract clearly defining when and where you may ride, and what your responisbilities and rights as leaser are.  School horses at Red Colt are available for one- and two-day leases and the lease price includes one private lesson per month.
Horse Leases
1 day/week: $135 per month
2 days/week: $215 per month
contact info(at)redcolt.ca for more information
Whatever your goals and resolutions for 2017, I wish you many happy, horsey hours as you work towards them.
Happy New Year!