It is refreshing to be alive in a time to see so much progress in our society in regards to LGBTQ* acceptance and civil rights – though we still have a long way to go despite a lot of recent victories.  This year in June we saw the Supreme Court of America legalize same-sex marriage.  We are also seeing – and hearing – more from the trans and non-binary members of the LGBTQ* community in the media as well.  Lavern Cox, well known for role as Sophia in the Netflix original series Orange is the New Black, was the first transwoman to be nominated for an Emmy in 2014, and in the same year, Glamour magazine nominated Cox as one of their Women of the Year.  And who could forget the stunning Vanity Fair cover that announced the transition of athlete Caitlyn Jenner? Jenner went on to be honoured with the Arthur Ashe Courage Award for transcending sports during the ESPY Awards ceremony in Los Angeles in June and gave a heart-wrenching speech about the struggles and adversity transgender people face – especially those who have not been gifted with privileges (both financial and personal) as she has been.  For many people this was the first time they were brought into awareness of the transgender community, which is often misunderstood or forgotten about in the LQBTQ* spectrum.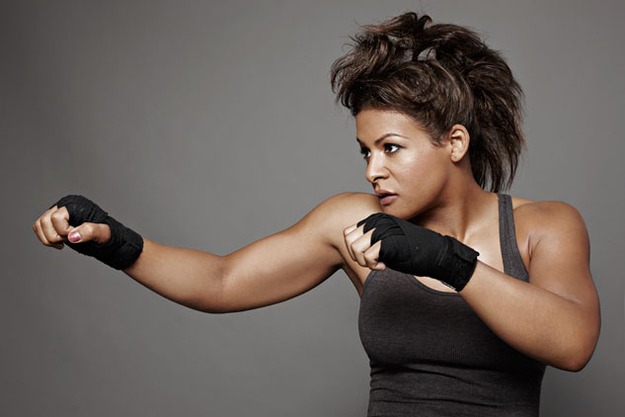 Fallon Fox, the world's first openly trans professional MMA fighter
Many people didn't know about any trans athletes until Caitlyn Jenner, or perhaps it was transgender MMA fighter Fallon Fox and the controversial remarks about her "biological advantage" (despite medical science and doctors having already proven this "advantage" to be a myth) made by cisgender female UFC champion Ronda Rousey.  However, transgender athletes have been a part of the world of sports and martial arts for decades.  It is not difficult to speculate that transgender people have been a part of politics, art and sports for centuries.  
This Is Not A Modern Phenomenon
Even though history books rarely showcase LGBTQ* people we still find documents, stories, and texts that mention non-heteronormative, and non-cisgender people.  We have historians debating as to whether Alexander the Great and his best friend Hephaestion were lovers instead of just companions.  We have records of the transgender priests of the Galli that were found in ancient Rome.  
When looking at history we can find examples of people like the Chevalier d'Eon, who lived as a woman for 33 years within the court of Empress Elizabeth of Russia, and upon return to France insisted that the government recognize her as such. She even went so far as saying that she was assigned female at birth (although it would be later discovered upon her death that she had been born biologically male).  We have heard stories of the Nun Lieutenant, Catalina de Erauso, who made their way to the new world under the guise of a man.  In the late 16th century, Catalina got special permission from Pope Urban VIII to continue to dress as a man and spent living their final days as a cattle driver named Antonio de Erauso.   Even though this generation is more aware of LQBTQ* people more so than ever, this is not some modern phenomenon.  This is a part of our history and a part our culture.
 

A Modern History of Trans Athletes
Though many people know of Caitlyn Jenner and Fallon Fox, there have been other trans athletes that came before them who helped pave the way and fight for recognition, equality, and acceptance within their chosen sport and their chosen gender identity. 
Renee Richards was known for her powerful left-hand serve, but also for her contributions to the transgender community, and as a doctor of ophthalmology.
Renee Richards began hormone treatments in the mid 1960s back when many psychologists and doctors believed that transsexualism was not only a perversion, but was classified as a type of insanity.  It wasn't until 1975 that Renee underwent sex reassignment surgery (SRS).  Before Richards' transition, she excelled at tennis (and other sports) in highschool and during her years at Yale University, was captain of men's tennis team, and was known to be one of the top college tennis players in the united states.  After her SRS, Richards applied to play in the US Open but was denied entry in 1976 by the United States Tennis Association, citing an unprecedented women-born-women-only policy.  She challenged the ban and in 1977 the New York Supreme Court ruled in her favour. Thus, Renee Richards became not only one of modern sports' first transgender athletes, but she also won a huge victory off the tennis courts for transexual rights and inclusion.
In 1995, Danish golfer Mianne Bagger had gender-reassignment surgery and became the second transgender woman ever to be accepted into a professional sporting competition. Bagger currently plays in the Australian Ladies Professional Golf Tour.  During her career in professional golf, Bagger has tirelessly lobbied against many major governing bodies in professional sport in an attempt to have them re-evaluate their regulations regarding gender diversity.
Transgender Canadian downhill mountain bike competitor Michelle Dumaresque was discovered in Vancouver's own North Shore while independent filmmakers were shooting a documentary on female mountain bike riding.  Not only did the filmmakers ask Dumaresque to appear in their film, called "Dirt Divas" (which won the 2002 "Best Mountain Bike Film" award at the Vancouver International Mountain Film Festival) but they also sparked the idea inside of Michelle's head to consider racing and competing professionally.  Another Canadian cyclist, Kristen Worley, was one of the first post-op trans athletes who tried to compete after the 2004 International Olympic Committee (IOC) ruling that allowed transsexuals to compete as their reassigned gender if the surgery has taken place at least two years prior to the competition and if the athlete has been on a regimen of hormones equal to that of a person born to the gender. However, Kristen Worley never made the qualifying times that Canada said she needed in order to compete.
Kye Allum, a transman, became the first openly transgender NCAA Division I college athlete in 2010
We have begun to see many firsts for transgender athletes in the world of sports and martial arts.  Jaiyah Saeula was the world's first transgender national soccer player to compete in a men's FIFA World Cup qualifying match in 2011.  In June 2015, Chris Mosier, a transgender rights advocate and a nationally ranked runner, became the first (known) openly transgender athlete to join a U.S. team that matches his gender identity – not the one assigned to him at birth.  Chris was also the first transman to be inducted into the National Gay & Lesbian Sports Hall of Fame in 2014.  And, as mentioned earlier, there is Fallon Fox who is the first openly transgender professional Mixed Martial Artist.
Current Controversies & Challenges for Trans Athletes
Unfortunately, despite the leaps and bounds many trans athletes have overcome, there is still a lot of stigma, controversy and many social barriers that continue to come up in the world of competitive sports.  This has made headlines in the MMA world with UFC female champion Ronda Rousey making statements that Fallon Fox, a transwoman MMA fighter, has an "unfair" advantage.  Despite the fact that Rousey has boasted that she could beat any man – naming martial artists like Floyd Mayweather and Cowboy Cerrone – she refuses to fight Fox.  Ronda Rousey and UFC President Dana White have both made public statements insisting that Fox will never be allowed to fight in the UFC Women's Division.  "She can try hormones, chop her pecker off, but it's still the same bone structure a man has. It's an advantage. I don't think it's fair." Rousey has been quoted as saying this, despite the fact that Fallon Fox has presented medical evidence proving that she has no biological advantage while also citing the IOC's rules regarding trans athletes.
Trans athlete Chloe Anderson, who plays volleyball for Santa Ana College in California, has said this about the disadvantages of transitioning: "People who say male-to-female trans athletes have a physical advantage have never taken hormones. It's one thing to learn about it in biology class but another thing to live it."  Anderson began transitioning from male to female at the age of 19 and the first six months of hormone therapy wreaked havoc on her body.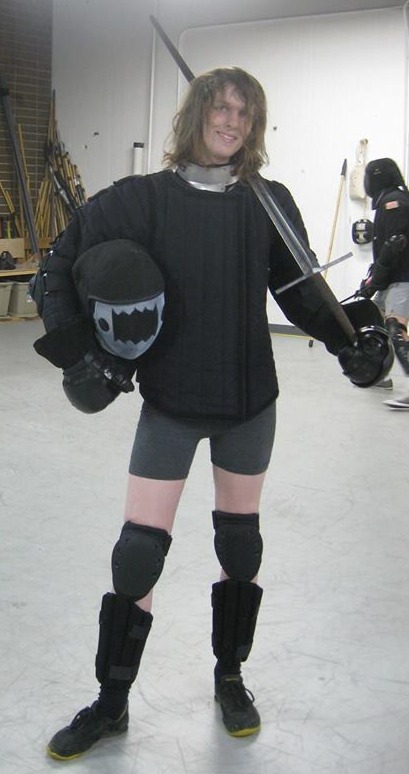 Haley Morgan Horton-Loup is a transwoman, pictured here geared up for some HEMA longsword fencing
Recently in the world of Historical European Martial Arts a transgender woman, Haley Morgan Horton-Loup, was denied entry to the Pacific Northwest HEMA Gathering's women longsword tournament.  Despite Horton-Loup having cited the IOC ruling and providing medical research and evidence she was met with hostility and ignorance, even having one of the organizers continuously mis-gender her (by referring to her as a transgender man) in their correspondence despite her stating her female identity and pronouns.  Even though in the end Horton-Loup was met with refusal to #LetHerFence in the tournament, many HEMA and Western Martial Arts groups rallied together and released statements of solidarity from their fencing clubs and training centres in support of Haley being able to compete.  The situation created some much needed conversations (though difficult for some members) within the HEMA community in regards to trans athletes, safe spaces and equality within the world of swordplay.
In 2015 we still have a long way to go for transgender rights, and not just in the world of sports and martial arts.  Transgender individuals – particularly those who are pre-op or, do not have the financial means to undergo hormone therapy or SRS – have staggeringly high suicide rates. When you combine that with the amount of homicide related hate crimes committed against trans people, the difficult many trans gendered individuals face finding housing and employment the quality of life and life expectancy for the average transgender or non-binary person is very low.  Psychologist Graciela Balestra, who works closely with the transgender community, says it's an especially vulnerable population.  Balestra has said, "[Transgender] people have an average life expectancy of about 30 to 32 years... I think that statistic alone says so much."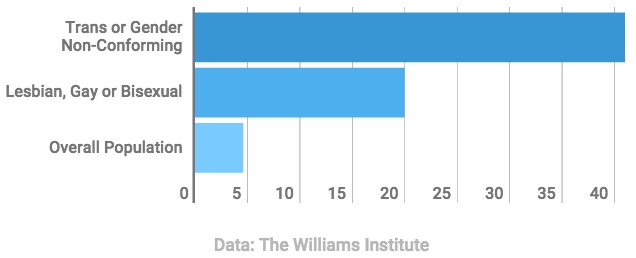 The % of Suicide Attempts in the overall population compared to those who identify as LQBTQ*
Hope for the Future & How to Get There Together
Academie Duello has been fortunate to have trans and non-binary students in our programs over the years.  Notably, Amy Fox attended stage combat classes with us and has since gone on to create and star in a new sitcom show, The Switch, about a group of transgender friends trying to navigate through life in a Canadian neighbourhood in East Vancouver.  Check out the series, in particular episode 4 (due to air sometime in late November or early December) which will focus on one of the lead characters joining a high contact sport known as "Doomball."
November 20th is the Transgender Day of Remembrance which is part of Transgender Awareness Week.  The best thing we can do to perpetuate change and acceptance of transgender people is to educate ourselves and strive to be better allies.  If someone you know is transgender or has come out as trans, do what you can to support them without bombarding them with unsolicited questions and queries – unless they are open and invite such conversations.  Point them to resources specifically for trans folks and LGBTQ* youth such as PFLAG Canada or, GLAAD.  Wear a button with the hashtag #IllGoWithYou to support people using bathrooms that correlate with their gender identity by helping them feel more safe and avoid harassment, or abuse.  Most importantly, be okay with feeling awkward and making mistakes as an ally so long as you strive to be better and learn more.  Take a minute to enjoy this awesome buzzfeed video taking a humorous look at common transgender questions. We can get there together: trans, non-binary, and cisgender alike.
Editor's Note: the phrases "transgendered" and "cisgendered" have been amended to "transgender" and "cisgender" as of 9/26/2015 with permission of the author, in accordance with a request from the community. Thank you for speaking up and making your voice heard.  Please continue to let us know how we can better support the trans* members of our community. We are listening.